Nov 14, 2008 — by Eric Brown — from the LinuxDevices Archive — views

[Updated Nov. 26] — Mobile Internet devices (MIDs) and other small form-factor systems based on Intel Atom processors and the Intel-sponsored Moblin.org Linux stack are finally starting to arrive. This Hot Topic summary and reading list captures the early history of this key mobile stack.
The Moblin.org project was launched by Intel in July, 2007. It followed Intel's announcement earlier that year of the Mobile Internet Device (MID) form factor. Previous Intel efforts at hybrid mobile devices, such as the slightly larger UMPC (ultra mobile PC) format, had failed to generate much interest, due in part to the lack of available software.


FancyPants running on
Moblin and the
Compal JAX10 MID
(Click for details)
Moblin is an open-source toolkit and mobile device software stack that is optimized for MIDs, but can also run on netbooks, nettops, and other Intel-based mobile consumer devices. Linux MID products running the stack are just starting to be announced, with early products including USI's MID-160 (pictured at top) and the Compal JAX10MID reference design, (pictured at right), which forms the basis for the new Aigo P8860D and Gigabyte "M528" MIDs. A Moblin 2.0 follow-up release, boasting a switch to RPM packaging and Fedora Linux, is planned for early 2009.
Inside Moblin
Moblin comprises a Linux kernel, UI framework, Mozilla-based Fennec browser, multimedia framework, and a growing number of commercial and open source projects. It also maintains documentation, mailing lists, and an IRC channel.
At the heart of the toolkit is the "Linux-Image-Creator," which installs a graphical "image-creator" tool that is used to install and manage development and target filesystems on a host PC. Developers can choose Ubuntu or Fedora development filesystems targeting MIDs or Netbooks based on McCaslin (A110) or Menlow/Diamondville (Z-series or N-series) mobile processors. They can choose between target filesystems based on Moblin, Moblin2 (still under development), or Ubuntu MID Edition (UME, based on Ubuntu Mobile and Embedded, also UME)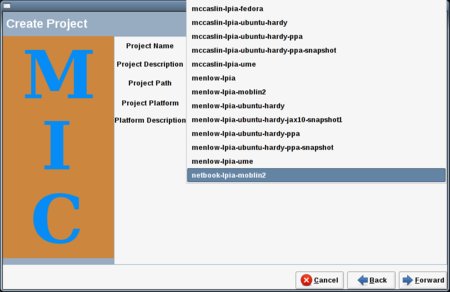 Setting up the development filesystem
(Click to enlarge)
After setting these basic parameters, image-creator users can then choose target filesystem components, such as the Matchbox window manager for MIDs or XFCE window manager popular for netbooks. Once the filesystems for development and target deployment have been installed, the image-creator tool helps the user navigate between them and open chrooted shells in them.

Setting up the target filesystem
(Click to enlarge)
The Moblin stack and tools will also support Intel's forthcoming Moorestown chips, Intel has announced.
Moblin history and outlook
As can be seen from the below reading list, not much was heard from Moblin.org between its 1.0 launch and the first unveiling of MID prototypes in conjunction with the launch of the Intel Atom Z500-series in early April of this year. In May and June, however, several companies announced support for Moblin, including Ubuntu, which released its Moblin-compatible Ubuntu MID Edition (UME), and Wind River, which announced two vertical platforms based in part on Moblin:
With the announcement of Moblin 2.0 in August, momentum seemed to gather for Moblin, with ISVs (independent software vendors) starting to line up behind the stack. Subsequent news included a Moblin/MID version of Realplayer, as well as digital TV players from Move Networks (shown below) and ORB Networks. Other Moblin adopters include netbook Linux specialist Linpus, and more recently, Good OS (GoS), Mandriva, and Turbolinux. See the Reading List below for a more details.

Move Networks's Move Media Player for MIDs
(Click to enlarge)


GeoSentric's Moblin-based
Gypsii geo-location
social networking app
(Click for details)
This Fall, as MIDs are finally arriving from a vendors such as BenQ, Intel has reinforced its support for the project with two key announcements. First, it acquired OpenedHand, a U.K.-based Linux service provider known for its Poky Linux distribution, Matchbox window manager, and Clutter 2D graphics toolkit. OpenedHand also has experience developing for Nokia's ARM-Linux based Internet Tablets, arguably the first devices to use the MID form factor.
More recently, Intel announced it was establishing an "enabling center" for Moblin in Taiwan, in collaboration with Taiwan's Ministry of Economic Affairs (MOEA). The focus will apparently be on software development for MIDs.
In a recent ABI Research report that predicted that Moblin would dominate the MID market, ABI VP Stuart Carlaw summed up the key appeal of Moblin, aside from its open source foundation: "One of the chief reasons for the projected growth of Moblin is that the tight alignment between hardware and software will be an incredibly important factor in this [MID] market," stated Carlaw. ABI projected that MIDs would outsell netbooks within five years.
At the same time, MIDs still face challenges, according to a MID market report from China-based CCID. Although CCID is bullish on MIDs given Intel's influence, it lists challenges that include a lack of pervasive wireless broadband, short standby times for early MID devices, limited software, and channel pressures.
---
Hot Topic Reading List: Moblin

This article was originally published on LinuxDevices.com and has been donated to the open source community by QuinStreet Inc. Please visit LinuxToday.com for up-to-date news and articles about Linux and open source.