Sep 24, 2007 — by LinuxDevices Staff — from the LinuxDevices Archive — 50 views

Cambridge Signal Processing (Camsig) is shipping a 1-inch-square "system-on-module" powered by an Analog Devices (ADI) Blackfin DSP (digital signal processor). The Minotaur BF537 and its simple two-layer break out board support uClinux, and target network cameras, network audio players, DVRs, PDAs, industrial… automation, and robotics applications. 1
(Click for larger view of Minotaur BF537)
The Minotaur BF537 is a follow-up to Camsig's classic "DSP Stamp" (PDF link) module, which hit the market three years ago. Both are based on Blackfin DSPs clocked at 600MHz, and both target volume use in production devices, when combined with baseboards of the users' design. Typical applications for both include video capture, image analysis/computer vision, robotics, software-defined radio, audio processing, video compression/decompression, digital cameras, and webcams, according to the company.

DSP stamp (upper photo); Minotaur BF537 (lower photo)
(Click to enlarge)
Compared to the original DSP Stamp, the new Minotaur is slightly smaller, offers four times as much flash, and has more modern peripheral interfaces, such as hi-speed (480Mbps) USB 2.0. Another big change is in the use of compression connectors instead of solder pins, and an interesting tape-reel component dispensing system obviously designed for use in high-speed robotic assembly lines.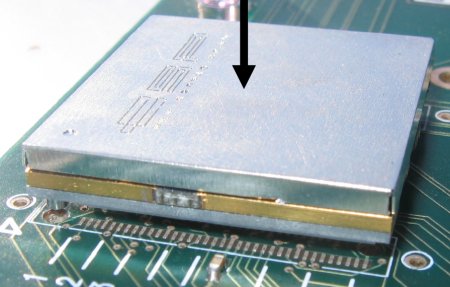 Compression connectors
(Click to enlarge)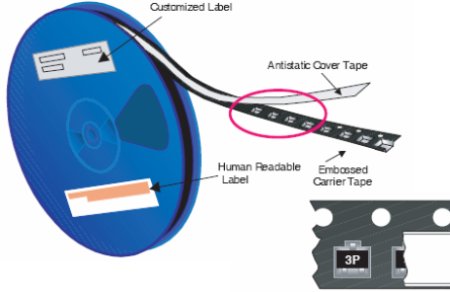 Tape reel component packaging
The Minotaur is based on an
ADI Blackfin BF537
DSP, a 600MHz part with a 1.2GHz MAC (multiply-accumulate unit). The BF537
gained mainline Linux kernel support
just a couple of months ago. Other Blackfin family DSPs can be special-ordered, Camsig says, for example by Stamp customers wishing to stick with the BF533 part while streamlining manufacturing.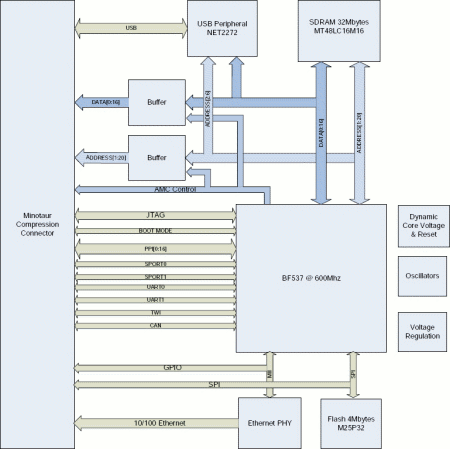 Minotaur BF537 feature diagram
(Click to enlarge)
The Minotaur integrates 32MB of PC133 SDRAM, and 4MB of SPI-interfaced (serial peripheral interface) flash. On-board peripheral interfaces routed to its four contact rows are said to include:
10/100 Ethernet MAC and PHY
Hi-speed (480Mbps) USB 2.0
CAN (controller area network)
Dual UART and SPORT (serial port) interfaces
TWI (two-wire, aka I2C)
PPI (per-packet information) interface
GPIO
When mounted, the Minotaur BF537 measures 1.04 x 1.04 x 0.17 inches (26.5 x 26.5 x 4.2mm), according to Camsig. The module is said to have an "advanced low EMI [electro-mechanical interface] controlled impedance design," and "buffered address and 16-bit data bus, for easy signal integrity."
Also available is a Minotaur BF537 Breakout Board (BOB), described as a simple, two-layer PCB (printed circuit board) measuring 3.25 x 2 inches (82.5 x 51mm). It can be used to demonstrate the Minotaur's capabilities, or as a starting point for custom baseboard designs, Camsig said.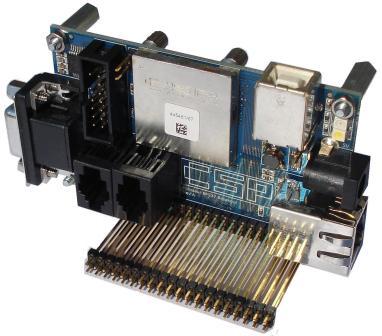 Camsig Minotaur BF537 Breakout Board
Along with a 3.3-Volt switch mode power supply, the BOB offers logic-level converters and connectors for:
RJ45 Ethernet

USB type B peripheral connector

CAN PHY and dual RJ11 connectors

PPI header

RS2332 level shifter and 9-way female DSUB

Standard 14-pin Blackfin JTAG header
Additionally, "all applicable connectors" have been brought out to 120 standard 1.27mm pitch pins suitable for through-hole soldering or surface mount connectors, for example in stacked board configurations.
On the software side, the Minotaur BF537 is supported by mainline Linux architecture code maintained by the Blackfin Linux Project. Robin Getz, engineering manager for open source at ADI, said, "We validated the board with uClinux. Ethernet runs at line rate. There are USB device drivers, drivers for the UARTS and high-speed SPORT devices, CAN-for-Linux drivers, the video port can connect a camera with video4Linux 1 and 2 drivers or devfb. There are also I2C drivers."
Software for the module can be developed in C/C++, or in higher-level languages such as Java and Python. Additionally, Camsig said the module is supported by "a comprehensive range of development tools and example software." Asked about customer support for uClinux on the Minotaur, Getz suggested visiting the Blackfin forum at uClinux.org.
Availability
The Minotaur is available now direct from Camsig, priced from 100 GBP (approx. $200) in single quantities to 44 GBP (approx. $90) in quantities of 1000 or more. The BOB is priced at 200 GBP (approx. $400), but schematics, Gerber files, and other technical data can be freely downloaded.
---

This article was originally published on LinuxDevices.com and has been donated to the open source community by QuinStreet Inc. Please visit LinuxToday.com for up-to-date news and articles about Linux and open source.