Aug 12, 2010 — by Eric Brown — from the LinuxDevices Archive — 3 views
The recently unveiled $35 tablet from India turns out to be running Android, according to an Indian TV report. In other tablet news, Amazon is said to be considering a color tablet companion to the Kindle, and more details have emerged about HP's printer-focused Android e-reader.
When the Indian government unveiled a prototype of a Linux-based touchscreen tablet last month that it hopes to sell next year to the nation's college students for $35, the tech world ooh'd and aah'd. Some guffawed, however, speculating that the device would either be unusable or end up selling for well over $50.
At the time, Engadget spotted an Android notification bar in a video of the device. Today, the site publicized a demo of the device from an Indian television show broadcast yesterday on NDTV called Gadget Guru. The TV show indeed confirms the robotic nature of the tablet's Linux distribution, while also showing off some surprisingly agile performance for such a low-cost tablet.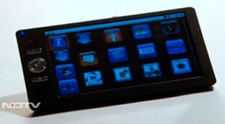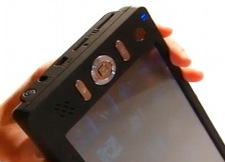 India's $35 tablet will initially run Android
Source: NDTV via WindowsForDevices.com
(Click either to enlarge)

The Gadget Guru episode, available from a link at the end of this story, featured an interview with India's Human Resource Development Minister, Shri Kapil Sibal. The minister, who also showed off the device at its unveiling last month, demonstrated a prototype that has been upgraded since last month's unveiling.
As reported in a story in our sister publication WindowsForDevices, the yet-to-be-named device will run not only Android, but may also be offered in a Windows CE version. The tablet is said to feature a resistive touchscreen, 2GB of flash storage, a camera, Wi-Fi, a SIM card, and a miniSD expansion slot, says WindowsForDevices.
The tablet was praised by Gadget Guru host Vikram Chandra for its surprising speed, although the processor was not apparently revealed.
WindowsForDevices.com reports Kapil Sibal as saying in the interview that the tablets manufacturer has promised to deliver a million pieces for $35 each. "These will be delivered to our kids in the higher education system during 2011, and then we will see how we can move it forward," he added.
Amazon looking into color media tablet
Jeff Bezos has said that Amazon.com has no intention of changing the Linux-based Kindle e-reader to be anything beyond a dedicated e-reader device. Bezos has also stated that color screens and other multimedia extras currently add too much to the price of an e-reader, and that they can't match the Kindle's E Ink monochrome display for readability and battery life.
Yet the company may also actively pursuing selling a general purpose color media tablet that will take on the Apple iPad more directly, according to The New York Times blog by Nick Bilton.
Bilton's speculation is based on several pieces of circumstantial, yet nonetheless compelling, evidence:
Lab 126, the division of Amazon responsible for the Kindle, has recently posted a "flurry" of listings related to electronics hardware, writes Bilton.
Several unidentified sources told Bilton that Lab 126 is looking into building other gadgets that it can sell to consumers, and that "Amazon wants to make more devices for consumers that would enable simple purchasing of Amazon content including its digital books, music, and movie rentals and purchases.
Last year Amazon acquired Touchco, a hardware company specializing in color, multitouch displays.

According to a number of reports, the Kindle continues to sell well despite the domination of the iPad, which was expected by many analysts to kill it off. At the end of the month, the Kindle will ship in a cheaper $189 version (pictured), as well as a Wi-Fi-only model selling for $139.
This week, it was reported by Digitimes that E Ink, which makes the VizPlex display technology used in the Kindle and most monochrome e-readers, has begun shipping a color display that will be offered in a Hanvon device in the fourth quarter. The company was also said to have begun sampling two new touch-enabled displays for e-readers, including one that offers a capacitive digitizer and uses electromagnetic technology.
More details emerge on HP's Android e-reader
Yesterday, we reported that Hewlett-Packard (HP) was said by Engadget to be working on a Zeen color e-reader that runs Android. The tablet is said to connect directly to an upcoming HP Zeus printer, without the need for an intervening computer.
Now, Digitimes has added some new details to the Zeen picture, although the publication refers to the tablet only as a "seven-inch printer-bundled tablet PC."
The seven-inch size of the screen is news, as are other Digitimes supplied details such as the tablet's 800 x 480 resolution, and its use of an ARM-based processor from Freescale. The tablet will ship with a 512MB DRAM and 4GB of NAND flash, says the publication.
The paired printer (called the Zeus by Engadget) will be manufactured by Wistron and will feature a dock for the connection with the tablet, says the story.
According to the Engadget, report, meanwhile, the Zeen features "capacitive touch buttons," an SD card slot, and video support. In addition, "at least some prototypes have cameras with a special webcam app installed," says the publication.
HP is expected to start selling this printer-bundled tablet PC in September, according to Digitimes. The project is being handled by HP's printer department, and has been outsourced to a Taiwan-based PC maker, says the story.
Because the project was planned before HP acquired Palm, the device is running Android, says Digitimes. This would appear to suggest that the Zeen is indeed a one-off Android experiment before HP goes heavy into the Linux-based WebOS for upcoming tablets, printers and smartphones, as it has promised.
Availability
NDTV's Gadget Guru video on the $35 India tablet may be streamed online, here. The Engadget story on the TV appearance may be found here, and the WindowsForDevices story may be found here.
The blog in The New York Times story on Amazon's possible color tablet plans should be here.
The Digitimes report on HP's Android e-reader tablet should be here.
---
This article was originally published on LinuxDevices.com and has been donated to the open source community by QuinStreet Inc. Please visit LinuxToday.com for up-to-date news and articles about Linux and open source.