Sep 19, 2011 — by Eric Brown — from the LinuxDevices Archive — 2 views
Texas Instruments (TI) announced three ARM Cortex-A8 system on chips (SoCs) featuring a camera imaging subsystem, a wide range of peripheral support including CAN-bus, and an optional evaluation board. Aimed at industrial applications, the Linux- and Android-ready AM387x triplets all feature 1GHz ARM Cortex-A8 cores, while two of them offer video subsystems and the top-of-the-line AM3874 is endowed with a 3D accelerator.
TI now offers such a diversity of ARM Cortex-A8 system on chips (SoCs) that almost every conceivable need from industrial systems to digital video equipment to smartphones has been addressed. However, it's becoming increasingly difficult to keep them all straight, especially with TI's sometimes-overlapping brand names including OMAP, Sitara, and DaVinci.
That said, the new AM387x — which is a Sitara processor, according to TI's data sheet — will likely be welcomed by customers looking to build power-efficient devices, primarily for industrial applications. The processor dissipates less than two Watts of power, and is intended for fanless industrial automation, networking, and communications applications, including industrial human machine interface (HMI) systems, multi-protocol industrial control, wireless access points, and network attached storage, says TI.
The AM387x line is available in three models, starting with a top-of-the-line AM3874, which offers both a video accelerator subsystem and Imagination Technologies' SGX530 3D graphics accelerator. The AM3872 model provides the video subsystem, but lacks the 3D accelerator, and the AM3871 lacks either enhancement, says TI.
The processors are said to be pin-to-pin compatible with the DM8148 SoC, which was announced in March along with a higher-end DM8168. Both the AM387x and DM814x SoCs are sampling now, says the company.
Less multimedia, but more industrial I/O
TI doesn't highlight the differences between the two SoCs except to say that AM378x users can easily migrate to the DM8148 to enjoy enhanced HD video capabilities. By comparing the two block diagrams below, one can see that the AM387x is a cut-down version, as reflected in the different pricing: $23.85 for the AM387x and $38.43 for the DM8168.
Although two of the three available AM387x models offer the video subsystem with TI's HDVICP2 HD video coprocessors, they lack the TI C64x+ DSP (digital signal processor) provided by the video-focused DM8148/8168 SoCs. (The coprocessors are not shown on the diagram, but the data sheet vows they're there.) In addition, the AM387x SoCs get by with just 128KB of on-chip RAM instead of 512KB.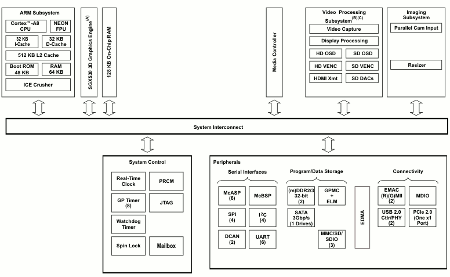 TI AM3874 block diagram
(Click to enlarge)
The ARM-Cortex A8 core driving the three AM387x models appear to be identical, and is clocked at up to 1GHz on all three. The AM387x similarly supports DDR2 and DDR3 memory, as well as a host of external memories (see spec list farther below).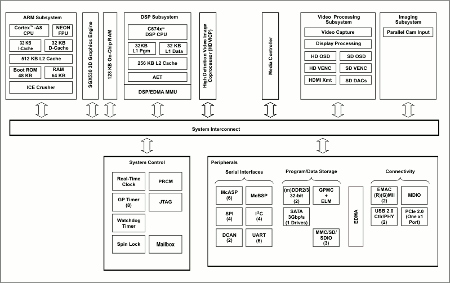 TI DM814x DaVinci block diagram
(Click to enlarge)
The AM387x also provides a few tricks of its own not found on its DM8148 sibling. For example, it supplies a special camera imaging subsystem, and adds some new system control features including "Spin Lock" and "Mailbox."
The AM387x is also superior on peripheral support, adding CAN bus support and quadrupling I2C connections to four. The SoC also moves up to four SPI interfaces, adds more McASP connections, and throws in a McBSP interface as well.
Three MMC/SD/SDIO interfaces are provided along with a SATA interface, gigabit Ethernet controller, and dual USB 2.0 ports, says the company. As before, a PCI Express (PCIe) interface is said to be available.
Features and specifications listed for the AM387x include:
CPU — 1 x ARM Cortex-A8 @ 1GHz; SGX530 3D graphics engine (AM3874 only)
Cache/on-chip memory– L1 64KB ; L2 512KB; on-chip RAM 128KB
Memory:

2 x 32-bit DDR2/DDR3 controllers at up to 800MHz
1 x 16-bit GPMC
ext. memory — DDR2, DDR3, NOR flash, NAND flash, SRAM, pseudo-SRAM, SD
64-Ch EDMA

Expansion — PCI/PCIe interface
Display interfaces (AM3874 and AM3872 only):

video subsystem with HDVICP2 co-processors
2 x HD outputs (16/24/30-bit and 16/24-bit)
2 x inputs (8/16/25-bit and 8-bit)
2 x SD capture ports
1 x HDMI TX
composite S-Video analog output

Camera interface — Parallel 8/16-bit sensor connection; image sensor interface (ISIF); resizer
Networking — gigabit Ethernet, splittable with optional switch
Other I/O:

2 x USB 2.0
4 x I2C
4 x SPI
6 x McASP
McBSP
3 x MMC/SD/SDIO
SATA
6 x UARTs
8 x timers plus watchdog
up to 128 GPIO pins

Power — 1.5 V, 1.8 V, 3.3 V I/O power supply; less than 2 Watt power dissipation
Operating system — Linux, Android, Windows Embedded Compact 7, with others via third-parties
The AM387x is supported by a new TMDXEVM8148 EVM board, which ships with a Linux board support package (BSP). In the fourth quarter, TI will provide Android and Windows Embedded Compact 7 support, while QNX and VxWorks BSPs will become available from third parties around the same time, says the company. A free EZ Software Development Kit (EZ SDK) is also said to be available for quick prototyping.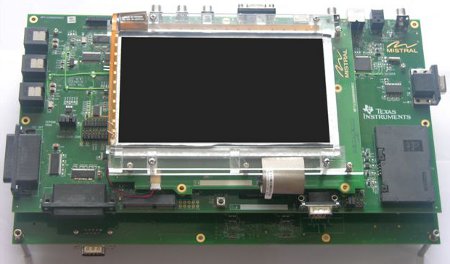 TMDXEVM8148 EVM board
(Click to enlarge)
Developed with Mistral, the 8148 Evaluation Module (EVM) is equipped with a DM8148 processor, 1GB DDR3 RAM, and an SD card and card reader, says TI. A seven-inch touchscreen LCD display is supplied along with standard connectors for composite video, S-Video, component video, serial port, SD, SATA, PCIe, USB, Ethernet, audio I/O, and HDMI.
An expansion I/O daughtercard, meanwhile, supplies DVI in, component video in, composite video in, HDMI, serial port, gigabit Ethernet, and audio outputs, says the company. Software tools are said to include a Linux BSP with documentation, Sourcery G++, and an Ubuntu Linux host distribution.
Availability
The AM387x and previously announced DM814x processors are sampling now at prices (in 1,000 unit quantities) starting at $23.85 for the AM387x and $38.43 for the DM814x , says TI. Developers can now begin evaluation on either processor with TI's TMDXEVM8148 evaluation system, for $2,249.
More on the AM387x may be found on the company's AM3874 page. More information on the EVM may be found at TI's TMDXEVM8148 EVM board page.
---
This article was originally published on LinuxDevices.com and has been donated to the open source community by QuinStreet Inc. Please visit LinuxToday.com for up-to-date news and articles about Linux and open source.