Feb 25, 2008 — by Eric Brown — from the LinuxDevices Archive — 11 views

[Updated Mar. 3, 2008] Texas Instruments (TI) announced four Linux-compatible, Cortex-A8-based applications processors today. At the high end, the OMAP35xx line closely resembles TI's OMAP34xx offerings for mobile phones, but with a larger ball-pitch and lower-volume pricing, for use in embedded applications… and less mainstream consumer electronics devices.
TI is currently sampling the low-end OMAP3503 model. Later in the year, it plans to ship three additional devices that add an OpenGL ES 2.0 graphics engine, and/or a DaVinci C64x+ digital signal processor (DSP), respectively.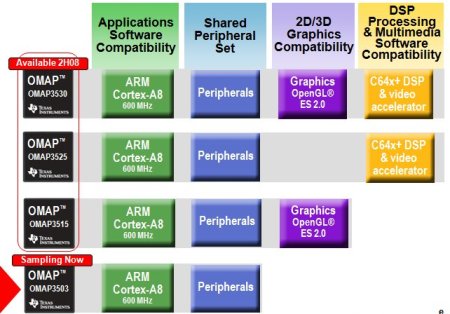 OMAP35x product line
(Click to enlarge)
The OMAP35xx is based on a 600MHz Cortex-A8 core with integrated peripherals. TI reckons the core delivers twice the oomph of a 300MHz ARM9, by doubling the clock speed, plus up to an additional 2x performance improvement thanks to a superscalar (dual-issue) architecture. So far, benchmarks of the Cortex-A8 are topping out at 1200 Dhrystone MIPS (millions of instructions per second), according to TI.
As for the ARM11, said Gerard Andrews, TI's OMAP marketing manager, said, "Our benchmarks show that the 35xx can offer twice the processing power as an ARM11 at the same clock speed."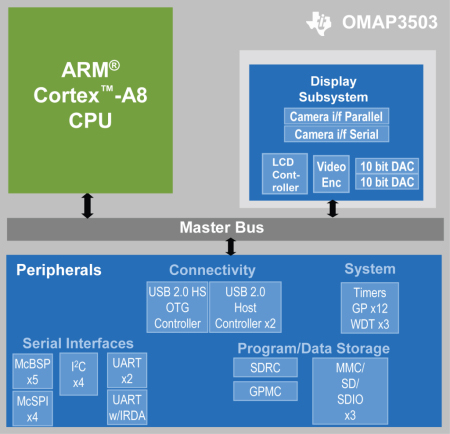 OMAP 35x block diagram
(Click to enlarge)
All the OMAP35xx processors are built with 65-nanometer process technology, and incorporate TI's SmartReflex technology for dynamic control of voltage, frequency, and power. The power management technology is said to change power usage depending on activity, operation modes, process technology, and temperature variation.
According to Andrews, the OMAP35x chips with on-chip graphics and DSPs will be "architecturally the same" as the Cortex-A8-based OMAP3440, which was announced earlier this month. Whereas the 34xx will be marketed only to large cell-phone manufacturers, said Andrews, TI is actively promoting the 35xx for a diverse range of applications including portable navigation devices, Internet appliances, portable media players (PMPs), and personal medical and fitness equipment.
"The OMAP35xx is aimed at the broad market," said Andrews. "We're targeting all those devices that used to have LEDs and now use LCDs. They need more multimedia, graphics, and stored digital media, but without drawing more power."
Andrews added, "To take this technology to the broader market we needed to repackage the device with a larger ball pitch. The standard in cell phones is 0.4mm, but we're making the 35xx with a 0.65mm ball pitch.
The complete OMAP35xx family includes:
OMAP3503 — Sampling now, the 3503 is intended for the "broad embedded gadget market," said Andrews. It is capable of standard-definition video and basic Web browsing and graphics.
OMAP3515 — The 3515 is designed for embedded gaming, portable navigation systems, and other graphics-intensive devices. TI added an integrated OpenGL ES 2.0 graphics engine to the 3503 design, using Imagination's PowerVR SGX graphics accelerator. The low-power PowerVR SGX is designed specifically for processing 3D graphics and video on wireless-equipped mobile devices. Built around a tile-based, scalable, multi-threaded processing engine, the processor is touted as being able to encode and decode video at DVD resolutions.
OMAP3525 — Designed for HD video and advanced multimedia, the OMAP3525 lacks the 3515's OpenGL graphics engine, but adds an integrated DaVinci TMS320C64x+ DSP and an integrated video accelerator. With its hardwired video and imaging processing and dedicated video-centric peripherals, the OMAP3525 can decode HD video (MPEG-4 SP, 720p) at 30fps, says TI.
OMAP3530 — This superset device includes both the 3525's DSP/video accelerator capability and the 3515's graphics engine. This HD-ready chip is designed for low-power, high-performance video and gaming applications. "For a portable media player, you could use either the 3525 or 3530, depending on how aggressive you wanted to get on the UI," said Andrews. "If you wanted to go one up on the iPhone, you could go with the 3530 and bring in the 3D graphics." OpenPandora.org is using the 3530 in its upcoming Pandora gaming laptop.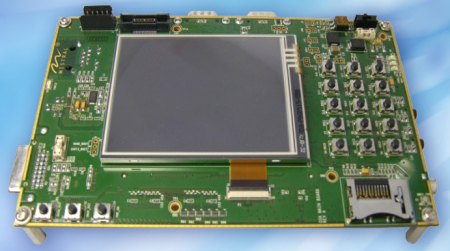 OMAP35x EVM
(Click to enlarge)
TI is taking orders for an OMAP3503-based Evaluation Module (EVM, pictured above), supplied by Mistral. The EVM accepts application-specific daughter cards, and comes with a TI-designed Linux board support package (BSP) that includes a 2.6.22 kernel, peripheral drivers, U-boot, and a Busybox-based root file system. TI's Linux BSPs are developed by an internal team, Andrews said.
Stated Graham Budd, EVP and GM, Processor Division, at ARM, "With the launch of the OMAP35x processors, TI is making our Cortex-A8 processor technology available to a broad base of developers for the first time, enabling them to address the needs of wide range of consumer, industrial, and medical applications."
Availability
The OMAP3503 is available today in a 0.4mm pitch package for $26 each in 100-unit volumes, and will ship within four weeks of the order. The 0.65mm version will be available in the second quarter of the year, and similar packages for the OMAP3515, OMAP3525, and OMAP3530 will be available in the second half of the year (pricing unavailable). TI is currently taking orders for the OMAP35x EVM which will be available early in the second quarter for $1,500. A Windows CE BSP will also be available for developers in the second quarter, and dual-board EVM packages will be available later in the year.
TI is demonstrating the new technology this week at the TI Developer Conference (TIDC) in Dallas. More information about the OMAP35x line may be available here.
---

This article was originally published on LinuxDevices.com and has been donated to the open source community by QuinStreet Inc. Please visit LinuxToday.com for up-to-date news and articles about Linux and open source.