Apr 16, 2007 — by LinuxDevices Staff — from the LinuxDevices Archive — 13 views

Intel unveiled a new post-PC computing form-factor based on embedded Linux this week, at its Developer Conference in Beijing. The chip giant projects a global market of 180 million units annually by 2010 for "Mobile Internet Devices" (MIDs), which are conceptually similar to Nokia's N800 tablet.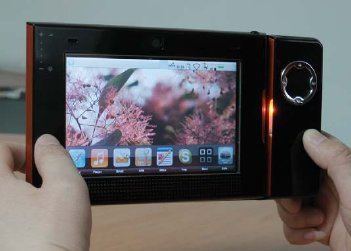 An Intel/Red Flag MID prototype
MIDs are smaller and more appliance-like than the clunky UMPC (ultra-mobile PC) concept co-launched about a year ago by Intel as the UMPC and by Microsoft as Origami. Whereas UMPCs have 5- to 7-inch displays and boot the slow-moving Windows GUI, MIDs have 4- to 6-inch displays, boot simplified Linux-based UIs with "instant-on" performance, and offer consumer price points, according to an IDF presentation by Intel Sr. Engineering Manager Danny Zhang and PengCheng Zou, senior manager of Red Flag Linux's R&D department.
Another way to think of MIDs might be as devices mid-way between mobile phones and computers.
The joint Zhang/Zou presentation appears to be among Intel's first efforts to build market demand for its Tolapai chips that integrate Pentium processor cores with Intel i915 IGPs (integrated graphics processors), external memory controllers, and an array of southbridge-like on-chip peripheral interfaces — essentially creating a Pentium M-based system-on-chip (SoC). Tolapai chips are expected to reach production before the end of 2007.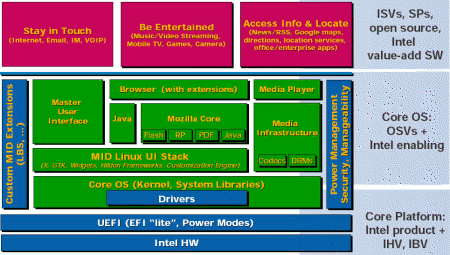 MID architecture
(Click to enlarge)
In addition to Intel-powered chips, the MIDs described by Zhang and Zou will have 256MB to 512MB of RAM, and Linux filesystems with footprints of about 500MB. Screen resolutions will be 800×480 or 1024×600. They will run appliance-like Linux software stacks with four key objectives:
Stay in touch

Social networking
VoIP
Chat
IM
Browsing
Video Conf
Blog

Be entertained

Video
TV
Games
Pictures
Music
Browsing

Access Info and Locate

Directions
Points-of-Interest
LBS
News
Sports
Shopping
Browsing

Be Productive

Internet
Collaboration
Communication
Databases
Remote access
Enterprise apps
Red Flag MIDinux
On the software side, Intel's MID designs will run a Red Flag "MIDinux" distribution. Intel and Red Flag began researching the distribution in 2005, according to Zhang and Zou, and the distribution is expected to be ready this May.
MIDinux is based on 2.6.20 and later Linux kernels, while the versatile filesystem-aware GRUB bootloader will do the booting honors. Startup time is sped up by the known, limited peripheral set, as well as a "fast resume" technique said to save time compared with Linux's normal software suspend (SWSUSP) scheme.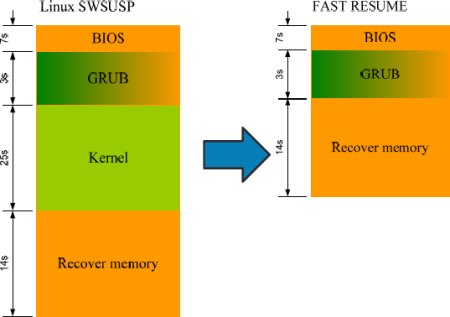 "Fast Resume" vs. SWSUSP
Intel hopes its various laptop power management and BIOS schemes can help the MIDs achieve a target boot time of 20 seconds, and target awaken times of 5 seconds (from suspend) and 10 seconds (from hibernation). The devices will use a "lite" version of
UEFI
, along with ACPI.
As did Nokia with its successful Maemo-based web tablets, Red Flag has largely eschewed traditional "embedded" frameworks such as Qt — although busybox and J2ME are two embedded packages that did make the cut. Going Nokia one better, MIDinux even uses a full Mozilla browser, rather than something like Opera.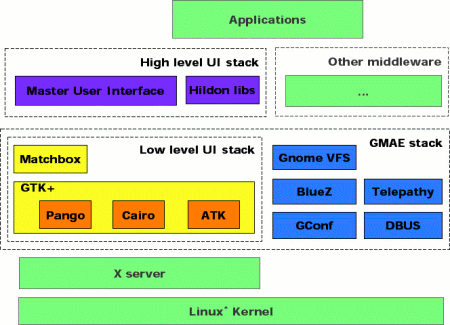 MIDinux software architecture
Instead of traditional embedded software, MIDinux will use footprint-optimized versions of popular desktop software packages borrowed from the Asianux Linux distribution that Red Flag bases its commercial distributions upon. In time, Red Flag hopes to "engage the community," and get upstream help optimizing applications for MIDinux.
Specifically mentioned open source packages in MIDinux include:
Mozilla browser core with Flash, RealPlayer, PDF, and Java plugins
X
GTK
Pango text layout
Cairo 2D rendering
ATK (accessibility toolkit)
Gnome VFS (virtual filesystem)
BlueZ (bluetooth stack)
Telepathy (IM/presence)
GConf – configuration database
DBUS inter-process communication
Busybox
J2ME Java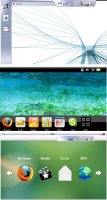 MIDinux UI screenshots
(Click to enlarge)
In another nod toward Nokia's 770 and N800 web tablets, the Intel/Red Flag MIDs will use the Matchbox window manager, alongside the Hildon UI and application framework. On top of these, Intel is working on a "master user interface" apparently an attempt to replace the "desktop" metaphor with something more suitable to carrying around on the go.
A few more details can be found in the full presentation, by Danny Zhang and PengCheng Zou, entitled "Designing for Linux-based mobile Internet Devices." It is currently available for download as a PDF file, here.
Thanks go to Steve at CarryPad for pointing us to the Intel IDF presentation link; his coverage of the MID is here. ZDNet Australia also has coverage, here.
---

This article was originally published on LinuxDevices.com and has been donated to the open source community by QuinStreet Inc. Please visit LinuxToday.com for up-to-date news and articles about Linux and open source.