Feb 28, 2007 — by LinuxDevices Staff — from the LinuxDevices Archive — 17 views

Nokia quietly began delivering an upgrade to its Linux-based 770 Internet Tablet in January. The N800 retains the same small web tablet form factor, while adding a webcam and significantly increasing computing horsepower, memory, and storage expansion.

Comparison of the N800 (top) and 770 (below) tablets, front and rear
(Click each image to enlarge)
Nokia officially unveiled the N800 Internet Tablet at the Consumer Electronics Show in Las Vegas on Jan. 8, exactly one year after its original 770 Internet tablet began shipping. Like the 770, the N800 runs a Linux software stack based largely on open-source software maintained by the Nokia-sponsored Maemo project.
The N800's Maemo-based Tablet OS 2007 — compiled for ARM11 — is not compatible with the 770's Tablet OS 2006, which is compiled for an ARM9 EABI. However, hundreds of open-source applications have been or are being ported to both environments, with the majority hosted at the "Maemo garage."
Interestingly, the N800 seems to have generated significantly more early interest than the 770, with many reviews appearing within weeks of the device's launch. LinuxDevices did our part with a hands-on hacker's eye view, while Sascha Segan at sister site PC Magazine also turned his attention to the device. Many early reviewers suggest that with a new processor and more memory, Nokia corrected the key weaknesses of its initial 770 web tablet effort.
The original 770 ultimately gained open-source and commercial GPS navigation software and VoIP software; however, it truly seemed to be built around the browser, with the Internet itself as its "killer app." The N800, in contrast, appears to go further in supporting multimedia entertainment, with stereo speakers and better video playback, while adding communication features such as video and voice conferencing right from the get-go.

A built-in stand and side-mounted headphone jack facilitate the N800's use as a multimedia playback device
(Click to enlarge)
What's under the hood?
The N800 is based on a TI OMAP2420 processor, one of the first ARM11-based SoCs to see widespread use, having shipped for more than a year in Linux-based Panasonic and NEC 902i-series smartphones for Japan's NTT DoCoMo network.
Along with an ARM1136 core clocked at 320MHz, the OMAP2420 integrates a 220MHz TMS320C55x DSP (digital signal processor) and an Imagination Technologies PowerVR MBX graphics coprocessor. The SoC also integrates a veritable panoply of on-chip peripheral interfaces, as shown below.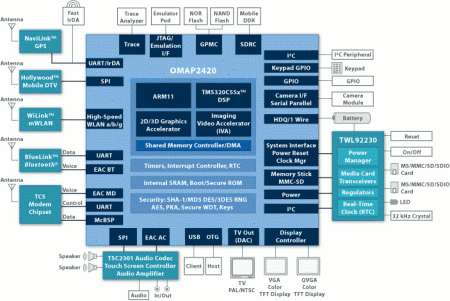 TI OMAP2420 function block diagram
(Click to enlarge)
The N800 boots Linux from 256MB of Flash. It has 128MB of RAM — twice that of the original 770.
Additionally, the N800 adds a second SD card slot, with each slot supporting cards up to 2GB (officially) or 4GB (anecdotally). The secondary slot's somewhat inconvenient location inside the battery compartment suggests it was made for use hosting a swap partition — a hack pioneered by Maemo community member Armin Warda for the memory-starved 770, and later adopted as a supported feature of the 770's second-generation OS 2006.
The N800 shares the same incredibly high-resolution 4.3-inch diagonal WVGA (800 x 480) LCD touchscreen used in the 770. The hardware interface buttons have been rearranged slightly, however, with a rocker-based scroll button added below the five-way navigator, in place of the 770's "home" and "menu" launch buttons.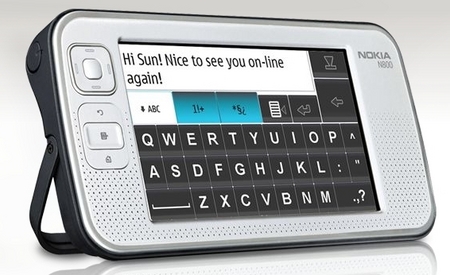 The N800 has a handy scroll rocker
(Click to enlarge)
The N800 connects primarily via an 802.11b/g WiFi network interface. Reviewers universally praise the radio's sensitivity in detecting and associating with networks beyond the range of typical laptops.
The N800 also has a Bluetooth 2.0 radio designed to meet profiles for file transfer, dial-up networking, generic access, serial port, and SIM access. Nokia offers a range of Bluetooth add-ons for the N800, including headphones, a keyboard, GPS module, and digital pen — although the latter two items are out of stock, or may not yet have shipped, as of this writing.
Additionally, the N800 has a USB 2.0 interface, audio I/O via an 1/8th-inch (3.5mm) stereo mini-jack, built-in microphone and stereo speakers, and a VGA (640 x 480) webcam on a rotating stalk that pops out of its left side.
On the software side, the N800 is based on a 2.6.18 Linux kernel. The graphics and windowing toolkit is called Hildon — a version of GTK+ adapted for handhelds.
Additional open-source software components include SDL (simple direct layer) and Gstreamer. Lots more details about the N800's software environment and Scratchbox-based build system can be found in our hacker's eye view of the device.
A full listing of the N800's touted features and specifications appears at the very bottom of this page.
Availability
The N800 is shipping now, priced at $400 — or about $50 more than the original 770.
---
Comments? Questions
---
Visit our Nokia 770/N800 discussion forum
---
For further reading…
---
Early Nokia N800 reviews
---
Nokia on open source
---
Commercial and free apps for the 770/N800
---
Other related Stories:
---
Detailed N800 Specifications
---
Additional N800 features and specs, as listed by Nokia, include:

This article was originally published on LinuxDevices.com and has been donated to the open source community by QuinStreet Inc. Please visit LinuxToday.com for up-to-date news and articles about Linux and open source.