Sep 5, 2003 — by LinuxDevices Staff — from the LinuxDevices Archive — 3 views
"A simple way to think about the concept is to ask this question: What makes your PC your PC? The answer is that it's . . . the hard disk, which contains your data; the rest is simply the access device. Using the Personal Server concept, we're virtualizing the hard disk through a wireless connection to whatever computing device is nearby and available." — Roy Want, Principal Engineer, Intel Corp.
---
Intel Personal Server Research:
Mobile Computing In The Palm of Your Hand

Imagine how much more productive employees could be if they always had the information they needed right at their fingertips and could access that information from any workstation, anywhere in the world.
Intel researchers are working to make this vision a reality by pioneering an exciting new class of mobile computers called Personal Servers that utilize advances in processing, storage, and communication technologies.
The Personal Server Concept
Smaller than PDA-class devices and without traditional input/output (I/O) capabilities such as a keyboard or display, the Intel Personal Server concept prototype links wirelessly to existing infrastructure to provide ubiquitous access to personal information and applications. With a focus on miniaturization, Personal Server technology could also integrate into a PDA or cellular phone, extending the capabilities of current consumer electronic devices.
The Personal Server concept would enable any computer with a small amount of additional software installed, to perform as if it were the user's own computer. The local computing infrastructure will support the Personal Server not only by providing a display and keyboard, but also by enabling access to other local resources such as printers, the Internet, and high-performance desktop processing.
Enabling a Truly Mobile Experience
The Personal Server prototype is based on the proven Intel XScale microarchitecture. Intel XScale technology is designed to optimize low-power consumption and high-performance processing for a wide range of wireless and networking applications, and enables the mobility users demand.
Intel XScale technology normally operates at 400MHz, consuming approximately 411mW during active operation. This technology also has several low-power operational states, including the ability to run at lower clock frequencies, which require lower core voltages. At reduced clock rates down to 33MHz, and at a corresponding lower core voltage, the Intel XScale core can enter a low-power idle state and consume only 45mW.
Intel XScale technology can also be put into an extreme low-power state called "sleep" in which it only consumes 45uA, but is still responsive to interrupts and timers. By carefully managing how applications use these states, users can keep their devices powered on for days at a time, giving a truer 24 x 7 availability. In addition, Intel XScale microarchitecture can quickly cycle between power states. Users, therefore, experience virtually no lag time between its operational states.
The Personal Server prototype is currently coupled with a Bluetooth radio and high-density electronic storage to provide always-available access to large quantities of personal data, allowing users to work anytime, anywhere. Electronic storage, a technology that is improving as fast as Moore's Law — which states that transistor density on integrated circuits doubles approximately every two years — provides more utility for the Personal Server concept as each year passes.
Seamless Interaction
Intel researchers have automated the steps necessary to interact with a Personal Server, so that operating the concept device could become a natural part of every day computing.
The host infrastructure is implemented using a standard Windows XP system augmented with a Bluetooth stack and custom middleware components. The host infrastructure is responsible for discovering mobile devices and providing common access protocols. In order to facilitate device discovery, a discovery monitor runs on the host and periodically searches for Personal Servers, automatically connecting using a Bluetooth PAN (Personal Area Network) profile when one is found.
Personal Server Software Architecture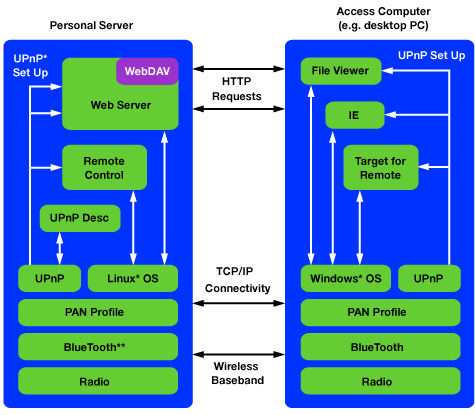 Once a networking connection is established, the Personal Server supports capabilities through the standard protocols such as IP, HTTP and UPnP technology, including:
Web services, enabled by wireless access to an Apache Web server.
File Shares, using the WebDAV extensions to the Web server.
Remote Control of applications via RPC (remote procedure call) mechanisms such as those provided by UPnP technology.
Low-power operation, achieved by utilizing idle and sleep modes as protocols permit.
However in Intel's latest prototype Personal Server, it is also possible to manage connections based on three radios arranged in a hierarchy to suit the bandwidth required by an application. While Bluetooth is suitable for most applications, Wi-Fi connectivity and Berkeley Mote connectivity offer higher power, higher bandwidth, and lower power, lower bandwidth, respectively. All of these technologies can also be selected on the fly to optimize power during the Personal Server's execution.
The Personal Server In Action
Imagine a future when your employees always had access to key data about your suppliers, partners, and customers — irrespective of whether your network and servers were up or down. Mobile workers from telecommuters to global sales teams could access their business-critical information all the time. The Personal Server concept could make this world a reality. The Personal Server would not only reduce the burden of mobile computing in terms of weight and display limitations, it also would provide people with a first-class mobile experience.
Suppose, for example, you were traveling on business and carrying your Personal Server. You could sit down in front of any PC that has the necessary wireless capability and a small icon representing your Personal Server would appear in a corner of the screen. When you clicked on the icon, it would expand to a much larger window, perhaps with the set of documents and applications that you were last using. You could access them in the same way as if you were still sitting at your own computer.
Big Presentations in Your Pocket
And what if you were traveling to a client site to give an important and very large multimedia presentation? Would you want to rely on Internet access to retrieve your slides from a remote server at your own work site? The connection might not be available, or the server could be down. Even if the connection could be made, it might have latency issues and perform very sluggishly for your audience.
Today, most people in this situation would choose to bring their own laptop with a copy of the presentation to help guarantee availability. Some might even carry an additional set of acetate slides as a backup. But with the Personal Server prototype they could connect to any device on site through standard protocols and launch the presentation with confidence.
Committed to Going Mobile
The design of the Personal Server prototype is explicitly intended to address the shortcomings of today's mobile devices with small displays, which can be difficult to use. Additionally, its compact size allows its use to be more like a wallet or a watch, enabling lighter, more convenient access to information anytime, anywhere.
Staying connected while on-the-go not only enables people to be more productive, it also helps make daily life more convenient -- and often more fun. Intel research and development teams around the world continue searching for and advancing better ways to make mobile computing devices such as mobile PCs and PDAs easier to use, more reliable, and always connected. Privacy is a primary consideration, requiring a careful balance between information sharing and protection. Intel teams are continually examining how to maintain the important balance of protecting privacy while advancing novel and useful functionality.
In pursuit of these goals, Intel works closely with renowned universities and industry leaders. Together they strive to create and refine the technologies, specifications, and standards that support the Personal Server concept, such as mobile processors, UPnP technology, Bluetooth, 802.11x, and emerging storage technologies.
---

About the author:
Roy Want
is a principal engineer and senior researcher at Intel, where he has managed the Ubiquity project since 2001. Learn more about
ubiquitous computing
in a one-on-one
interview
with Want, and in the document
"Research at Intel: Ubiquity"
(1.2MB PDF download).
---
Copyright © Intel Corporation 2003. All rights reserved. Reproduced by LinuxDevices.com under license from Intel.

This article was originally published on LinuxDevices.com and has been donated to the open source community by QuinStreet Inc. Please visit LinuxToday.com for up-to-date news and articles about Linux and open source.