Oct 29, 2004 — by LinuxDevices Staff — from the LinuxDevices Archive — 3 views
Foreword: New PCs and servers are beginning to emerge with expansion slots that look different from the PCI slots we've come to know and love over the past decade. The change signals the arrival of PCI Express — an interface that may well become the next decade's I/O expansion solution of choice in a wide range of client and server systems. PCI Express implements a high-speed serial interconnect that offers higher performance and occupies less space.
This whitepaper by Allyson Klein, a marketing manager for Intel's Enterprise I/O initiatives, explains the whys and wherefores of PCI Express, and offers some insight into where it's heading.
---
PCI Express is the new I/O Solution of Choice
by Allyson Klein
Overview: Reducing I/O Real Estate
This year new client and server systems are arriving with input/output (I/O) slots and connectors that look different from the PCI (Peripheral Component Interconnect) slots we've used for the last decade (Figure 1). The change signals the arrival of PCI Express technology, the industry-standard I/O technology expected to be the next decade's I/O solution of choice for client, server and communications platforms.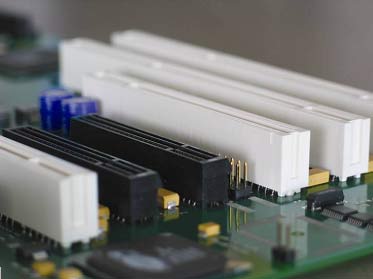 Figure 1: New PCI Express slot
PCI Express offers a breakthrough in design performance, utilizing cutting-edge, high-speed serial interconnect architecture while enabling smaller I/O real estate due to a reduction in the physical wires required to connect I/O to the system's processing complex. The introduction of PCI Express technology also represents the culmination of a multiyear industry-wide effort.
Why Replace PCI?
Most technology experts are familiar with today's I/O PCI bus, the local interconnect first introduced in the early 1990s. Since that time, Intel processors have continued to increase in performance at the rate predicted by Moore's Law. However, the PCI bus has remained constant, having received only minor performance enhancements.
The result of these developments is a growing imbalance in processing and I/O performance. A new approach to I/O connectivity, PCI Express takes advantage of a decade's worth of technology innovation. With this change comes an opportunity for IT managers to deliver increased system performance and reliability across their enterprise.
Increased Performance Across the Enterprise
In client systems, the transition to Gigabit Ethernet consumes today's PCI bus, leaving little performance for other system adapters. By moving to PCI Express technology, each I/O connection can deliver a dedicated 2.5 gigabits per second (Gbps) of bandwidth — or a tripling of bus performance dedicated to each slot — providing ample performance headroom for Gigabit Ethernet and future client connectivity requirements.
In the enterprise, the future of Ethernet centers on supercharged multi-Gig and 10-Gbps connections. Today's PCI-X-based server connections provide inadequate bandwidth to support 10-Gbps performance requirements. A move to PCI Express offers 10-20 Gbps of local I/O capacity per slot, providing nonblocking local I/O connectivity for 10-Gbps Ethernet deployments.
Today's workstation and desktop platforms utilize the specialized AGP (Accelerated Graphics Port) 8x bus to connect graphics cards. The graphics industry is rapidly migrating to a PCI Express x16 connection, doubling the performance of graphics connections to 40 Gbps. This transition increases graphics capabilities that were previously unrealized due to AGP interconnect limitations. Top graphics vendors have announced plans to deliver products in 2004, with ATI Technologies and NVIDIA Corp. both announcing a full line of products in time that align with the recent launches of the Intel 925x/915 Express Chipset and Intel E7525 Chipset platforms.
Storage interconnects such as SCSI (Small Computer System Interface) and Fibre Channel are delivering performance improvements with increased connection speeds. With the introduction of Serial Attached SCSI and multi-Gig Fibre Channel expected in the near future, the opportunity for performance advancements in storage is ripe.
PCI Express will offer the ability to deploy multiport, multigigabit HBAs (host bus adapters) in the near term without experiencing a local I/O bottleneck. Over the long term, as storage interconnects transition to 10-Gbps speeds, PCI Express can provide the basis for a long-term roadmap for storage performance capability.
Clustering is another area impacted by PCI Express technology. InfiniBand connections enabled for PCI Express deliver data centers a full 10-Gbps of clustering connectivity today. InfiniBand architecture has emerged as the first industry-standard 10-Gbps technology to reach data center clustering environments. PCI Express enables InfiniBand clusters the advantage of full wire speed InfiniBand to the server chipset, dramatically improving cluster performance vs. PCI-X-enabled cluster configurations.
Defining a New I/O Technology
Intel and the industry realized years ago that the need for a new I/O technology was escalating. In order to deliver a new technology that the industry could utilize, industry engineers began writing technical specifications for a technology that took advantage of the latest technology innovations while maintaining the industry's significant investment in software development for PCI technology. This effort resulted in the publication of the PCI Express specifications, and the specification's approval by PCI-SIG membership in July 2002.
The PCI-SIG — Keeper of the Specs
An industry standard isn't a standard without an industry body to maintain the specifications and offer the entire industry an even playing field for development of products based on the technology. The PCI Special Interest Group (PCI-SIG) is one of the most successful industry groups in the history of the computer industry. Founded for the development of PCI, the SIG currently has more than 900 member companies from all segments of the industry. With the transfer of the PCI Express specifications to the PCI-SIG, PCI Express gained the support of an experienced industry organization. Intel is a founding member of the PCI-SIG Board of Directors, and staffs all major working groups with technical and marketing representatives.
PCI-SIG working groups continue to develop PCI Express into new applications, including wireless form factors and server I/O modules. The PCI-SIG also maintains a robust compliance and interoperability program, ensuring that as PCI Express systems and adapters continue their rollout in 2004 and beyond, customers can expect products from across the industry to work efficiently together.
Providing Industry Tools
Since the finalization of the PCI Express technology specifications, over 100 companies have publicly announced intentions to deliver products based on the technology in 2004, timed with the release of the new Intel 925x/915 Express Chipsets, Intel E7525 Chipset, and Intel E7520 Chipset platforms. To deliver such a comprehensive transition across Intel architecture segments, the PCI Express interoperability lab has been a valuable tool in driving interoperability between industry products and Intel chipsets and platforms.
Tools such as Intel PCI Express product development kits (PDKs) and PCI Express interoperability labs, located across the world at Intel sites, provide the industry with the tools required to accelerate design of PCI Express products. The result is the availability of all major adapter technologies in time for the launch of the new PCI Express-enabled systems.
Summary
With PCI Express expecting a sharp volume ramp through the remainder of 2004 and into 2005, the industry is already working on new enhancements to the I/O technology while also collecting customer feedback on the first PCI Express-enabled solutions in customer deployments. Expect to hear about new form factors and a cable specification soon, as well as performance metrics for PCI Express-enabled deployments from Intel architecture customers.
More Info
For more information about PCI Express technology and the state of industry development of PCI Express visit the Intel Developer Network for PCI Express Architecture at www.express-lane.org.
Learn what's going on with the PCI-SIG.
---
About the author: Allyson Klein is the initiative marketing manager for Intel's Enterprise I/O initiatives, including InfiniBand architecture, PCI Express technology, DDR2 memory and Fully Buffered DIMM technology. Klein drives industry marketing programs for Intel, working with enterprise developers in their joint delivery of technology solutions to data centers, and promoting industry standards through the InfiniBand Trade Association and PCI-SIG as Intel's representative to each organization's Marketing Working Group. Klein has worked on server initiatives for the past five years, since the inception of Intel's efforts in delivering a switched fabric I/O specification to the industry. Prior to her work on server initiatives, she worked in Intel's Networking Products Division focused on Ethernet infrastructure delivery. Klein holds a B.S. from the University of Oregon and an M.B.A. from Portland State University.
---
Copyright © Intel Corporation 2003-2004. All rights reserved. Reproduced by LinuxDevices.com with permission. This article was originally published in Intel's [email protected] Magazine.
---

This article was originally published on LinuxDevices.com and has been donated to the open source community by QuinStreet Inc. Please visit LinuxToday.com for up-to-date news and articles about Linux and open source.