Jun 10, 2009 — by LinuxDevices Staff — from the LinuxDevices Archive — views
[Updated: Jun. 11] — New details have emerged today regarding Intel's next-generation Atom platform for netbooks, code-named "Pine Trail." The new CPUs — known as the Intel Atom N450, D410, and D510 — will deliver faster graphics and nearly double netbook battery life, among other advantages cited by Taiwanese sources.
Pine Trail has been rumored for some time, mostly thanks to reports by Taiwanese hardware vendors, but was only officially acknowledged by Intel in a conference call last month. Set to replace the enormously popular Atom N270, the new platform shrinks the number of chips required to develop a device down to two, a CPU package code-named "Pineview" and an I/O controller called "Tiger Point."
A report yesterday in Digitimes, fleshed out further today by HKEPC Hardware, says the Pineview processors will include the 1.66GHz Atom N450, a single-core offering for netbooks, plus the 1.66Ghz Atom D410 and Atom D510, nettop processors with single and dual cores, respectively. Tiger Point, designed to accompany them all, will be marketed as the NM10.
According to the publications, the N450 is designed to replace Intel's N270 — the "chip that launched a thousand netbooks." The D410 and D510, meanwhile, are designed to replace the Atom 230, and 330, respectively. The N450 will reportedly be available first, in the fourth quarter of this year, but it's said that all three Pineview CPUs will be on sale by Q1 2010 — at which point their predecessors will be phased out.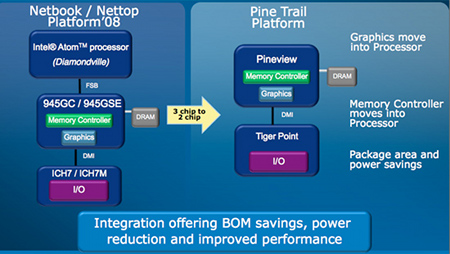 Intel's upcoming Pine Trail chipset
Source: Intel
(Click to enlarge)
Noury Al-Khaledy, Intel's general manager for netbooks and nettops, has been quoted as saying that Pine Trail will bring the Atom's memory controller and graphics core on-die, as pictured above, improving performance and significantly reducing thermal output. While the Atom N450 itself provides northbridge functionality, I/O is handled by the relatively simple NM10.
HKEPC Hardware, citing multiple PC manufacturers as sources, claims the N450 will be the same size as the N270, with a BGA (ball grid array) size of 22 x 22m. But the NM10 I/O controller will measure just 17 x 17mm, saving substantial board real estate.
Even more important, the Pine Trail platform will have a seven-Watt TDP and require an average of just two Watts, says HKEPC. Comparing these numbers to the N270's "Diamondville" platform — for which it cites slightly higher power requirements than we state below — the website says that Pine Trail offers at least 50 percent lower power consumption. As a result, forthcoming netbooks should be able to offer significantly better battery life.
HKEPC didn't offer power consumption figures for the N450's nettop cousins, the D410 and D510, but it did suggest that all Pineview CPUs will outperform their predecessors. Reportedly more important than the miniscule .06GHz bump in clock speed will be a move to 667MHz memory, plus, on the D510, a doubling of second-level cache to 1MB.
While the N270 has a modest TDP of just two Watts, according to Intel, its 945GSE (945GCSE northbridge and 82801GBM southbridge) chipset chews up another six Watts. In contrast, Silverthorne and Poulsbo together use just 4.5 Watts, delivering improved battery life. However, while the N270 reportedly costs manufacturers around $46, the Z530/SCH US15W solution is said to cost them $95.
Pine Trail, with its Pineview CPU and Tiger Point I/O controller, then, seems to be an attempt to provide customers with fanless operation and lower power consumption, but at a lower price. Pine Trail will apparently use a 45nm production process throughout, unlike the Diamondville platform, which uses 45nm for the CPU but 130nm for its supporting chips.
A modest boost in graphics
HKEPC claims that the Pine Trail platform will move from Intel's GMA950 integrated graphics to the chipmaker's somewhat-more-adept GMA500 IGP (integrated graphics processor), taking IGP clock speed from 133MHz to 200MHz. However, this apparently still won't be enough to make Atom-based devices capable of playing full 1080p HD video.
Quoted last month by PC Magazine, Al-Khaledy said that Pine Trail has been positioned for simple tasks such as Internet access, email, and social networking, not those requiring advanced graphics. "Some customers are using an Nvidia chip, and they can go compete in the market for end users," he is said to have continued. "I think it's one of the best problems to have: everyone innovating around the Atom processor."
Nvidia's Ion platform, referenced by Al-Khaledy, fits the Atom CPU with a single northbridge/southbridge chip that includes a GeForce 9400 graphics processor. Ion-based products support DirectX 10, offer resolutions up to 2560 x 1600 pixels, provide 1080p HD video playback, and deliver HDMI, VGA, DisplayPort, and dual-link DVI video outputs, Nvidia says.
Last week's Computex show in Taiwan turned into something of a coming-out party for the Ion chipset, with Nvidia providing news of 21 different Atom-based devices that are now using its companion chip. We haven't seen any speculation on whether the Ion can be revised to work with the Pineview CPUs. If not, constrained availability of the N270 and its nettop cousin, the Atom 230 could hamper Nvidia's future progress. On the other hand, the N270 appears on Intel's embedded roadmap for long-term availability [PDF link, here], so the HKEPC and Digitimes suggestions of "last orders" may be premature.
Availability
Intel itself has declined to provide additional information — pricing and speed, for example — about Pine Trail, except to say that products based on it will ship in the fourth quarter.
For today's followup story on the HKEPC Hardware site, go here. To read the PC Magazine report on Pine Trail referenced above, see here. To see yesterday's Digitimes story about the Atom N450 and NM10, go here. To read an interesting new article attempting to distinguish between the Pine Trail and Moorestown platforms, see the Register Hardware website, here.
---

This article was originally published on LinuxDevices.com and has been donated to the open source community by QuinStreet Inc. Please visit LinuxToday.com for up-to-date news and articles about Linux and open source.