Mar 8, 2010 — by Eric Brown — from the LinuxDevices Archive — 2 views
AccessKey IP is shipping a Linux-based IP set-top box (STB) and related secure USB key for viewing encrypted IPTC broadcasts. The AccessKey Home STB offers a security-enabled HD IPTV service that can be combined with digital terrestrial, satellite, or cable reception, while the USB key can bring the same secure IPTV service to PCs, the company says.
AccessKey IP is a wholly owned subsidiary of TeknoCreations, which under its previous "Advanced Technetix" incarnation introduced the Linux-based AccessKey Home IP STB back in 2006. Like the original, the latest version of the AccessKey Home STB, shown below, ships with a remote control device, as well as a secure descrambler device.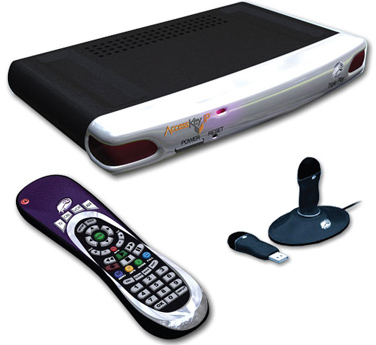 AccessKey Home STB with remote and USB key, the latter available separately as an AccessKey PC product
It's said that with the new version, the descrambler can be built into the STB or made available via the USB key, which can also be used as a separate AccessKey PC product that enables Windows- and Linux-based PCs to view secure content over the Internet. The key is required to view encrypted IPTV broadcast streams, and can also be set up to prevent the computer from operating without the key.
The security system does not require the device to have a fixed location, MAC address, or IP address, says the company. As a result, it is said to offer a more affordable, flexible alternative to closed -ircuit TV solutions, enabling worldwide secure TV broadcasts for customers including major studios, content providers, and even big box retailers.
The AccessKey Home is available as either a straight IPTV set-top or else a hybrid box that offers a choice of digital terrestrial, satellite, or cable reception as a secondary capability, says the company. The STB runs Linux 2.6 on an undisclosed processor, supports HDTV viewing, and offers dual USB ports, as well as stereo, composite, S-Video, component, and HDMI outputs, says AccessKey IP. The company did not mention what type of Ethernet connection was provided, nor whether the box incorporates WiFi.
The STB is said to be available with a remote control device, as well as an optional wireless keyboard with trackball. Secure HD streams processed by the system have been tested at 4.5Mbps and above, going from Los Angeles to China and back again, "while keeping perfect integrity," claims the company.
AccessKey PC
The USB security key is based on 1,024-bit RSA encryption, and uses "patented proprietary IP transmission technologies," says AccessKey IP. The company installs asymmetrical key pairs at the time of manufacture, which are said to never open to the PC or STB system. The technology is also said to help foil content piracy. "We can provide detailed forensic watermarking that makes it nearly impossible to duplicate illegally pirated content without providing a trail back to the source," says AccessKey IP.
The security technology found in the AccessKey PC USB key is said to use the same secure, ARM-based chipset available with TeknoCreations' TeknoVault security key product. The technology is based on the ARM SC100 processor with ARM 32-bit and 16-bit Thumb instruction sets, as well as a Von Neumann Load/Store data bus.
The "security hardened government approved" chipset ships with AccessKey IP's own security firmware, which is said to offer Smart Card functionality and simultaneous encryption and decryption of full time bi-directional video/audio streams. The AccessKey technology is equipped with the company's PKCS-11 protocol, which handles "low level calls and the real time streaming" and features TDES, AES, and X.509 certification. An IR detector set, meanwhile, is said to read the output of the remote.
Specifications for the AccessKey PC security system are said to include:
Processor — ARM SC100 SecureCore 32-bit RISC processor with ARM 32-bit and 16-bit Thumb instruction sets; Von Neumann load/store data-bus architecture; 3-stage pipeline architecture
Memory — 122KB of RAM (2KB shared with an AdvX crypto processor)
USB — USB 2.0 full-speed (12Mbps) interface; 5 x endpoints, suspend/resume modes supported
Security features:

Random number generator
2-level, 15 vector interrupt controller
Hardware 128, 192, 256 AES, DES, 3DES (DPA resistant)
Checksum accelerator and CRC 16/32 engine
32-bit cryptographic accelerator for public key operations (RSA, DSA, ECC, Diffie-Hellman)
Dedicated hardware for protection against SPA/DPA attacks
Protection against physical attack
Environmental protection systems
Voltage, frequency, light, and temperature protection systems
Secure memory management/access protection
ESD protection to +/- 6,000Volts
Availability
The complete AccessKey IP system, including the AccessKey Home and AccessKey PC (USB key), is available now at an undisclosed price. The company also sells back-end MDU (multi-dweller unit) infrastructure and services related to the system. More information may be found here.
---
This article was originally published on LinuxDevices.com and has been donated to the open source community by QuinStreet Inc. Please visit LinuxToday.com for up-to-date news and articles about Linux and open source.