Dec 9, 2009 — by Eric Brown — from the LinuxDevices Archive — 21 views
D-Link is readying a Linux-based IP set-top box (STB) based on the open source Boxee home entertainment stack. The singularly styled "Boxee Box DM-380" incorporates WiFi, Ethernet, USB, and HDMI out, as well as analog and digital audio outputs, says the company.
D-Link offered few details on the Boxee Box at its unveiling event, which coincided with a preview of a new Boxee Beta that is scheduled for release on Jan. 7. The Boxee Box itself is expected to ship in the second quarter of 2010, for about $200, according to a story in TechNewsWorld.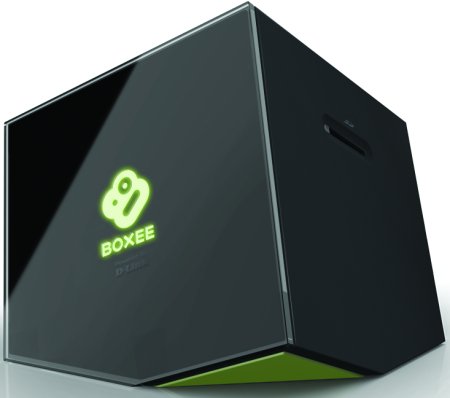 D-Link's Boxee Box DM-380


(Click to enlarge)
The Boxee Box is designed to play non-DRM (digital rights management) Boxee videos, music, and photos streamed by the company's cross-platform, Linux-compatible software. Its software provides an integrated interface to search and select media from various free and commercial Internet sources, as well as from local content available over a home network (see farther below for more on Boxee Beta).
The edgy-looking Boxee Box DM-380 sits at an angle, like the Statue of Liberty emerging from the sands in "Planet of the Apes." Measuring roughly 4.7 inches on all sides (120 x 120 x 120mm), the Boxee Box runs Linux on an undisclosed processor, and offers Ethernet, WiFi, HDMI, and other A/V connections. No storage is available, but users can hook up storage devices via the dual USB ports and SD Card slot. According to TechNewsWorld, the box will be capable of displaying 1080p HD video.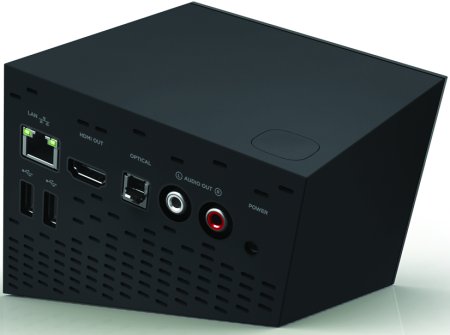 Boxee Box rear panel
(Click to enlarge)
Specs listed by D-Link and Boxee for the Boxee Box DM-380 include:
1 x SD Card slot
1 x Ethernet port
WiFi
2 x USB 2.0 ports
1 x HDMI connector
1 x optical digital audio (S/PDIF) connector
Composite audio connectors
Remote
Power button and AC power connector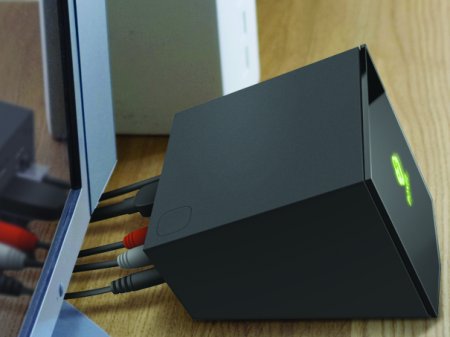 The Boxee Box measures about 4.7 inches on each side.


(Click to enlarge)
Based on the
XMBC Media Center
source project, the social-networking-focused
Boxee
has been available for Mac, Linux, and Windows desktops in usable alpha releases for about a year. With Boxee Beta, the distribution will debut in its first embedded device implementation.
Boxee is notable in that it lets users share media selections with friends on Boxee, Twitter, and Facebook. The Boxee library is said to include commercial TV shows, as well as university courses, panel discussions, academic lectures, presentations, and web-only videos. Sources for this educational and alternative content include TED, Stanford, FORA.tv, Kid Mango, and Next New Networks, says D-Link.
It's said users can also link to their own entertainment sources using RSS or XML feeds. Aside from video, Boxee also provides access to music sites like Pandora, Last.fm, Shoutcast, and We are Hunted, as well as photos from sites including Flickr, Picasa, and Facebook.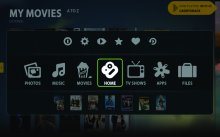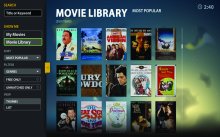 Boxee Beta's new global menu (left) and movie selection screen (right)


(Click on either to enlarge)
The Boxee Box will run the Boxee Beta, which was previewed along with the device. The new release shows numerous enhancements, but appears to offer its long-promised Netflix streaming capability only on the Windows version. This is according to former
LinuxDevices
editor in chief and founder Rick Lehrbaum, writing on his
OpenBoxeeBox
website
.
(The name of the site stems from its chronicle of Lehrbaum's own open source development project for a now completed Ubuntu-powered "BoxeeBox" design, which appears to offer roughly equivalent functionality to the D-Link box.)
While no code is available yet for the Beta release, the OpenBoxeeBox evaluation of the preview praises the much more streamlined global menu (see image above, left), which greatly reduces the clicks required to perform common tasks. The new release is also said to treat Internet streamed video and local media the same way, letting users search and play either from the same screen. Other enhancements are said to include bug fixes, performance improvements, and support for OS X Snow Leopard and Ubuntu Linux 9.10 (Karmic Koala).
In addition, Boxee's graphical engine has switched from OpenGL to DirectX. This primarily benefits Windows users, although a collaboration with Nvidia is said to enable Nvidia Ion-powered devices, which should include the Linux-based Myka IP STB. The Myka device runs on an Intel Atom CPU along with an Ion graphics chipset, and is said to support Boxee streaming, but not yet Netflix. For the latter, the Linux-based Roku player still appears to be the only game in town.
Availability
The Boxee Box DM-380 will be demonstrated at CES 2010, from Jan. 7-10, says Boxee. More information may be found at D-Link, here, and at Boxee, here.
The TechNewsWorld report on the announcement may be found here. The OpenBoxeeBox report on the Boxee Box and Boxee Beta may be found here and here, respectively. The link to the OpenBoxeeBox BoxeeBox DIY cookbook should be here.
---
This article was originally published on LinuxDevices.com and has been donated to the open source community by QuinStreet Inc. Please visit LinuxToday.com for up-to-date news and articles about Linux and open source.