May 21, 2009 — by Eric Brown — from the LinuxDevices Archive — 3 views

A $100 networked-attached storage (NAS) device using the Marvell SheevaPlug reference design has been updated to support Linux desktops. The Cloud Engines Pogoplug NAS, which gained 64-bit OS support and easier searching and sharing software, also received its own plug from The New York Times.
(Click for larger view of the Pogoplug)
As reported in our initial coverage of the Linux-based Marvell SheevaPlug platform and Plug Computer design in February, the Pogoplug enables remote viewing of external storage devices via a web browser. The device connects to an external hard drive or memory stick via USB, and to a router via gigabit Ethernet, says Cloud Engines. The 4.0 x 2.5 x 2.0-inch device plugs directly into a wall socket, and enables remote uploading of multimedia, including access from an Apple iPhone.
Now shipping, the device has been updated this week via automated downloads to support 32- and 64-bit Linux desktops, as well as 64-bit versions of Windows and Mac computers. With the new search function, users can find specific files using their iPhone or Pogoplug web application without having to manually search the entire drive, says the company. Other touted upgrades include the ability to input multiple email addresses at a time for simplified sharing, as well as the ability to add personalized messages with each share invitation.
Starting tomorrow, Cloud Engines plans to issue a second update that replaces a 26-character ID log-on with an auto-discovery feature, and adds a sorting function that enables file sorting by name, size, or type in both ascending and descending order. In addition, it is introducing a Media RSS feed feature, enabling users to gain access to their storage devices using any supported Media RSS client. In particular, this will enable users of the Linux-compatible Boxee media playback application to watch movies or listen to music directly from their home hard disk drive (HDD) via RSS, says Cloud Engines.
SheevaPlug heading for $40 pricepoints?
Like the Ctera Networks CloudPlug, the Pogoplug is based closely on Marvell's SheevaPlug hardware/software development kit, which can be used as the basis for a variety of always-on home automation devices and service gateways, says Marvell. Resembling a "wall-wart" power adapter, the SheevaPlug draws 5 Watts, runs on embedded Linux, and boasts completely open hardware and software designs, says the company.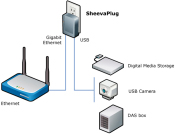 Plug Computer in
typical configuration
(Click to enlarge)
The $100 SheevaPlug development platform and Plug Computer designs are built around the Marvell 88F6000, or "Kirkwood" SoC, which was introduced last year. The Plug Computer is based on the high-end 88F6281 version of the Kirkwood, with a Sheeva CPU core clocked to 1.2GHz. The Sheeva core combines elements of Marvell's earlier Feroceon and XScale architectures, both of which implemented ARM Ltd.'s ARMv5 architecture, similar to ARM Ltd.'s own "ARM9" cores.
The SheevaPlug Plug Computer is further equipped with 512MB of DRAM and 512MB of flash. The tiny embedded PC also includes gigabit Ethernet and USB 2.0 ports. The SheevaPlug development kit supports standard Linux 2.6 kernel distributions, including specific support for ARM ports of Fedora, Ubuntu, Debian, and Gentoo, says the company.
The SheevaPlug and Pogoplug have both received extensive press coverage, with the latter already receiving a number of favorable reviews. Most recently, The New York Times took note of the Pogoplug as part of a recent interview with Marvell CEO Sehat Sutardja. In the interview, Sutardja is quoted as saying that within two years, SheevaPlug Plug Computer devices should be available for $40, opening up even more potential applications.
"Eventually you won't see the plug," Sutardja is quoted as saying. "We want this device to be in your TV, your stereo system, your DVD player."
In other recent Cloud Engines news, a week ago the company announced it had closed a round of venture financing with Foundry Group. Cloud Engines also announced that it had created an Escrow Account that holds the Linux source code for Pogoplug's back-end services, which unlike the core SheevaPlug code, is not yet open source. If the company were ever to go out of business, the source code will be released on SourceForge "for the community to manage how they see fit," vows Cloud Engines.
Availability
The Pogoplug is available now for $100, and the newly updated software is free for the download, says Cloud Engines. The story by The New York Times on the SheevaPlug design and the Pogoplug should be here.
---

This article was originally published on LinuxDevices.com and has been donated to the open source community by QuinStreet Inc. Please visit LinuxToday.com for up-to-date news and articles about Linux and open source.