Jan 28, 2010 — by Eric Brown — from the LinuxDevices Archive — 2 views
Kontron announced an "AM4020" AMC module and a VPX format "VX6060" computing blade, both equipped with Intel's 32nm-fabricated Core i7 processor. The Linux-ready products are the first of many Core i7 systems Kontron plans to introduce this year in formats including AMC, CompactPCI, and COM Express, says the company.
The AM4020 and VX6060 lead a new line of Core i7-based products for compute and graphic-intensive applications in the communications, military, aerospace, medical, industrial, and infotainment markets, says Kontron. Earlier this month, Intel announced 12 new processors specifically aimed at embedded devices. Additions to the chipmaker's Core i3, i5, i7, and Xeon families, the CPUs have two or four cores and incorporate "Turbo Boost" technology that can temporarily bump up their basic clock speeds. All of the CPUs also include onboard graphics.
Combined with the Intel QM57 Express chipset, the Core i7 is ideal for "graphical and multimedia functions," thanks, among other things, to separate ports for SDVO and PCI Express Graphics (PEG), says Kontron. The company also cites the i7's integrated error-correcting code (ECC) memory controller, additional I/O and PCI Express configuration options, and extended seven-year lifecycle as other features that should benefit Kontron systems.
Kontron AM4020
Kontron touts the AM4020 as the market's "most powerful single-width AdvancedMC processor module." Like other AMC (AdvancedMC) boards and modules, the AM4020 is designed to be integrated in MicroTCA and ATCA (AdvancedTCA or "Advanced Telecommunications Computer Architecture") systems, which are typically used for networking and telecommunications applications. Specific applications include IPTV, media servers and gateways, conference systems, and wireline network test systems, as well as other medical, automation, mil/aero, and security applications, says the company.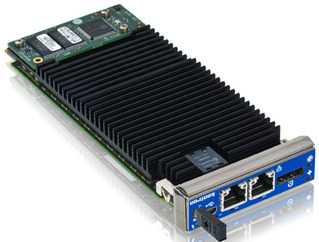 Kontron AM4020
The processor module incorporates a 2.53GHz Core i7 processor, as well as the Intel QM57 chipset, offering up to 8GB of soldered, dual-channel DDR ECC RAM at 1066MHz, says Kontron. The AMC-compliant AM4020 offers eight PCI Express (PCIe) lanes to the backplane, configurable as two PCIe x4 or eight PCIe x1, says the company. The board further supplies four SATA ports, which support SATA-based flash modules that can be securely screwed to the PCB, and offer up to 32GB of memory, says Kontron.
Four gigabit Ethernet ports are said to be split equally between the front and the backplane (AMC.2), and other I/O includes a mini-USB 2.0 port, DisplayPort, and a COM port for external management access. The AM4020 is said to offer full hot-swap capabilities, as well as an Intelligent Platform Management Interface (IPMI), and a dedicated Module Management Controller (MMC).
The board's MicroTCA.1 support enables a robust system design and an optional, extended temperature range of -40 to 158 deg. F (-40 to 70 deg. C), says Kontron. The board is said to support Linux distributions such as RedHat 5.3, SUSE 11.2, and Wind River Linux PNE 3.X, as well as Windows XP, Windows 7, and VxWorks 6.8.
Kontron VX6060
Kontron also announced a Linux-ready, VPX-format 6U computing blade for parallel data and signal processing applications. The Kontron VX6060 is equipped with dual Intel Core i7 processing nodes linked to an Ethernet and PCI Express infrastructure, says Kontron.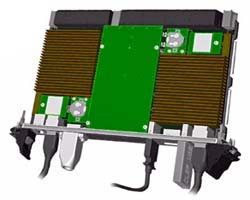 Kontron VX6060
The VX6060 is aimed at intensive parallel computing workloads where a cluster of VX6060 blades can be used in full mesh VPX or switched OpenVPX environments, says the company. Target applications include radar, sonar, imaging systems, airborne fighters, and unmanned aerial vehicle (UAV) radar, as well as "rugged multi-display consoles."
Each processing node of the Kontron VX6060 implements Intel Core i7 and QM57 chips, along with unspecified allotments of gigabit Ethernet, SATA, USB 2.0, and PCIe connectivity, says Kontron. The 6U-format VX6060 is available in forced air-cooled and conduction-cooled versions, and covered by Kontron's long-term supply program.
Equipped with an EFI BIOS, the blade is said to support Linux and VxWorks 6. The Kontron VX6060 ships with PowerMP, a collection of off-the-shelf software, used with UAVs, radar, and sonar equipment, says Kontron. PowerMP includes "complex computer cluster health management, and a stress test tool allowing computer qualification prior to the final application availability," says the company.
The VPX specification, also known as "VITA 46," is maintained by VITA (VME Industry Trade Association), an incorporated, non-profit organization comprised of companies involved with real-time, modular, embedded computing systems. Widely used in mil/aero systems, VPX is said to offer improved connector technology compared to VMEbus, including support for serial fabrics and other modern bus technologies, while maintaining backward compatibility.
In November, Kontron and Intel subsidiary Wind River announced a global, multi-year agreement under which the embedded system manufacturer will distribute Wind River's VxWorks and Wind River Linux distributions.
Stated Dirk Finstel, CTO of Kontron AG, "In addition to the breakthrough performance for demanding applications, the new platforms from Kontron provide a seamless upgrade path enabling more solutions that can benefit from the improved performance per watt, enhanced graphics, data integrity and design flexibility features inherent in this next-generation processor technology."
Availability
The Kontron AM4020 AMC processor board is now available in both mid- and full-size formats, at an undisclosed price. More information on the AM4020 may be found here.
The company did not list the pricing or availability for the VX6060 blade, but more information should eventually be available on its VPX page, here.
Kontron says it will continue to launch specific AdvancedMC, CompactPCI, and COM Express products designed with Intel Core i7 processor technology throughout 2010.
---
This article was originally published on LinuxDevices.com and has been donated to the open source community by QuinStreet Inc. Please visit LinuxToday.com for up-to-date news and articles about Linux and open source.