Nov 23, 2011 — by Eric Brown — from the LinuxDevices Archive — 4 views
Kontron announced a computer-on-module (COM) standard designed with ARM processors in mind, employing modules that are 82mm (3.23 inches) wide and use a MXM 3.0 connector. The unnamed format, which Adlink is also supporting, offers features such as LVDS output and dedicated camera interfaces, supports rugged designs, and comes in both full and half-sized versions.
Back in September, German embedded manufacturing giant Kontron announced plans to develop a computer on module (COM) format that would support both single- and multicore ARM processors for Linux, Windows CE, and Windows 8 platforms. The company said it would follow up in 2012 with ARM-based single board computers (SBCs), plus tablet, box, and HMI (human machine interface) PCs.
Kontron has yet to name its new COM standard, but has now supplied some additional details. It also announced a key supporter in the form of Adlink, which, like Kontron, has offered few ARM-based products in the past, concentrating mostly on x86. (This week, Adlink unveiled its first ARM-based, Android-ready handheld computer, the TIOT 2000.)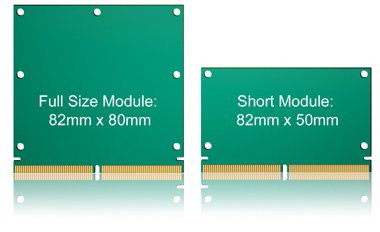 The new Kontron COM standard is available in full and half-sized versions
The new COM standard supports "ARM and SoC" processors, and "extends the COM usage model to RISC architectures with scalable, modular, and out-of-the-box solutions," says Kontron. The standard bridges the gap between proprietary industrial offerings and consumer designs, helping manufacturers reduce R&D investment costs, says the company.
The standard is based on a 314-pin MXM 3.0 connector measuring only 4.3mm (0.17 inches) in height, says Kontron. This is said to enable "durable and slim designs with a cost-efficient horizontal card edge/goldfinger connection." Full-sized modules will measure 82 x 80mm (3.23 x 3.15 inches), while half-sized modules measure 82 x 50mm (3.23 x 1.97 inches), says Kontron.
Kontron's new COM standard enables ARM-oriented features like LVDS video output and camera interfaces, and will evolve to support DisplayPort 24-bit RGB and HDMI connections, says the company. "Users no longer need to compromise or work with inefficient standards that are stretched between the x86 feature set and lean ARM and SOC I/Os," says Kontron.
The connector is also available in "a shock and vibration proof construction suitable for harsh environments," says the company. No further details on the standard were offered.
Background on the MXM connector
The MXM (Mobile PCI Express Module) standard underlying Kontron's new format was created in 2004 by Nvidia as a way to provide laptops with interchangeable graphics modules. It never gained much traction in that market, but in 2007, Embedian repurposed the connector for embedded devices.
Embedian's MXM-7110 module and the graphics-enhanced MXM-7114 were said to be the first ARM-based industrial computers to use the MXM format. Embedian's 2.60 x 1.97-inch MXM-based boards maintained roughly the same dimensions as the SODIMM module format. Instead of SODIMM's 200 pins, however, Embedian's MXM used a 242-pin "golden finger" connector.
In July 2008, an organization called Qseven announced its own multi-vendor Qseven COM spec, also using an MXM connector. Formed by European COM module vendors Congatec, MSC Vertriebs, and Seco, Qseven launched the first version of its Qseven specification, calling for four mounting holes instead of Embedian's two, and a slightly larger 70 x 70mm size instead of Embedian's 66 x 50mm format.
Qseven now has dozens of members and has clearly dominated over the Embedian MXM design. The vast majority of Qseven modules, however, have featured Intel Atom processors. One ARM-based version, using a dual-core Nvidia Tegra 290 CPU, is MSC Vertriebs' MSC Q7-NT2.
Presumably, Kontron and Adlink reasoned that the Qseven format does not deliver enough board real estate for their purposes, making a new "standard" necessary. We look forward to seeing technical comparisons between Qseven and the new Kontron format when products based on the latter are released.
Stated Henk van Bremen, product director for Embedded Computing at Adlink, "It is an honor and very exciting to be able to enter the previously proprietary ARM market with a standardization initiative for COTS products. This is ideal for custom specific designs based on a proven and scalable module platform and will save customers significant time and cost."
Availability
The first Kontron ARM-based module using the new COM standard will be available in Q1 2012 for early field testing platforms. Official product launches are expected shortly after. More information should eventually be found on Kontron's website.
---
This article was originally published on LinuxDevices.com and has been donated to the open source community by QuinStreet Inc. Please visit LinuxToday.com for up-to-date news and articles about Linux and open source.