Dec 21, 2010 — by Eric Brown — from the LinuxDevices Archive — 3 views
Wind River announced a partnership with Chinese telecommunications firm Via Telecom to develop low-cost Android phones using Wind River Platform for Android. It's said the "Kunlun" reference platform will enable OEMs to offer sub-$100 CDMA phones using Via Telecom's 3G EVDO Rev. A and 1xRTT modem, phone board, and telephony software.
The Kunlun platform aims for what many believe will be the fastest growing segment of the Android market in the next few years: mass-market phones aimed at emerging giants like China, India, and Brazil. Kunlun initially targets the Chinese market, but is touted as a common platform to create Android devices that can be easily adapted for other markets, as well.
Kunlun-based devices will offer features such as GPS, Wi-Fi, Bluetooth, FM radio, camera, touchpad, keyboard, and microSD, says Intel subsidiary Wind River. The mention of the touchpad - or lack of any mention of a touchscreen — suggests that the platform will focus on a very low-end segment indeed.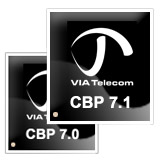 Founded in 2002 by Taiwanese x86 chipmaker Via Technologies, Beijing-based Via Telecom will supply the Kunlun hardware platform. This is said to consist of a 3G EVDO Rev. A and 1xRTT modem, phone board, and telephony software.
No product names were provided, but Via Telecom offers CBP7.0 and 7.1 baseband chipsets (pictured), which provide support to EVDO handsets, data cards, and external GPS. The CBP7 Series targets the CMOS low power process with multi-foundry support for supply security, says Via Telecom.
Technical details were not provided, but an earlier Via Telecom processor — the CBP 5.7 — is said to be based on an ARM processor. This suggests the rather ironic prospect of Intel actively pushing an ARM-based phone platform.
Wind River Platform for Android is a commercial version of the Android software development kit that was announced a year ago and updated this fall for Android 2.2. The enhanced SDK offers interface extensions, an automated test framework, plus pre-integrated PacketVideo OpenCore, and Red Bend FOTA software, says Wind River.
Wind River is listed as "the primary system integrator of software components" for Kunlun. On the Kunlun platform, Wind River Platform for Android has been customized to meet the acceptance criteria for Chinese operator networks, says the company.
In addition, the company applied its Wind River Framework for Automated Software Testing (FAST) for Android, an automated software testing solution for Android-based devices. FAST was used to rapidly test and validate software and prove compliance with the Android Compatibility Test Suite, says the company.
Sub-$100 Android phones?
An EE Times story on Kunlun says that the platform will enable sub-$100 Android phones, with room left over to make a profit. While Android phones are often priced much lower than that in the U.S., that is only because the phones are subsidized by profits made from expensive data plan contracts.
The story quotes Dave Carey, who heads the teardown analysis service at UBM TechInsights as saying, "Given a typical BoM range of $90-$180 for Android stuff we've looked at recently, the idea of a $100 ASP is a leap forward."
Carey goes on to say that with expected improvements in silicon, "I can see a BoM cost below $75 coming before long, but even at a $50 BoM, a $100 selling price doesn't leave room for a lot of profit."
EE Times also quotes William Stofega, program manager for mobile device research at IDC as saying that Kunlun addresses a key issues in the Android OEM market in China. "Android is great here in that it has no license fee, but it requires lots of integration on the OEM and carrier side," Stofega was quoted as saying.
Stated Michael Krutz, vice president of worldwide solutions and services at Wind River, "Kunlun is a reliable turnkey software and hardware Android platform that allows OEMs to bypass complex, expensive and time-consuming engineering hurdles such as integration and testing."
Stated Ker Zhang, chief executive officer of Via Telecom. Our work with Wind River allows us to now deliver Android to our large customer base by providing a powerful yet affordable integrated solution."
Availability
No availability information on Kunlun was provided, but the partnership appears to be in full swing. More information about Wind River Platform for Android may be found here, and more on Via Telecom may be found here. The EE Times story should be here.
---
This article was originally published on LinuxDevices.com and has been donated to the open source community by QuinStreet Inc. Please visit LinuxToday.com for up-to-date news and articles about Linux and open source.