Nov 5, 2010 — by LinuxDevices Staff — from the LinuxDevices Archive — 4 views
Some 81.1 million smartphones shipped worldwide in the third quarter, up 89.5 percent from 3Q 2009, says IDC. Nokia, Apple, and RIM took the top three spots in vendor share, but fourth and fifth place Samsung and HTC showed the fastest growth, based largely on their Android phones.

Samsung, HTC, and Apple posted double- and triple-figure global smartphone sales growth during a third quarter that "reached a new milestone," IDC reported Nov. 4. Fourth place Samsung showed the largest growth spurt among vendors, with a 454 percent growth in unit sales, based largely on versions of its Galaxy S Android phone (pictured).
"Smartphone makers have the wind behind their sails," IDC analyst Kevin Restivo said in the new report, which showed shipments to have totaled 81.1 million during the quarter — a jump of 89.5 percent from the 42.8 million units shipped during the third quarter of 2009.
The combined first three quarters of 2010 now total 200.6 million units, for a growth of 67.6 percent over the 119.6 million phones that had shipped by the same time last year, says IDC.


Worldwide smartphone market by vendor share, 3Q 2010
Source: IDC
(Click to enlarge)
"That the smartphone market has grown nearly ninety percent from last year and more than six times the overall mobile phone market indicates strong demand worldwide and vendors' collective ability to meet that demand," Ramon Llamas, an IDC senior research analyst, said in a statement.
"Increasingly, users look to smartphones as their next devices while carriers have broadened selection and offered generous subsidies," continued Llama. "To keep up with demand, vendors' plans to emphasize smartphones in their portfolios have resulted in sharp growth, as evidenced by Motorola, Samsung, and Sony Ericsson. We expect more vendors to do the same."
Nokia, which has been criticized for its failings to compete in the high-end smartphone market, led the global market with shipments of 26.5 million units and had strong year-on-year growth of 61.6 percent, following the launch of two new smartphones, the C7 and the N8 — its first to run the Symbian 3 operating system.
Still, Nokia's market share dipped a bit, to 32.7 percent, from 38.3 percent a year earlier, and its average selling prices "trended down," IDC said.
Apple, posting a year-on-year growth of 90.5 percent, leaped over Research in Motion (RIM) into the number-two spot. Thanks to the launch of the iPhone 4, Apple's third quarter was once again its strongest, and it shipped 14.1 million iPhones, up from 7.4 million during 2009's third quarter.
While it dropped to third, RIM nonetheless posted a record-setting quarter, during which it debuted the Torch 9800 — its first BlackBerry with both a touchscreen and dedicated QWERTY keypad — and shipped 12.4 million units. Its year-on-year growth was 45.9 percent, boosting its market share to 19.9 percent, from 15.3 percent a year earlier.
But it was fourth-place-finisher Samsung that gets the gold star for growth. Year over year, Samsung smartphone shipments skyrocketed by 453.8 percent, on shipments of 7.2 million units — up from just 1.3 million the year before, according to IDC.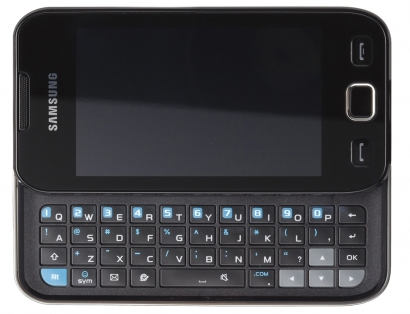 Samsung Wave 2 Pro
"This result was based on the worldwide launch of its Galaxy S Android-powered smartphones and the continued popularity of its Wave smartphones," stated the IDC report, referring to phones such as the Wave 2 Pro (pictured above) which run Samsung's Bada operating system, said to be based on a Linux kernel.
"Although these devices directly address the high end of the smartphone market, Samsung is poised to ship mass-market smartphones," continued IDC. "Moreover, the company will be one of the first vendors to ship a Windows Phone 7 device. By the end of the year, Samsung aims to ship 10 million units for the quarter."
In fifth place, relative newcomer HTC posted the second-highest year-on-year growth figure of 176.2 percent, following shipments of 5.8 million units, up from 2.1 the same time last year. This triple-digit growth, said IDC, was based on the strength of is Android-powered lineup.

According to a recent study from the NPD Group, HTC's Evo 4G, pictured at left, was said to be the fifth best selling smartphone in the U.S. in the third quarter, following, the fourth-place Motorola Droid X.
IDC added, "Now that HTC has five Windows Phone 7 devices for launch during [the fourth quarter], the company aims to ship 9 million units for the quarter."
The launch of new operating systems, said IDC's Llamas, is a way the vendors are "seeding the market" for continued growth. "BlackBerry, iPhone, Microsoft and Symbian all announced or launched refreshed operating systems, with each one providing an improved user experience over its predecessor," stated Llamas.
"While these new operating systems initially appear on high-end devices at launch," he continued, "they provide a glimpse of what the broader smartphone market will look like next year as the OS finds its way into more devices in the market."
Availability
IDC's announcement of its 3Q smartphone study, based on its "Worldwide Quarterly Mobile Phone Tracker," may be found here.
Michelle Maisto is a writer for our sister publication eWEEK.
---
This article was originally published on LinuxDevices.com and has been donated to the open source community by QuinStreet Inc. Please visit LinuxToday.com for up-to-date news and articles about Linux and open source.