Aug 26, 2010 — by Eric Brown — from the LinuxDevices Archive — 3 views
Pre-paid mobile carrier Cricket Communications announced Kyocera's first Android phone, the 3.5-inch Sanyo Zio — sold for $250 without a contract, plus $55 a month for unlimited usage. Meanwhile, Dell's similarly low-end, Android-based "Dell Aero" phone, launched by AT&T on Monday, has received mixed reactions in the press, according to eWEEK.
Kyocera's first Android phone was announced in March under the name Zio M6000. The phone is now available under the company's venerable Sanyo brand from no-contract mobile provider Cricket Communications, a wholly-owned subsidiary of Leap Wireless International.
The Sanyo Zio is selling at Cricket-branded retail stores and at dealers across the U.S. without a contract for $250, says the pre-paid carrier. In addition, Cricket is launching an all-inclusive $55 Android service plan for the Zio, offering unlimited talk, text, picture mail, web browsing, email, international text, and other features without telecom taxes or fees. This is claimed to be nearly half the price of smartphone service plans at other major carriers.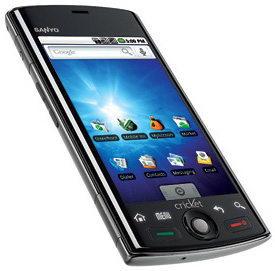 Kyocera's Sanyo Zio
The Zio M6000 is equipped with a Qualcomm MSM7627 system-on-chip (SoC), the same middling processor used in the $50
Palm Pixi
and the low-end, Android-based
Motorola Devour
. The phone includes 256MB of RAM, 512MB of flash storage, and a microSD slot, according to Kyocera.
The Zio's capacitive touchscreen offers WVGA (800 x 400 pixel) resolution. which is surprisingly high for its 3.5-inch size. The display is accompanied by a trackball, accelerometers, ambient light sensor, digital compass, and a virtual keyboard, says Kyocera.
The phone offers both 3G CDMA2000 1xEV-DO rev. A 3G cellular service, as well as 802.11 b/g Wi-Fi. Bluetooth 2.0 and aGPS are also said to be supplied.
The Zio's 3.2-megapixel, autofocus camera offers 24fps video recording and 30fps playback, says Kyocera. Other features include micro-USB 2.0, a 3.5mm stereo headset jack, and a speakerphone, says the company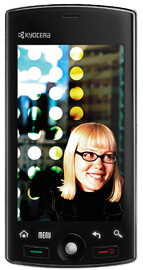 The Zio measures 4.5 x 2.3 x 0.5 inches (116 x 58.6 x 12.2mm) and weighs 3.7 ounces (105g), says Kyocera. The 1130mAh battery is said to provide up to six hours and 18 days of standby time.
The Sanyo Zio furnishes the aging Android 1.6 ("Donut") release, and offers a media player, voice dialing, and a full HTML web browser. Pre-installed apps include Google Maps with Navigation, and widgets for Facebook, Twitter, and Open Table, says Kyocera. Android Market access is also said to be part of the package.
The Zio is Kyocera's first Android phone, as well as the first high-end smartphone it has offered in years. Back in 2001, the Japanese firm manufactured one of the first smartphones, the Palm-based Kyocera 6035.
Stated Matt Stoiber, vice president and general manager of devices for Cricket Communications, "Launching Zio as our inaugural Android device is the first big step of many that Cricket is taking to provide elite, yet affordable devices and service plans to customers on any type of budget."
Stated Eric Anderson, vice president of sales at Kyocera Communications Inc., "Zio is the first in a series of Android devices Kyocera will bring to market and we're excited to partner with Cricket."
Dell Aero receives "mixed reaction"
Shortly after AT&T launched the telephony-enabled five-inch Dell Streak "tablet" — Dell and AT&T teamed up again to launch the Dell Aero, which the companies refer to as "Dell's first Android smartphone for the U.S."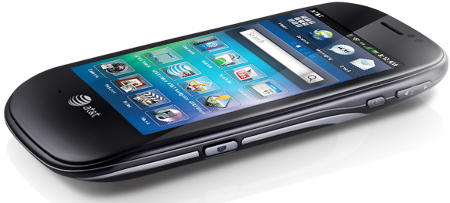 Dell Aero


(Click to enlarge)
The phone — which appears to be based on Dell's earlier Android-based, China-targeted Mini 3 phone, is available for $100 with a two-year AT&T contract or $300 without — This is considerably less than the high-end Streak.
Like the Sanyo Zio, the Dell Aero was announced in March, although with minimal details revealed. Like the Zio, it also features Android 1.6 and a modest 3.5-inch display, albeit with a lesser 640 x 360 resolution.
The Aero is built around a 624Mhz Marvell processor, says Dell, which would likely make it one of Marvell's PXA3xx processors. The phone also provides a 2GB microSD card, expandable to 32GB, says Dell.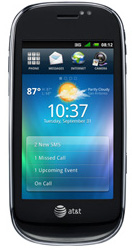 The 4.8 by 0.46 by 2.28-inch Dell Aero (pictured at left) was initially billed as the lightest Android smartphone on the market, but is now, at 3.67 ounces (104 grams), simply "one of the lightest." Dell did not previously reveal the weight, but the modification of the claim is probably not due to any last-minute padding, but rather the increasing diversity of Android phones. (These include a number of cut-rate, lightweight models that make the Aero look like a Streak by comparison.)
Other Dell Aero features include a five megapixel camera with flash and 8x zoom, as well as 802.11 b/g, Bluetooth 2.0, GPS, and assisted GPS, says Dell.
The HSDPA-ready Aero supports quad-band GSM/GPRS/EDGE (850/900/1800/1900MHz) and tri-band UMTS/HSDPA (850/1900/2100MHz) networks, says the company. In addition, the Dell Aero offers a wired stereo headset and a 3.5mm to mini-USB adapter.
In a story yesterday on our sister publication, eWEEK, Michelle Maisto rounds up the early commentary on the Dell Aero and finds a wide range of opinions.
First, Maisto herself notes that the video demo by Dell's Linda Logan posted on a Dell blog announcement hints at a few limitations right off the bat.
In more than one instance, writes Maisto, "Logan has to swipe or tap more than once, as the device doesn't respond. When it does — when she's swiping through various "panels" displaying the device's applications, for example — its response appears as slow as Logan is deliberate."
Maisto also points to a PC World article by Daniel Ionescu entitled, "Dell Aero: Three Reasons to Avoid It," which faults the phone for its limited processor, as well as its outdated Android 1.6 operating system, which the article calls "an embarrassment to Android."
Avi Greengart, an analyst with Current Analysis, seconded this opinion, telling eWEEK that the Aero's "old OS version" is "indeed a problem."
On the other hand, Maisto quotes ABI Research analyst Michael Morgan as calling Dell's release of the Aero for a low $100 pricetag "a major accomplishment for Dell." This complement is presumably due to Dell's lack of expertise in the handset arena, as several other vendors and carriers of low-end Android phones have already hit the $100 mark, with contract.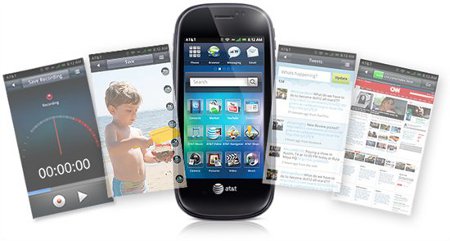 The Dell Aero runs Android 1.6
(Click to enlarge)
Morgan also is quoted as suggesting that given Dell's relationships with small to medium business (SMB) customers, the Aero could do well in what he refers to as an underserved segment. The device could well appeal to small business customers "who want a capable smartphone without the high price of an iPhone or the additional enterprise fees of a BlackBerry device," he's said to have written.
Meanwhile, Dell has been rumored to be working on a high-end Android smartphone called the "Dell Thunder," says eWEEK. The Thunder is said to feature a 4.1-inch display and an eight-megapixel camera.
Availability
More information on the Sanyo Zio may be found at Kyocera's Zio page, here, and at Cricket's MyCricket.com site, here.
The Dell Aero is now available from Dell or AT&T at $100 with a two-year contract or $300 without. More information may be found at Dell, here. The Dell blog announcing the Dell Aero for AT&T may be found here.
The eWEEK story on the Dell Aero release may be found here, and its summary of the Dell Aero commentary should be here.
The PC World story critiquing the Dell Aero may be found here, and a more in-depth follow-up with similar opinions may be found here.
An eWEEK story on a rumored, high-end "Dell Thunder" Android phone should be here.
---
This article was originally published on LinuxDevices.com and has been donated to the open source community by QuinStreet Inc. Please visit LinuxToday.com for up-to-date news and articles about Linux and open source.