Mar 22, 2010 — by Eric Brown — from the LinuxDevices Archive — 1 views
AT&T said it will soon announce the Dell Aero, which appears to be a version of Dell's Android-based Mini 3 phone, and is claimed to be the lightest Android smartphone on the market. The wireless carrier also announced that it will soon offer the Palm Pre Plus and Palm Pixi Plus smartphones.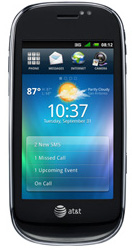 AT&T originally tipped its Dell Aero and Palm Pre/Pixi in early January by saying that it would launch five Android devices from Dell, HTC, and Motorola in the first half of the year, as well as two Palm WebOS phones. After today's announcement, only the HTC phone has yet to be heard from.
With the addition of the three new phones, AT&T is the only U.S. carrier to offer devices representing all major OSes, says the company. Two weeks ago, AT&T added Motorola's Backflip to its lineup in a so-far exclusive arrangement, thereby making the carrier's Android debut. In October, the company began selling the GarminAsus Nuvifone G60, which runs a custom Linux OS.
AT&T's pre-announcement of the Dell Aero (above left) refers to the phone being an exclusive offering from the company, as well as "Dell's first smartphone available in the U.S." The Aero "will feature a new, beautiful custom user interface developed by Dell and AT&T," adds the company.
The Dell Aero provides a 3.5-inch "nHD" display, which would seem to suggest that it offers 720p video resolution. The phone, which is touted by AT&T as being the "lightest Android smartphone" on the market, appears to lack a slider keyboard. It also offers WiFi, GPS, and hands-free talk, which presumably means Bluetooth.
A five-megapixel camera is supplied, which provides integration with Flickr, Facebook, Picassa, YouTube, and TwitPic, says AT&T. Apps for social networking sites are also fully integrated into the phonebook, and they also sync up with the calendar app, says the company. The Aero is also said to offer Flash Lite support for streaming audio and video content. As for the other details, it appears we'll have to wait for the upcoming formal announcement.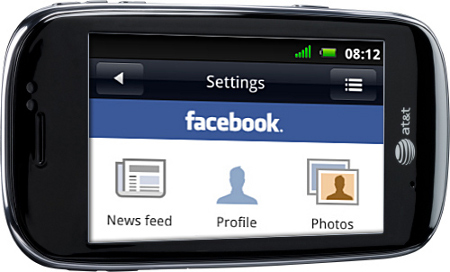 Dell Aero running Facebook
This is the carrier's second teaser announcement about a Dell Android phone, after AT&T's aforementioned CES tip-off. It follows up on Michael Dell's
October confirmation
that his company was preparing an Android phone for the U.S. market. At the time, the
Wall Street Journal
ran a story saying Dell had signed a deal with AT&T to carry a modified version of the Dell Mini 3i Android phone sometime in 2010.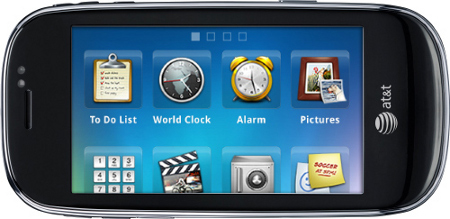 More Dell Aero widgets
The Mini 3i is now being offered in China by China Mobile, sporting a modified version of Android called oPhone, and it is also being offered by Brazil's Claro network. At CES,
Dell confirmed
that AT&T would offer a version of the phone, called the Mini 3, and published a photo, but offered no more details.
AT&T takes on Palm's WebOS phones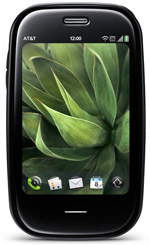 AT&T is the third carrier after Sprint and Verizon Wireless to offer the Palm Pre and Palm Pixi. As with the Verizon Wireless versions, AT&T is using the newer Plus models, which add WiFi to the cut-rate Palm Pixi. The presence of WiFi was confirmed by AT&T, although it did not mention whether it would offer the other notable "Plus" improvement: doubling the Palm Pre's standard flash memory allotment to 16GB.
The Palm Pre Plus (pictured at right) will be available at $150, and the Palm Pixi Plus will cost $50, both after a two year contract and mail-in-rebate, says AT&T. While consumers will want to pore over the fine print for both, this appears to be the same as what Verizon Wireless is asking for the Pre Plus, although the Pixi Plus (pictured below, at left) is selling for $30 cheaper than Verizon's $80 pricetag.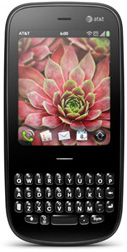 AT&T claims that the phones will be "the only Palm WebOS devices in the U.S. to support simultaneous voice and data while running multiple applications at once." This appears to refer to its 3G network, which is claimed to enable users to "talk and surf the Web at the same time."
As with the other Pre and Pixi phones, the AT&T models will offer the Linux-based WebOS, as well as its "Palm Synergy" feature which updates email, contacts, and calendars via integration with various web and social networking services. In the case of the AT&T models, this includes integration with Yahoo, Facebook, Google, LinkedIn, and Microsoft Office Outlook, says the mobile operator.
The AT&T launch couldn't come soon enough for Palm, which just released poor third-quarter financials, caused by slowing sales of its WebOS-based phones. A number of analysts believe that a takeover is a possibility for the struggling company.
Stated David Christopher, CMO, AT&T Mobility and Consumer Markets, "We complement our smartphone lineup with the nation's fastest 3G network and the largest Wi-Fi network in the U.S., with more than 20,000 public hotspots. We're looking forward to bringing these benefits to customers who choose one of the Palm smartphones or the exclusive Dell Aero."
Availability
AT&T says it will soon announce the Dell Aero, but offered no details on timing or pricing. A bit more information is available at this Aero page, here. The company also offers a Facebook page for the phone, at present showing little more than a photo, here.
The Palm Pre Plus will be available "soon" at $149.99 and the Palm Pixi Plus will cost $49.99, both after a two year contract and mail-in-rebate, says AT&T. More information and an email sign-up form for notification of purchase availability may be found at this AT&T page, here. Some more photos are available at this Facebook page, here.
The Aero, as well as the two Palm phones will receive AT&T Wi-Fi access at more than 20,000 U.S. hotspots included as part of their unlimited data plan, says the company.
---
This article was originally published on LinuxDevices.com and has been donated to the open source community by QuinStreet Inc. Please visit LinuxToday.com for up-to-date news and articles about Linux and open source.