Jun 30, 2008 — by Eric Brown — from the LinuxDevices Archive — 1 views

[Updated: Jul. 1, 2008] — Purple Labs has acquired Openwave's mobile phone software business. The $30 million deal brings the mobile software firm's cross-platform browser and messaging client technologies to Purple Labs, which is known for its LiMo (Linux Mobile)… Platform-compliant phone stack.
(Click for larger view of Openwave's Linux-compatible Mercury Browser)
The sell-off, which was announced a month ago, comes after a troubled period for Openwave. The 800-employee, Redwood City, Calif.-based mobile software business had a series of disappointing earnings reports in 2007, yet appeared to be making a modest comeback. In May, however, the company announced that it had been delisted from NASDAQ due to a delay in filing its Form 10-Q for the Securities and Exchange Commission (SEC). Openwave claimed it was unable to file the form pending the conclusion of an internal audit investigation being conducted into an employee's allegations of manipulation of financial results by certain senior managers. As it unloads its mobile business and sorts out its SEC troubles, the company plans to focus on its "network-based offerings."

Gordon Tsang, GM of
Purple Labs's new
browser/messaging unit
Meanwhile, Chambery, France-based Purple Labs has been hiring away a number of executives from Openwave, including Purple Labs VP of Sales, Arnaud Dammert and GM of Asian sales Gordon Tsang. According to an open letter to Openwave customers from Purple Labs CEO Simon Wilkinson, Tsang (pictured at right) has been named the GM for the new Openwave-based browser and messaging business, a business he recently ran at Openwave.
Wilkinson (pictured below, right) was founder and CEO of Magic4 when the messaging software company was sold to Openwave for $83 million in August 2004. After serving as an Openwave executive, he was named CEO of Purple Magic in October 2007. In his letter, he explained that the deal covers "the client software business of Openwave, including all of their browser products and also the messaging applications originally developed by Magic4." Wilkinson goes on to write that Purple Labs "has acquired the products, code, patents,
customer contracts and engineering team."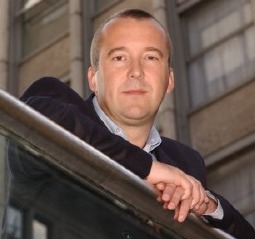 Simon Wilkinson, Purple Labs CEO
Purple Labs is said to offer "one-stop" services "from hardware reference design to a complete customizable Linux software suite." Its published, open source Linux suite targets mass-market feature phones, and was used in the Grundig Dreamphone (G500i). More recently, Purple Labs announced a sub-$100 3G phone hardware/software reference design called the Purple Magic (pictured below). Purple Magic is said to be compatible with the LiMo Foundation's LiMo Platform, and is based on a hardware reference design from NXP, incorporating VirtualLogix's VLX-MH virtualization stack.
In his letter, Wilkinson writes that Purple Labs plans to "reuse many of the Openwave technologies in our Purple Labs Linux platform." He goes on to note that the company is now "focused exclusively on the requirements of LiMo Foundation members such as Vodafone and Orange."
Keeping the Magic alive
In 2003, Openwave claimed that its V7 suite of browser and messaging applications and related technology was used in about half of all data phones then shipping. Openwave has been a vocal proponent of Linux on mobile phones, and it partnered with MontaVista in 2004 on Linux ports of V7 and other products. The company's mobile products support a variety of mobile operating systems including Linux, Windows Mobile, Symbian OS, BREW, and the Qtopia cross-platform stack, which is now owned by Nokia after its acquisition of Trolltech.


Purple Magic phone design
(Click to enlarge)
Despite its slumping fortunes in the highly competitive mobile software market, on the eve of its sell-off, Openwave could still claim some impressive statistics. The company claims to serve more than 100,000 Openwave developers, and over 70 mobile customers, including 12 of the top 20 global mobile operators and seven of the top 15 broadband ISPs in North America. Openwave also boasts that over 1.4 billion handsets loaded with Openwave software have been shipped, and that over 50 device manufacturers have licensed the Openwave Mobile Browser.
Part of the V7 mobile framework, the Openwave Mobile Browser comes in three versions. The Mobile Browser version is designed as a basic WAP browser entry-level phones based on ARM7 platforms. The Mercury Browser (pictured at top) is designed for mid-tier, mass-market feature phones, and supports ARM9 platforms. In 2006, Mercury was ported to Trolltech's Qtopia Phone Edition 4.0.
Wilkinson states that his company will continue to maintain these browsers, but only plans to invest in the high-end Surfer Browser, which is aimed at advanced feature phones and smartphones. Surfer offers Web 2.0 and AJAX functionality, a programmable user experience, over-the-air updates, and a plug-in framework for integrating third-party media and content handlers, says Openwave.
Purple Labs will also continue to update Openwave's Mobile Integrated Dynamic Application System (MIDAS) software, which was also part of the 2006 Trolltech deal. MIDAS is a development kit and function library aimed at helping phone designers create device interfaces using HTML, CSS, Javascipt (aka ECMAscript), and other web standards (see image below).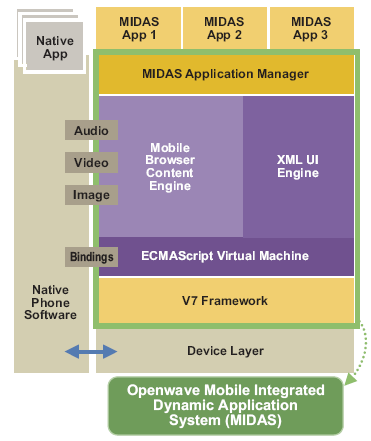 Openwave MIDAS development architecture
Although not stated in Wilkinson's letter, it seems likely that Purple Labs will also continue to invest in the messaging applications he originally helped develop back at Magic4. These offerings include voice services such as IP and video voicemail, email services, and mobile messaging clients.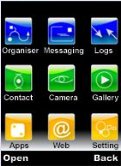 Purple Labs mobile interface
(Click for details)
In addition to making a $30 million cash payment, Purple Labs has agreed to pay an additional $2 million if certain conditions are met. It will also offer Openwave warrants to purchase 2 percent of Purple Labs common stock. Meanwhile, Openwave will provide transition services to Purple Labs for up to six months, and will pay up to $2 million for transition expenses.
Stated Wilkinson, "The Openwave browser and messaging applications have always led the industry, and are today used by every major phone manufacturer in the world. By acquiring this portfolio and the Openwave client team, Purple Labs becomes a global leader in mobile software, powering both traditional and Linux-based mass-market phones."
---

This article was originally published on LinuxDevices.com and has been donated to the open source community by QuinStreet Inc. Please visit LinuxToday.com for up-to-date news and articles about Linux and open source.