Nov 7, 2007 — by Eric Brown — from the LinuxDevices Archive — 1 views

Video Furnace has licensed its MPEG-4-based video distribution system to OSTN, a student-produced video network. Video Furnace System 4 uses Internet2 or private, multicast-enabled Ethernet networks to deliver multicast feeds to desktops, regardless of the operating system, browser, or plug-in.
(Click for larger screenshot of the OSTN network)
OSTN (Open Student Television Network) bills itself as "the leading provider of student-produced entertainment, educational and news IPTV content and services." The network plans to use Video Furnace to distribute student-produced video and distance learning applications to over 4,500 colleges in its global network.
Rich Griffin, OSTN executive vice president and director of technology, stated, "The OSTN/Video Furnace partnership provides institutions with a scalable and secure solution to meet the growing demand for IPTV communication and education."
Video Furnace leverages its inStream Viewer technology to enable "any" Windows, Mac OS X, or Linux user to watch on-demand or live multicast video without previously installing software, claims the company. Joe Gaucher, CTO, explains, "The Viewer is a 500KB highly optimized binary native for each OS platform. It should work on any Linux system, as long as you've got a multimedia-cooperative environment."
Gaucher said the Viewer is downloaded afresh each time the user watches a video. It runs from memory after the user authorizes its digital certificate in their browser, and leaves no trace on the system once the video is done playing. Client desktops must be 500MHz or faster. The system also supports set-top boxes (STBs).
Due to the bandwidth required to download the player each time, the Video Furnace system works best over a high-bandwidth multicasting network. With the MPEG4 streams and related data delivered at fiber-optic bandwidth, boosted by the efficiencies of multicasting, Video Furnace can deliver the inStream Viewer into computer memory with minimal delay, the company said.
OSTN's network uses Internet2, the largest high-speed multicasting IP network in the world. This not-for-profit advanced networking consortium comprises over 200 U.S. universities, 45 government agencies and laboratories, 50 international organizations, and 70 corporations. Unlike the public Internet, Internet2 has an all fiber-optic backbone for faster transmission. Instead of unicasting — sending multiple copies of media streams from the source server — it reduces bandwidth requirements and improves quality by replicating the streams much closer to the final destination. Closed, high-bandwidth Ethernet networks can also be multicast-enabled with advanced networking technology.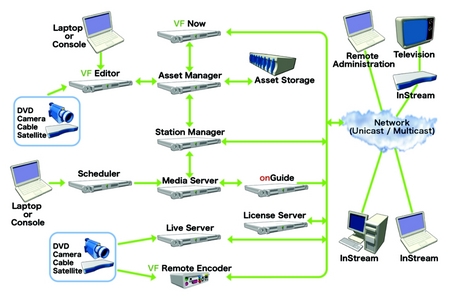 Video Furnace infrastructure
(Click to enlarge)
Video Furnace's various servers are configured to run either Red Hat Enterprise Linux (RHEL) or Red Hat-based CentOS (Community ENTerprise OS) using "off the shell hardware." The following comprise the overall system's key components:
Live Server — manages output of multicast data from live sources
Station Manager — enables creation of broadcast stations and schedules
VFNow! - on-demand server makes digitized assets available on request
Asset Manager — enables editing, digitizing, bookmarking, and archiving
License Server — manages access authorizations and licensing compliance
Message Server — broadcasts messages to all open viewers
Archive Server — captures and stores live data for later use
OnGuide Server — delivers interactive line-up of all channels and video assets
Availability
Video Furnace System 4 is available now for an undisclosed price. Only BMOCs need apply.
---

This article was originally published on LinuxDevices.com and has been donated to the open source community by QuinStreet Inc. Please visit LinuxToday.com for up-to-date news and articles about Linux and open source.