Jul 7, 2011 — by Eric Brown — from the LinuxDevices Archive — 136 views
McCain says it will supply San Francisco with a new Linux-based traffic controller computer that meets the latest Advanced Transportation Controller (ATC) standards. Built around a Freescale PowerQUICC II Pro processor, the "2070LXN2 NEMA" offers several keypads, an 8×40 display, plus Ethernet, USB, serial, and SDLC connections, says the company.
McCain collaborated with Fourth Dimension Traffic to win the San Francisco bid. The company ported Fourth Dimension's "D4" traffic signal software package to McCain's controller in a process that took less than three months, says the company.
The combined solution enabled the City of San Francisco to migrate its existing "2070" traffic software to an ATC platform, thereby reducing costs, says McCain (see farther below for background).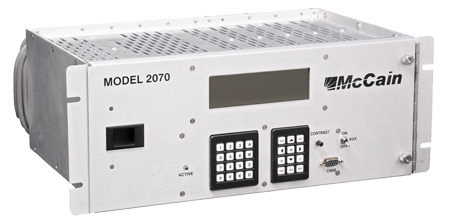 2070LXN2 NEMA
The extent of the contract was not detailed, but according to the Fourth Dimension site, approximately 350 of its "D4s" have been deployed since January 2007 in San Francisco, a city with more than 1,200 signalized intersections. (It is unclear whether the new system will be any more successful than the previous one in getting the city's drivers to actually
stop
when any of those 1,200 signals turns red.)
McCain's 2070LXN2 NEMA controller system is said to be fully compliant with the NEMA TS2 standard, as well as the Caltrans Transportation Electrical Equipment Specifications (TEES) 2009 standard and the Advanced Transportation Controller (ATC) 5.2b standard.
The NEMA (National Electrical Manufacturers Association) TS2 standards, which are based on the National Transportation Communications for Intelligent Transportation System Protocol (NTCIP), are widely used in traffic management systems. TEES, meanwhile, is a California specific set of transportation equipment standards.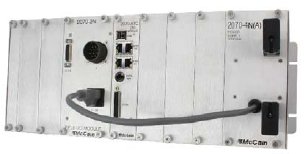 2070LXN2 NEMA, rear panel
The newer Advanced Transportation Controller (ATC) standard has been developed by the United States Department of Transportation as part of its Intelligent Transportation System (ITS) campaign. The ATC standard specifies Linux, running on a a wide variety of hardware, and established a defined API layer. One of the standards defined by ATC is
Type 2070
, supported by McCain, Siemens, and others, said to support advanced transportation system applications.
The 2070LXN2 NEMA appears to be McCain's first Linux-based traffic controller, since previous systems such as the 2070LN2 NEMA announced in February instead cited OS-9. Linux enables an open architecture system, as well as a more robust, flexible, and expandable platform that is compatible with multi-vendor application control software, says McCain.
The 2070LXN2 NEMA controller's Linux stack supports a variety of applications, depending on the software control package used, says McCain. These are said to include intersection control, ramp metering, variable message signs, and changeable lane control software modules. The controller can even control sprinklers and pumps, says the company.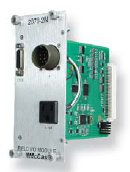 The controller's design is based on three major assemblies, the 2070 Controller chassis, the 2070 ATC CPU module (pictured below), and a 2070-2N Field I/O module (pictured at right), says McCain. The roughly 12-pound, 19 x 13 x 7-inch box can be rackmounted in a 19-inch slot or sit on a shelf, says McCain.
The power supply is 90 VAC to 135 VAC, 60Hz (± 3 Hz), says the company. Operating temperature is said to range from -34.6 to 165.2 deg. F (-37 to 74 deg. C), which is a bit of overkill in San Francisco, but should be welcome elsewhere.
The 2070LXN2 NEMA controller is equipped with a Freescale PowerQUICC II Pro processor, backed up by 128MB DDR2 RAM (expandable), as well as 2MB non-volatile SRAM and 16MB flash memory. Neither the model or clockrate of the PowerQUICC II Pro was listed, but the latest MPC830x portfolio of the PowerPC-based processors announced by Freescale last year includes the 400MHz, gigabit Ethernet equipped MPC8308, the 400MHz MPC8309, and the 266MHz MPC8306/8306S.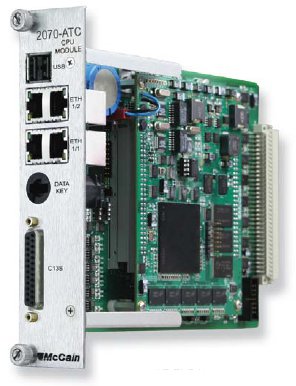 2070 ATC CPU module
The 2070LXN2 NEMA is equipped with an "ENET 1" 10/100 Ethernet switch, which offers an uplink and three additional ports, says McCain. A separate ENET 2 10/100 Ethernet port is said to be dedicated to local communications.
The box even sports two ports compliant with the old-school IBM mainframe Synchronous Data Link Control (SDLC) networking standard, most likely to communicate with legacy traffic-control equipment.
The controller features dual USB ports, and four asynchronous serial ports, says McCain. Cabinet interfaces are said to include a NEMA Port 1 C15S and NEMA TS2 Type A connector. Other features include an 8-line by 40-character LED display, a 3×4 navigation keypad, and a 4×4 data entry keypad.
The 24-year old McCain employs over 600 people in its Vista, Calif. headquarters and other branches, producing traffic equipment, traffic management software, and parking solutions.
Stated Kleinjan Deetlefs, vice president of engineering at McCain Inc., "Offering interoperable products will help foster a competitive market where buyers get quick access to the latest product offerings at the best possible price."
Steve McQueen makes mincemeat of San Francisco traffic control efforts in the 1968 classic, Bullitt


Source: YouTube user "FreakKeeper"
(Click to play)
Availability
The 2070LN2 NEMA controller is available now at an undisclosed price. More information may be found at McCain's 2070LN2 NEMA controller page.
---
This article was originally published on LinuxDevices.com and has been donated to the open source community by QuinStreet Inc. Please visit LinuxToday.com for up-to-date news and articles about Linux and open source.