Aug 3, 2009 — by Eric Brown — from the LinuxDevices Archive — 15 views
VoIP provider Ooma is readying a Linux-based VoIP desktop phone for shipment this fall. Building upon the company's earlier Ooma Hub, the Ooma Telo adds up to six DECT 6.0 cordless handsets, improved voice quality, and advanced features including mobile transfer and a "connected phonebook," says the company.
Ooma announced the Telo at CES last January, touting it as a phone system that offers unlimited U.S. VoIP calling for free, as well as "huge savings on international calls." Compared to the original Ooma Hub system (pictured below), the Telo adds up to six cordless handsets that adhere to the DECT 6.0 standard for portable digital phones. Other Telo features are said to include High-Definition voice, connected phonebook, mobile transfer, speaker phone, and musical ring tones.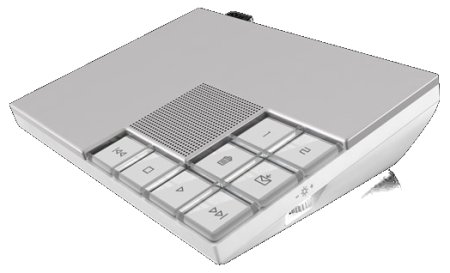 The original Ooma Hub

In January, Ooma said that the Telo would ship in the first half of the year, but now the deadline has slipped to this fall, says a report in TMCNet by editor-in-chief Rich Tehrani. According to Tehrani, who writes that he recently visited Ooma headquarters for a demo, the Telo runs on a dual-core processor from Mindspeed Technologies. This is almost certainly a version of the Comcerto 100 networking system-on-chip (SoC), which first sampled in June, 2007.
MindSpeed's Comcerto 100, which was later supported by Wind River Linux, is based on dual ARM11 cores clocked at 450MHz. In a typical configuration, one core runs the OpenWRT Linux distribution, handling control and service processing, while the other runs MindSpeed's binary-licensed "media stream processor" executive. Written in ANSI C, the executive handles protocol-specific data/signal processing, with some field upgradability.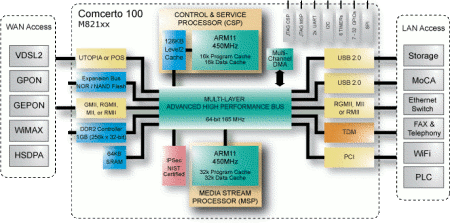 Comcerto 100 M821xx block diagram
(Click to enlarge)
Alternatively, a "flexible" architecture permits "either or both" of the Comcerto 100 chips' ARM11 cores to be used for applications or packet processing, says MindSpeed. Last week, two new Comcerto 100 versions were announced: the
M82351
, which targets eight ports of complex VoIP, and the M82352, which is designed for 16.
FreeSwitch
The Telo runs both Linux and the Linux-compatible FreeSwitch open source telephony platform, writes Tehrani. FreeSwitch scales "from a soft-phone up to a soft-switch," says the FreeSwitch project. The platform can be used as a simple switching engine, a PBX, a media gateway, or a media server, and can "host IVR applications using simple scripts or XML to control the call-flow," says the group. FreeSwitch is also said to support Skype, SIP, H.323, IAX2 and GoogleTalk technologies, and interface with open source PBX systems including sipXecs, Call Weaver, Bayonne, YATE, or Asterisk.
The original Ooma Hub and Scout devices, which run Linux under GPLv2, are widely available in consumer electronics stores, and have won several industry awards. Ooma offers a package for $250 that includes the core Ooma Hub, which connects to a broadband modem and existing home phones, as well as the Ooma Scout, which is said to deliver Ooma Hub services via a second phone jack. The package includes a 60-day free trial of an extra-cost Ooma Premier version of Ooma's VoIP service.
According to Tehrani, the Telo is similarly priced at $250, which presumably includes a version of the Scout extension device. Ooma also continues to offer its Ooma Premier package with the Telo, he adds. Premier provides features including a second line, three-way conferencing, multi-ring, and black list, says the story. The service, which is purchased by almost a third of customers, according to Tehrani, is available for $13 per month or $100 per year.
Tehrani notes that the basic "free" service may not be quite so free, depending on where users live. "More recently as municipalities are looking to tax anything they can, have found VoIP to be a tempting target and as such Ooma may be forced to charge users monthly taxes," he writes. If so, this would amount to less than $1 a month, an Ooma executive was said to have told Tehrani.
A Bang-up job
The Telo does not require the optional $50 handsets, but Tehrani says they look like a good deal. Despite the lack of a color display, the "slick looking" handsets are said to take advantage of features such as SMS transmission and assigning MP3-based ringtones, he adds.
The writer also praises the Telo device itself for its Bang & Olufsen-style design and good voice quality. In addition, the Ooma VoIP servers are said to prohibit ISPs from snooping with technologies such as DPI (deep packet inspection). According to Tehrani, some governments, especially in the Middle East, are increasingly using DPI to crack down on VoIP users.
Availability
The Telo will ship this fall, says TMCNet. More information on the original Ooma Hub may be found here, and the TMCNet story on the Ooma Telo should be here.
---

This article was originally published on LinuxDevices.com and has been donated to the open source community by QuinStreet Inc. Please visit LinuxToday.com for up-to-date news and articles about Linux and open source.