Dec 8, 2009 — by Eric Brown — from the LinuxDevices Archive — 4 views
Renesas announced a Linux development platform for its SH-Mobile R Series system-on-chip. The Renesas Multimedia Solution Linux platform incorporates an MS7724 development board equipped with a 500MHz SH-Mobile R2R, and offers Ethernet, USB, and DVI I/O, as well as optional 7-inch touchscreen and 3.5-megapixel, 720p-ready camera modules, says the company.
Compared to previous development boards offered for the company's SH-Mobile R Series RISC system-on-chips (SoCs) — such as the circa 2006, 266MHz SH-MobileR SH7722 — the MS7724 provides improved functionality, as well as about 35 percent lower cost, and approximately 60 percent smaller board size, says Renesas. The board (below) ships with a Linux board support package (BSP) and targets devices including navigation systems with support for terrestrial digital broadcasts, portable media players, and IP security cameras.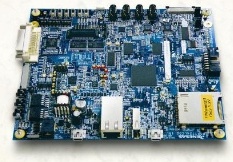 Renesas Multimedia Solution Linux MS7724

The Renesas Multimedia Solution Linux MS7724 board covers almost all the functions of the SH-Mobile R2R SoC — detailed later in this story — while adding "additional functions designed for flexible system development," says Renesas. Equipped with 512MB DDR2-SDRAM and 64MB NOR flash, the board offers an MMC/SD card interface for memory expansion.
An LCD controller is available for driving a 24-bit TFT color LCD, and Renesas offers an optional seven-inch LCD touchscreen add-on board. DVI out and Composite in and out are also provided.
The dual camera interfaces support cameras up to five megapixels, while the optional dual-board camera extension module supplies a 3.2-megapixel 1/4-inch CMOS image sensor and autofocus camera capable of encoding and decoding 720p video.
I/O includes Ethernet and USB 2.0, and a SH-JTAG connector and accelerometer are also supplied. The board is capable of running on Power over Ethernet (PoE), Renesas adds.
Specifications listed for the MS7724 board by Renesas include:
Processor — SH-Mobile R2R (SH7724) @ 500MHz
Memory — 512MB DDR2-SDRAM
Flash — 64MB NOR Flash ROM
Flash expansion — MMC/SD card interface
Display:

LCD controller for 24-bit TFT color LCD panel
Optional 7-inch, WVGA LCD touchscreen extension board
DVI interface
Composite video input/output
H.264, MPEG-4, VC-1, terrestrial broadcast formats

Audio:

24-bit dedicated audio DS
Headphone stereo jack
Mic stereo jack

Networking — 1 x 10/100 Ethernet port
USB — USB 2.0 host (USB type A); USB 2.0 host/function (USB type-mini-AB)
Camera — 2 x channels for camera input (max. 5-megapixel camera); optional dual-board 3.2-megapixel 1/4-inch CMOS image sensor and autofocus camera module
Other features:

TS interface
SH-JTAG connector (debugging interface)
IrDA
3-axis motion sensor

Power — DC 5 V/4 A AC adapter; Power over Ethernet (PoE)
Dimensions (main board) — 6.5 x 5.3 inches (165 x 135mm)
Operating system — Linux 2.6.31
The MS7724 board ships with a Linux BSP and development platform that includes a Linux 2.6.31 kernel, boot-loader, GCC 4.3.4, Glibc 2.9, Binutils 2.19.51, Kernel-headers (2.6.29), Debian userland (rootfs), DirectFB graphics API, device drivers, and various Renesas libraries.
The package also supplies video middleware, including an H.264/MPEG-4 AVC encoder/decoder, and a sample application for an IP security camera design, says the company. The sample app is said to encode video captured in H.264 format, and then transfer the signal via Ethernet to a LAN or display device via an HTTP server.
Future plans call for the Renesas Multimedia Solution line to be extended to all SH-Mobile R Series SoCs developed in the future, and to support additional operating systems including Windows CE and ITRON, according to Renesas.
Background
Renesas' SH-Mobile processors, such as the SH-MobileHD1 announced earlier this year, are based on the Japanese manufacturer's SH-4 (Super-H) cores. The processors are aimed at multimedia-driven devices that require camera, video, and audio processing.
The SH-Mobile R2R (SH7724), announced in May, shares the same 500MHz clock rate of the SH-MobileHD1, but targets 720p video instead of full 1080p HD. The processor can encode and decode 1280 x 720-pixel video at 30 frames per second (fps), says Renesas.
The SH-Mobile R2R SoC supports the H.264/MPEG-4 AVC (Advanced Video Coding) video compression standard used by the ISDB-T terrestrial digital broadcast network in Japan, as well as the One-Seg service. It also supports formats used for terrestrial digital broadcast systems such as DVB-H (Europe), DMB (South Korea), and CMMB (China, says the company.
The SH-Mobile R2R features two channels for camera input instead of the one channel offered in earlier SH-Mobile R Series SoCs, and adds a 10/100 Ethernet MAC (Media Access Control). The Ethernet capability "extends the range of suitable applications beyond low-end navigation systems, where Renesas Technology application processors already have an extensive track record," says the company. Newly available applications are said to include IP security cameras, videoconferencing systems, video and voice over IP (V2IP), networked household appliances, drive recorders, and digital signage.
Availability
The Renesas Multimedia Solution Linux MS7724 main board is available for $734, and the optional, 7-inch LCD touch-panel board costs $522. The camera extension board set costs $226.
The SH-Mobile R2R began shipping on Nov. 26, in Japan, says Renesas. More information on the SH-Mobile family of processors should be here.
---
This article was originally published on LinuxDevices.com and has been donated to the open source community by QuinStreet Inc. Please visit LinuxToday.com for up-to-date news and articles about Linux and open source.