Jan 30, 2006 — by LinuxDevices Staff — from the LinuxDevices Archive — views
Renesas plans in May to sample a SuperH-based SoC (system-on-chip) that will clock to 600MHz. The fastest SuperH processor ever, the SH7785 will integrate an SH-4A superscalar CPU core, FPU (floating point unit), LCD controller, and PCI interface. It targets car infotainment devices with 3D displays, and other multimedia applications.

Sony's 3D
NV-XYZ
(Click to enlarge)
The new SH7785 chip target applications requiring powerful processing and 2D/3D graphics, such as in-car navigation systems that present real-time 3D views based on location, speed, and direction of motion (Sony's Linux-based NV-XYZ, shown at right, for instance).
Renesas says the new SH7785 will be the fastest chip ever based on a SuperH core, out-performing Renesas's currently shipping CIS (car infotainment system) chip, the SH7780, by 50 percent, while still running application software such as Linux kernels and applications originally built for the SH7780. The SH7785 will also feature a footprint of just 19 square millimeters — about 20 percent smaller than the SH7780, according to Renesas.
The SH7785 is based on the same SH-4A core introduced with the SH7780. The core integrates on-chip cache and RAM, along with an FPU. It is expected to deliver about one GIPS (giga-instruction per second, or 109 instructions per second). Additionally, the onboard FPU is expected to deliver 4.2 GFLOPS (giga floating-point operations per second), Renesas says.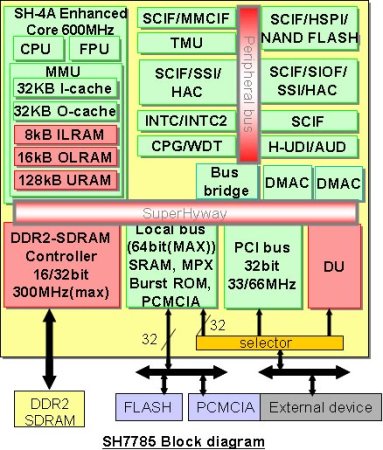 The SH7785 features an integrated LCD panel controller supporting resolutions up to SVGA (800×600), and up to 262K display colors. The controller can superimpose multiple display layers, including three SVGA (800×600) layers, four WVGA (800×480) layers, or six 480 x 234 layers. Other features include transparency processing, and overwriting of text information during streaming video playback.
The SH7785 also features a dedicated 32-bit, 300MHz external memory bus, supporting DDR2-SDRAM at data transfer rates of up to 2.4 GB per second, Renesas claims.
Additional interfaces and claimed features include:
Hardware data translation accelerator

Provides high-speed execution of motion compensation, and color data format conversion during video playback
Allows the SH7785 to render and display video without an additional video coprocessor

PCI bus controller

Supports inexpensive PC peripherals
Supports PCI-based off-chip graphics chipsets with 3D acceleration

DMA (direct memory access) controller
IRQ controller
Watchdog timer
Various serial interfaces
Interface for connection to an audio codec chip
On-chip debugging interface

Real-time debugging up to 600MHz
Available with an E10A-USB on-chip debugging emulator and tools
An "E200F" full-spec emulator compatible with SSTL18 trace interface is planned
Availability
The SH7785 is expected to sample in May, in a 19mm x 19mm optionally lead-free BGA (ball-grid array) with a price of $60.74.
---

This article was originally published on LinuxDevices.com and has been donated to the open source community by QuinStreet Inc. Please visit LinuxToday.com for up-to-date news and articles about Linux and open source.