May 19, 2010 — by Eric Brown — from the LinuxDevices Archive — 8 views
Mentor Graphics has agreed to develop Linux software for NetLogic Microsystems' MIPS-based processors, targeting next-generation Internet networks. Mentor Graphics' Embedded Software Division will provide Linux development software for NetLogic's XLP, XLR, and XLS multicore, multithreaded system-on-chips (SoCs), say the partners.
The collaboration is built around the partners' work as founding members of the Ensemble Multi-Core Alliance. Recently joined by Enea, Ensemble is an industry group that aims to foster collaboration on software development for multicore parallel processing platforms in networking and telecom applications.
As part of the agreement, NetLogic Microsystems will provide the "Mentor-developed Linux solution" to multicore developers working with XLP, XLR, and XLS multicore processors targeted at next-generation enterprise, telecom and data center networks, says the company.
The Linux solution might more accurately be described as a Mentor-acquired Linux solution, as Embedded Alley had already released its first embedded Linux development platform before the company was acquired by Mentor Graphics last summer. The Embedded Alley Development System for Linux was released in December 2008.
In May of last year, the platform was updated with tools to create software Bills of Materials, track open source components, trace binary sources, and help OEMs comply with open source license obligations.
The Embedded Alley team is now part of the Mentor Graphics Embedded Software Division, which spans earlier embedded projects with Mentor Graphics' Nucleus OS real-time operating system (RTOS), as well as the new Linux and Android technology. The division is said to offer embedded software intellectual property (IP), tools, and consulting services.
Embedded Alley already had a strong relationship with semiconductor vendor RMI, which was later acquired by NetLogic Microsystems. In fact, in June when Embedded Alley announced it had ported the Linux/Java-based Android platform, previously available only on ARM platforms, to the MIPS architecture, its initial port was to RMI's MIPS-based Au1250 processor.
NetLogic's XLP, XLR, and XLS SoCs
The first XLP processor, NetLogic's XLP732, was unveiled last May. This superscalar, 40nm-fabricated addition to its family of multicore MIPS64-based SoCs is said to support both data- and control-plane processing.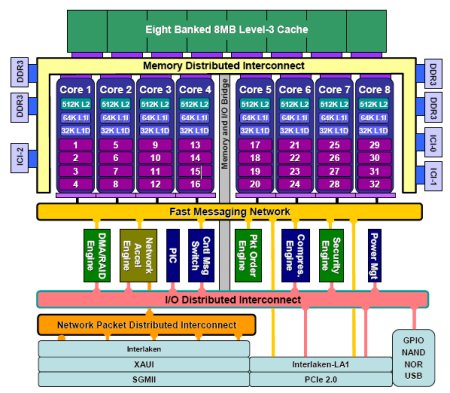 XLP832 block diagram
(Click to enlarge)
The XLP832 can mix eight "EC4400" cores clocked at 500MHz to over 2GHz, and offers three times the performance per Watt of the company's previous XLR SoCs, which were introduced in 2005, claims NetLogic. Like the XLP, the XLR integrates four or eight MIPS64 cores. However, each is clocked at only 1.5GHz, and they lack superscalar capability.
The lower end of the product line is represented by the XLS family, including the XLS208 SoC introduced in 2008. The XLS208 offers dual 1GHz cores, and like the other Netlogic XLx processors, comes with a Linux-compatible evaluation board and software development kit (SDK).
Mentor pushes embedded Linux, Android solutions
The Mentor Graphics Embedded Software Division is steadily growing into a commercial embedded Linux rival to Cavium's MontaVista Software subsidiary and Intel's Wind River subsidiary. Although both of those market leaders are moving into Android development as well, Mentor appears to have the headstart here, especially on new, non-ARM platforms such as MIPS and PowerPC.
Last October, the Mentor Graphics Embedded Software Division announced an Android port to the PowerPC architecture, initially targeting Freescale Semiconductor's PowerQUICC III MPC8536E processor. Last month, Mentor Graphics and Freescale followed up by announcing plans to develop a common Linux build and distribution methodology for Freescale's PowerPC-based PowerQUICC and QorIQ SoCs.
The division is also moving into ARM, as well, although not yet with Android. For example, in November of last year, Mentor released an Android development kit for the Texas Instruments (TI) OMAP35x SoC family.
Stated Glenn Perry, GM, Mentor Graphics Embedded Software Division, "We are excited to collaborate with NetLogic Microsystems to optimize our Linux products on NetLogic Microsystems' market-leading XLP/XLR/XLS multi-core processors."
Stated Behrooz Abdi, EVP and GM at NetLogic Microsystems, "Our mission of establishing an open programming platform based on highly-innovative technologies from leading companies like Mentor will enable customers to develop highly-differentiated networking equipment using the most advanced multi-core, multi-threaded processors."
Availability
No information was provided as to when the first products from the Mentor/NetLogic Linux collaboration would appear. More information on the Mentor Graphics Embedded Software Division may be found here.
---
This article was originally published on LinuxDevices.com and has been donated to the open source community by QuinStreet Inc. Please visit LinuxToday.com for up-to-date news and articles about Linux and open source.