Nov 17, 2010 — by Eric Brown — from the LinuxDevices Archive — 16 views
Wind River announced that Arkoon Network Security will use Wind River Linux to develop its FAST 360 family of network security devices. Meanwhile, Wind River rival MontaVista Software announced it has joined the OpenSAF Foundation, which promotes the high availability middleware integrated into recent releases of MontaVista Linux Carrier Grade Edition.
Wind River announced that Arkoon Network Security has standardized on Wind River Linux to develop the FAST 360 family of enterprise-focused network security devices. The FAST 360 network appliances incorporate Cavium Octeon and Intel Xeon processors.
Last month, Wind River announced its fourth-generation commercial embedded Linux distribution, Wind River Linux 4, based on the Linux 2.6.34+ kernel, and offering GCC 4.4, EGLIBC 2.11, and GDB 7 cross-compiling toolchains. Wind River Linux 4 provides multiple virtualization options, PREEMPT RT real-time Linux, multi-team collaboration features, and a new native x86 build environment. The distribution is also said to support the upcoming Carrier Grade Linux (CGL) CGL 5.0, says the company.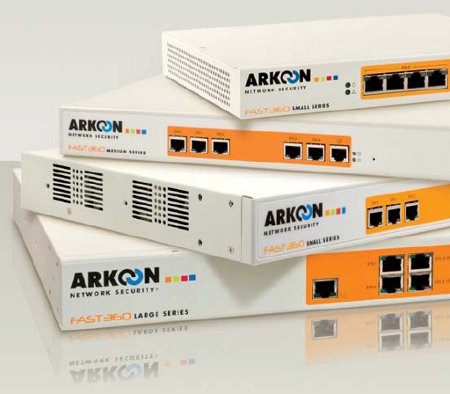 Fast 360 NPA appliances
Arkoon Network Security's FAST 360 appliances are built around Arkoon's FAST (Fast Applicative Shield Technology), which is said to control network and application protocols in real time. FAST interacts with the other security modules via its integration with the SSA (Security Scalable Architecture) kernel architecture, says Arkoon.
The FAST 360 appliances include Arkoon's FAST 360 NPA (network processor appliance) family, based on Cavium Networks' Octeon 30xx/31xx/38xx system-on-chips. There is also a FAST 360 XLarge family based on Intel Xeon processors (see farther below).
The Octeon-based FAST 360 NPA family offers a small, medium, and large series. The appliances integrate security technologies including firewall, VPN, antivirus, anti-spam, web filtering, as well as network services such as NAT, VLAN, and dynamic routing, says Arkoon.
Quality of service (QoS) features include bandwidth management and link load balancing. In addition, the appliances offer advanced VoIP security capabilities, says Arkoon.


Fast 360 NPA Small Series
The following supplies some more details on each FAST 360 series:
Small Series — The Small Series is designed for remote branch sites of mid-to large-sized enterprises, or the main sites of small enterprises, says Arkoon. The series includes S90R, S90, S150, and S250 appliances, each offering three gigabit Ethernet ports, including one gigabit Ethernet switch with four ports.

The S90R (10 users) and S90 (unlimited) offer a firewall bit rate of 90Mbps and run on single-core 300MHz Octeon processors. The S150 (50 users) has a firewall bit rate of 150Mbps and a FAST bit rate of 50Mbps. The S250 (100 users), offers a FAST rate of 100Mbps, and like the S150 runs on a single-core 500MHz Octeon. The S250 is said to provide four routed ports and a 33GB SSD (solid-state drive), while supporting WAN links, multiple DMZ, and cluster technology.

Medium Series — Designed for large to midsize companies looking for multi-functional security, the Medium Series includes the M500 (single-core, 500MHz Octeon) and M1000 (dual-core 500MHz Octeon), each offering dual 10/100 Ethernet ports and three gigabit Ethernet ports. Firewall rates are claimed to go up to 1Gbps, with respective applicative filtering rates of 130Mbps and 250Mbps available for SMEs up to 500 users.
Large Series — Aimed at business with over 1,000 users, the Large Series is optimized to continue filtering even at speeds in excess of three gigabytes per second. The appliances use the latest FAST filtering technology to detect and neutralize attacks on applications in real time, while guaranteeing availability via clustering, link redundancy, and QoS, says the company.

The series comprises the L1800 (four 500MHz Octeon cores), L2500 (six cores), and L3200 (eight cores), each of which is equipped with eight gigabit Ethernet ports. They offer applicative filters bit rates ranging from 650Mbps to 1Gbps.

XLarge Family — The FAST 360 XLarge appliances, which are listed as a separate product family, are available in Intel Xeon-based A2200 (single-core 3.6GHz) and A5200 (dual-core) models. The appliances are said to "represent a new generation of unified threat management (UTM) appliances."

The appliances include a four-port gigabit Ethernet copper adapter, four-port small form factor pluggable (SFP) gigabit Ethernet adapter, and extension slots for an extra Ethernet adapter, says Arkoon. The systems also support RAID storage, says the company. The A5200 appliance can be extended to up to 16 copper or eight fiber optic interfaces.
Wind River says that in addition to its Linux distro, it provided Arkoon with targeted drivers and middleware, as well as access to its Wind River Workbench Eclipse-based development suite. Support and services have also been provided, says Wind River, a subsidiary of Intel Corp.
Stated Mike Langlois, general manager for networking and telecommunications at Wind River, "By providing optimized software solutions for the latest hardware platforms, Wind River is helping Arkoon deliver differentiated network security appliances that can address the security challenges persistent in today's faster, intelligent networks."
Stated Laurent Hausermann, director of products and services at Arkoon Network Security, "The FAST 360 product family is designed to meet the diverse needs of Arkoon's embedded and enterprise customers looking for reliability, flexibility, security and, most of all, speed."
MontaVista joins OpenSAF
In other networking-related Linux news, MontaVista Software, a subsidiary of Cavium Networks, announced it has joined the OpenSAF Foundation. OpenSAF oversees and promotes the OpenSAF high availability middleware standards, which are consistent with Service Availability Forum (SAF) specifications. High availability applications and services are used in mission-critical operations in industries such as telecommunications and high-end industrial automation.
MontaVista claims to be the first vendor to have provided OpenSAF code in a commercial Linux product when it added OpenSAF 3.0 support to MontaVista Linux Carrier Grade Edition (CGE) 5.1, the CGL version of its MontaVista Linux distribution. Last month, MontaVista announced MontaVista Linux CGE 6.0, which bundles the latest OpenSAF 4.0 open source code.
Stated Monica Hatlen, president, OpenSAF Foundation, "As an established company in the carrier grade Linux market, we are very pleased to have MontaVista join the OpenSAF Foundation. MontaVista brings over a decade of experience in open source and in driving standards."
Stated Dan Cauchy, vice president of marketing and business development at MontaVista Software, "We believe that OpenSAF is poised to become the industry standard for open source high-availability middleware solutions."
Availability
More information on the Arkoon Network Security Fast 360 appliances, all of which appear to be shipping, may be found here. More on Wind River's networking equipment support may be found here.
More on OpenSAF may be found here, and more on MontaVista Linux CGE may be found here.
---
This article was originally published on LinuxDevices.com and has been donated to the open source community by QuinStreet Inc. Please visit LinuxToday.com for up-to-date news and articles about Linux and open source.