Dec 13, 2010 — by Eric Brown — from the LinuxDevices Archive — 1 views
The Linux Foundation announced that OpenEmbedded developer and Yocto Project maintainer Richard Purdie has been appointed to the position of Linux Foundation Fellow. The appointment signals the growing importance of embedded in the Linux pantheon, as well as the LF's commitment to its new Yocto Project for standardized embedded Linux builds.
As a Linux Foundation Fellow, Richard Purdie will work full-time on the Yocto Project, the OpenEmbedded initiative, and the Poky Project, as well as other embedded Linux development initiatives, says the Linux Foundation (LF). He will also help oversee the Linux Foundation's Fellowship Fund, which provides financial support for resources that can accelerate Linux development efforts, according to the nonprofit Linux advocacy and support organization.
Given Purdie's embedded Linux resume — including his role as Yocto Project Architect — a more intensive embedded focus may well be is in store for the Fund.
Purdie will join current Linux Foundation Fellows including John Hawley, Till Kamppeter, Janina Sajka, and Linux creator and chief overseer Linus Torvalds. Previous Fellows have included Steve Hemminger, Andrew Morton, Andrew Tridgell, and Ted Ts'o, says the LF.
In addition to Purdie's work on Yocto and OpenEmbedded, he was also the founder of the Poky Build System. The Linux Foundation launched the Yocto Project in late October, based on the Poky build system. The CELF- and Intel-driven Yocto Project aims to provide open source tools to help companies make custom, Linux-based embedded systems for ARM, MIPS, PowerPC, and x86 architectures.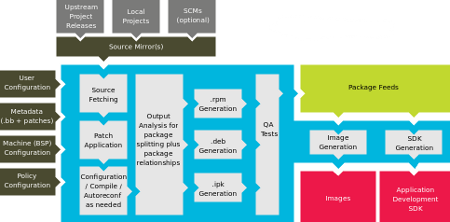 Yocto architecture, showing Poky workflow


(Click to enlarge)
Released as an initial 0.9 build, the build system is touted as offering a complete embedded Linux development and build environment with tools, metadata, and documentation. The Yocto platform is also said to include emulation environments, debuggers, and an SDK generator.
The GNOME-derived Poky Linux is a platform-independent, cross-compiling build system that uses the same architecture as the OpenEmbedded build system. Poky is now available in a Poky Linux 3.31 release.
On Dec. 6, the Yocto Project announced a roadmap, working schedule, and feature details for Yocto Project 1.0. The feature list for Yocto 1.0 has now been frozen, and the final release is due in April, says the project. (For more Yocto background, please see our initial Yocto coverage, here.)
Purdie background
Richard Purdie was most recently a Core Developer at OpenEmbedded, where he was also lead maintainer of bitbake development, says the LF.
Purdie has also been an embedded Linux architect in Intel's Open Source Technology Center. At the Yocto Project, Purdie still lists an Intel.com email address, and in fact, all the Yocto Steering Group members also appear to be from Intel or Intel's Linux software subsidiary Wind River.
From 2005 to 2008, Richard Purdie was a software engineer at OpenedHand, where he worked with a variety of other open source projects such as Clutter, X server, Zaurus, and Oprofile, says the LF. He has also made numerous contributions to the Linux kernel, and has acted as maintainer of the backlight and LED subsystems. Purdie received his MSci in Physics from University of Durham in 2003, says the nonprofit organization.
A growing embedded focus?
While the content of the LF's conferences still primarily revolves around Linux server software, the organization has also shown greater interest in embedded by maintaining the MeeGo project. In addition, while announcing the Yocto Project, the LF also announced that the LF's smaller embedded Linux counterpart, the Consumer Electronics Linux Forum (CELF), was being merged into the organization as a technical workgroup.
Meanwhile, a number of recent membership announcements have shown an embedded focus. For example, Chinese telecom vendor Huawei, which makes Linux-based networking equipment and Linux-based Android phones, announced it had joined the LF earlier this month. This followed an announcement from wireless carrier giant China Telecom that it was joining the organization.
In November, automotive In-Vehicle Infotainment (IVI) firm Pelagicore, which is working on a MeeGo-based IVI reference platform for the Genivi Alliance, joined the LF, along with chipmaker AMD.
Stated Jim Zemlin, executive director of the Linux Foundation, "We are happy to be able to add someone of Richard's caliber. He has already made extremely important contributions to the advancement of embedded Linux and his depth of expertise in this area will accelerate technical progress in the year ahead."
Stated Richard Purdie, Linux Foundation Fellow, "I'm looking forward to dedicating my time to helping provide developers with tools and infrastructure to ease the development of embedded Linux and collaborating with the community to make Linux even better."
Availability
More information on Linux Foundation Fellows may be found here.
---
This article was originally published on LinuxDevices.com and has been donated to the open source community by QuinStreet Inc. Please visit LinuxToday.com for up-to-date news and articles about Linux and open source.