Jul 10, 2009 — by Eric Brown — from the LinuxDevices Archive — 35 views

Datawind began shipping a low-cost 7-inch screen netbook and two smaller clamshell PDAs that run Linux on an ARM processor. The UbiSurfer netbook, as well as the PocketSurfer3 and PocketSurfer3 Lite handhelds, come with free GPRS-based Internet access in the U.K., says the company.
Wireless carriers are increasingly moving to a model of practically giving away the netbook in exchange for steep monthly fees and two year contracts. Instead, Datawind is doing the opposite — selling the devices at full, but still moderate, cost, and then essentially giving away the wireless Internet access. The difference is that Datawind is working with an "accelerated" version of GPRS instead of faster, but pricier 3G services.
Datawind processes Vodafone's GPRS data communications for the new devices through its own datacenter. The company uses a "patented acceleration technology" involving data compression technology that is said to significantly boost typically modest GPRS speeds.
The acceleration technology not only speeds web access by five to seven seconds per page compared to regular GPRS speeds, but enables the company to offer 30 hours of free access per month for the first year in the U.K., claims the company. Low-cost roaming is said to be available in Europe and the U.S.
The UbiSurfer
Lacking a hard disk drive (HDD), Datawind's first netbook goes back to the old-school concept of the bare-bones, Web-centric Linux device. (With Android and Moblin-based "smartbooks", and future Web-focused Google Chrome OS netbooks, however, the old "CloudBook" concept appears to be on the rebound.)

UbiSurfer
Running on an undisclosed ARM processor with a modest 128MB of RAM, the UbiSurfer ships with a 1GB SSD (solid state disk). Expansion is said to be available via an SD card slot and three USB ports, and the company offers 50GB of online storage.
In addition to the Vodafone-ready GPRS modem and SIM card, communications are available via WiFi and an Ethernet port. Datawind claims that web pages download in under seven seconds using the GPRS modem.
The 7-inch, 800 x 480 display lacks touchscreen support, but a full QWERTY keyboard and a touchball mouse pointer are provided. Weighing 700 grams (about 25 ounces), the netbook measures 8.7 x 6.5 x 1.2 inches and boasts either a piano black or rubberized matt finish, says the company. Applications include web browsing, a media player, and the XIP Office suite, which is said to include word processor, spreadsheet, and presentation apps.
Specifications listed for the UbiSurfer include:
Processor — ARM processor (type undisclosed)
Memory — 128MB RAM
Flash — 1GB flash
Storage expansion — "Push-Push" SD card socket; 50GB free online
Display — 7-inch TFT (800 x 480)
Cellular — GPRS 900/1800Mhz
Networking — 10/100 Ethernet
WiFi — 802.11b/g
USB — 3 x USB ports
Audio — Microphone; stereo speakers; earphone jack
Input — QWERTY keyboard; touchpad mouse pointer
Applications — Datawind Web Browser, Calendar, Media Player, XIP Office, PDF Viewer, Email, Paint, Games
Dimensions — 8.7 x 6.5 x 1.2 inches (222 x 165 x 29.5mm)
Weight — 24.7 oz (700g)
Battery — 4 hours active use; 4 hours standby
Operating system — Linux
PocketSurfer3 and PocketSurfer3 Lite
The PocketSurfer3 is somewhat similar in capabilities and screen size to a mobile Internet device (MID), measuring 6.0 x 4.0 x 0.6 inches, but it offers the clamshell design of a large-scale PDA. The device builds upon the PocketSurfer2 design with an improved 5-inch, 640 x 240 active matrix TFT screen and a switch to embedded Linux.

PocketSurfer3
Datawind also boosts the free GPRS data plan to 30 hours per month from 20 hours, matching that of the UbiSurfer. Using the same Vodafone GPRS connection and Datawind acceleration technology as offered for the UbiSurfer, the devices boast even faster five to seven second downloads per page.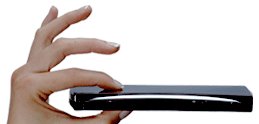 PocketSurfer3
Both PocketSurfer3 models provide a backlit QWERTY keyboard, but while the PocketSurfer3 has a touchpad mouse pointer, the Lite version gets by with four-way navigation controls. It also lacks the PocketSurfer3's GPS receiver. Neither device offers Ethernet or WiFi.
Whereas the Lite version is priced similarly to the UbiSurfer netbook, at about 160 British Pounds ($260), the full PocketSurfer3 version costs 200 Pounds ($320), demonstrating the continuing problem in injecting pricey GPS chips into low-cost devices.
The new Linux implementation boosts the PocketSurfer from basic Web browsing to offer a wider variety of productivity applications, says the company. A mapping and navigation application is available for the GPS-enabled model, and Internet support is said to include full HTML layouts with graphics, Java support, instant messaging, and email.
Specifications listed for the PocketSurfer3 and PocketSurfer3 Lite include:
Processor — ARM processor (type undisclosed)
Memory — undisclosed
Display — 5-inch, 640 x 240 active matrix TFT
Cellular — Quadband GPRS 850/900/1800/1900Mhz
GPS — GPS receiver (not available on Lite version)
Input — QWERTY backlit keyboard; touchpad mouse pointer (PocketSurfer3 only); four-way navigation controls (Lite version only)
USB — mini-USB charging port
Dimensions — 6.0 x 4.0 x 0.6 inches (152 x 75 x 15mm)
Weight — 6.1 ounces (174g)
Battery — 4 hours active use; 4 hours standby
Operating system — Linux
Availability
The UbiSurfer is available now, priced at 160 British Pounds (about $260 U.S.) The PocketSurfer3 and PocketSurfer3 Lite will be available in August at the cost of 200 Pounds ($324) for the PocketSurfer3 and 160 Pounds ($260) for the Lite version.
All three devices use the same Datawind GPRS service, which is available with 30 hours per month free service for the first year, and 30 pounds ($49) for the second year with the same monthly limits. Unlimited usage is available for 6 Pounds (about $10) per month. An unlimited plan for the product lifetime is available for 60 Pounds ($97).
More information on the UbiSurfer may be found here. More on the PocketSurfer3 models may be found here.
---

This article was originally published on LinuxDevices.com and has been donated to the open source community by QuinStreet Inc. Please visit LinuxToday.com for up-to-date news and articles about Linux and open source.