Jan 16, 2008 — by Eric Brown — from the LinuxDevices Archive — 14 views

Data Robotics has started shipping a Linux-based companion device that network-enables its Drobo "storage robot" appliance. Additionally, the company announced a $2,000 bounty for a port of its "Dashboard" Drobo configuration application to Linux.
(Click for larger view of Drobo (top) and DroboShare (bottom))
Introduced in June, the Drobo is touted as an easier-to-use alternative to RAID-based storage systems for the SOHO (small-office, home-office) and consumer markets. Costing $500, it ships with four empty slots that users can fill with 3.5-inch SATA disk drives, mixing and matching drives of different sizes, or from different vendors. Based on a Marvell 5281 processor, the system is equipped with 128MB of memory, and runs Wind River's proprietary VxWorks RTOS (real-time OS).
The new Linux-based DroboShare networking companion is a 6.0 x 1.75 x 10.7-inch device that sits underneath the Drobo. The company claims it enables users to share files over a LAN, with the same putative ease-of-use offered by the Drobo. Supported filesystems include NTFS (Windows NT/2K/XP/Vista), HFS+ (Apple OS X), EXT3 (Linux), and good old FAT32 (Win95). Users can quickly disconnect Drobo from DroboShare, enabling Drobo to revert to a standalone storage system, without the need for reconfiguration, the company claims.
What's under the hood?
DroboShare is based on an ARM-based Marvell 5182 processor — the same system-on-chip (SoC) used by Qnap's recently introduced TS-109 and TS-209 NAS systems. It has 128MB of RAM. I/O includes a single gigabit Ethernet port, and a pair of USB ports.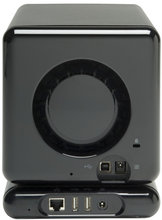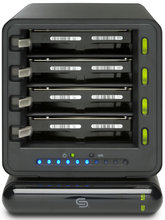 DroboShare and Drobo (rear view, and front, open)
(Click to enlarge)
Droboshare supports up to two connected Drobos units, and up to 8TB of total storage. Capacity will scale to 32TB as larger disk drives become available, the company said.
A company spokesperson said Data Robotics ported Linux to the device in-house, after starting out with the Linux BSP (board support package) supplied by Marvell with its PXA-series processors. Other ported software included Samba file sharing programs.
Here are some specs for DroboShare:
Processor — Marvell 5182
Memory — 128MB
Ethernet — 1 x 10/100/1000 (shares data on single subnet)
USB — 2 x USB 2.0 Type A (for connecting up to two Drobos)
File support — NTFS, HFS+, EXT3, and FAT32
Dimensions — 6.0 x 1.75 x 10.7 inches (152 x 45 x 272 mm)
Weight — 2 lbs 4 oz (1.02 Kg)
Power — 12VDC @ 0.5Amp
Operating altitude — 8,000 feet (2,438 meters)
Operating temperature — 10 degC-35 degC (50 degF-95 degF)
Operating system — Embedded Linux (Marvell BSP based); plus Samba
Client support — Windows, Macintosh, Linux
Optional Drobo Dashboard software — Windows, Macintosh OSX 10.4 (Linux version coming soon - see below)
Data Robotics is offering a $2,000 bounty on DroboHacks.com for anyone who can create a Drobo Dashboard management application for Linux. The application must provide the same features as the current shipping version of Drobo Dashboard for Mac and Windows, and include the following functionality:
A library of routines to access the Drobo management protocol, libdrobo. The library should allow for multiple Drobo units connected to a single Linux system and should not assume that USB is the only mode of connection.
A command-line tool or a set of command-line tools to allow shell scripts to retrieve information from a Drobo. This should allow the retrieval of space utilization information, drives in the array, status info, etc.
A GUI tool, using at least GTK+, providing functionality similar to the Drobo Dashboard.
The software must be delivered as a standard Unix/Linux .tar.gz file that can be downloaded by anyone and built using configure and make.
The software should be distributed under the GPL or BSD licenses.
Availability
DroboShare is widely available at retail stores, selling for $200, says Data Robotics. Drobo is available for $500.
---

This article was originally published on LinuxDevices.com and has been donated to the open source community by QuinStreet Inc. Please visit LinuxToday.com for up-to-date news and articles about Linux and open source.