Apr 16, 2007 — by LinuxDevices Staff — from the LinuxDevices Archive — 26 views

A Google-backed start-up that began as a doctoral thesis at MIT has started selling ultra-low-cost mesh networking equipment based on Atheros WiFi radios and embedded MIPS 4KEc processors running Linux. Meraki defines its mission as "bringing Internet access to the next billion people."
Meraki was founded by CEO Sanjit Biswas, and is based in Mountain View, Calif. In February, it closed a $5 million funding round led by Google and Sequoia Capital.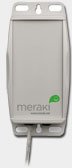 Meraki offers its Linux-based "Mini" mesh router for $50, and expects to ship a $100 outdoor model (pictured at right) later this month. Volume discounts are also available, with a 100-unit "large building and districts" package going for $4,900, according to the company.
The Meraki routers can be used singly, but are really designed for installation in clusters, with multiple routers sharing a single broadband Internet connection. The company suggests connecting every 10th router to the Internet, to "boost the signal."
Clusters of Meraki routers create a "mesh" of overlapping radio coverage areas similar to the "cells" found in cellular radio networks. The mesh network fabric extends the range of a single network drop, among other benefits. One high-profile mesh networking user is the One Laptop Per Child project — which recently outsourced open firmware development for its Marvell WiFi chipsets to Meraki, according to a post on Jim Getty's blog.
Few technical specs about the Meraki routers are available online, and Biswas was unavailable for comment prior to publication time. However, LinuxDevices gleaned a few intriguing details with help from a reader who purchased a Meraki Mini. An undocumented back door enabled him to ssh in, using the device's serial number as the password, he said.
The Meraki Mini is based on an Atheros AR5315, a super high-integration SoC (system-on-chip) chip that apparently weds an Atheros 802.11b/g "Radio-on-chip" baseband processor to a MIPS 4KEc-based applications processor, resulting in a "wireless system-on-chip," or WiSoC. Although no AR5315 information could be found on the Atheros website, the chip is used in single- and dual-band access points from lots of major manufacturers, according to an OpenWRT wiki page.
The AR5315 used in the Meraki Mini appears to have a core clock frequency of 180MHz. The device appears to have 32MB of RAM, and 8MB of flash memory for program storage.
On the software side, the Mini runs Meraki's own Linux implementation. It has a 2.6.16.16-meraki-mini kernel, alongside a Meraki implementation of OpenWRT. The bootloader is based on RedBoot.
Additionally, an available "Dashboard" application helps users configure and manage their Meraki-based mesh networks, with nifty interface screens such as the Google Maps-based node user count screen depicted below. Dashboard can be used to monetize Meraki mesh networks, according to the company.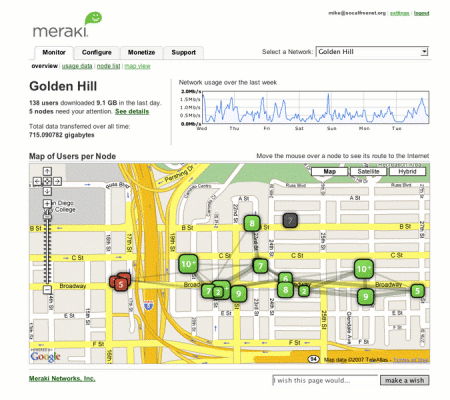 One of Dashboard's nifty GUI screens
(Click to enlarge)
Chris Sacca, head of special initiatives at Google, commented in a February statement, "Meraki is at the forefront of a new movement to bring powerful wireless Internet connections to homes across the country as well as to underserved and economically challenged neighborhoods from Boston to Bangladesh. Consumers will get an opportunity to get great wireless Internet access in communities that have never experienced what being 'online' is all about."
Meraki appears to be piloting its mesh network services initially in San Francisco.
Availability
The Meraki Mini is available now, priced at $50 apiece, $980 for 20, or $4,900 for 100.
---

This article was originally published on LinuxDevices.com and has been donated to the open source community by QuinStreet Inc. Please visit LinuxToday.com for up-to-date news and articles about Linux and open source.