Jun 23, 2009 — by Eric Brown — from the LinuxDevices Archive — 15 views

Cisco's Linksys division announced a Linux-powered router supporting the faster, wider-range 802.11n WiFi spec. The "Linksys by Cisco Wireless-N Broadband Router with Storage Link (WRT160NL)" offers USB "Storage Link" connections, a UPnP AV media server, and connectors for optional external antennas, says Cisco/Linksys.
The WRT160NL Wireless-N is billed as the next generation of the "popular" WRT54GL, which shipped in 2005. The adjective was provided by Cisco, but few would disagree with the popularity of this hacker-friendly WiFi router.
The router has been popular for loading community Linux distributions, which is somewhat ironic considering that Cisco only recently settled a lawsuit from the Software Freedom Law Center (SFLC) on behalf of the Free Software Foundation (FSF). The suit alleged that Cisco Systems violated the GNU General Public License (GPL) and Lesser GPL (LGPL) in the WRT54GL and other Linux-equipped Linksys devices by not posting source code. In the settlement, Cisco has agreed to appoint a Free Software Director for Linksys to supervise its compliance with the requirements of free software licenses, says the SFLC.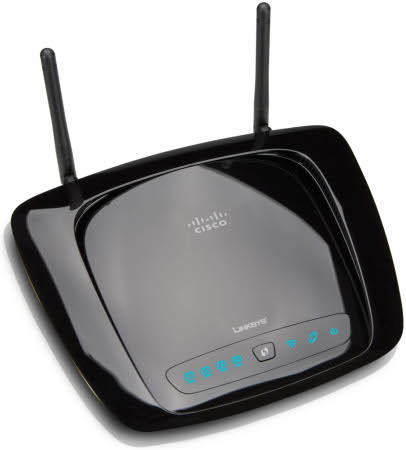 Linksys by Cisco Wireless-N Broadband Router
(Click to enlarge)
Running off an unnamed 400MHz processor, with 32MB DDRAM and 8MB flash memory, the router offers four 10/100 Ethernet ports and a USB 2.0 port that Cisco refers to as a Storage Link port. The key addition over the earlier router is the 802.11n capability. The
802.11n
standard boasts as much as twice the range of 802.11g, with better service quality and far greater bandwidth: from 300 to 600Mbps, depending on the configuration.
To achieve these speeds, 802.11n can use both the 2.4GHz and 5GHz bands, adding technologies such as "channel bonding" — borrowing bandwidth from an adjacent channel — and MIMO (Multiple-In-Multiple-Out) spatial multiplexing, which uses multiple radios and antennas to simultaneously process incoming signals and thereby improve clarity.
To support the greater range of 802.11n, the WRT160NL features external antennas. It also enables users to swap these out for third party antennas via two R-SMA antenna connectors.
The other key addition is the Storage Link functionality, which enables users to connect USB storage devices to the UPnP-enabled router, creating a defacto networked-attached storage (NAS) device or media server, says Cisco. The media server can stream to PCs or UPnP AV digital media adapters, supporting video, photo, and music sharing, says the company. The Storage Link port is said to support FAT16, FAT32 and NTFS filesystems in both read and write mode.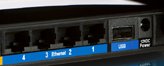 Wireless-N front (left) and back detail
Specifications listed for the Linksys by Cisco Wireless-N Broadband Router with Storage Link (WRT160NL) include:
Processor — 400Mhz processor
Memory — 32MB DDRAM
Flash — 8MB
Networking — 4 x 10/100 Ethernet ports
USB — 1 x Storage Link port (USB 2.0)
WiFi — 802.11n draft 2.0 certified, plus 802.3, 802.3u, 802.11b, 802.11g
Antennas — 2 x detachable with R-SMA connectors
Antenna RF Pwr (EIRP) in dBm (802.11n) — HT20 Typ. 17 +/-1.5dBm; HT40 Typ. 15 +/-1.5dBm (both at normal temperature range with two chains)
Antenna receive sensitivity (802.11n):

HT40/MCS15 270Mbps — -67 dBm 10% PER
802.11n HT40/MCS0 13.5 Mbps — -75 dBm 10% PER
802.11n HT20/MCS15 130 Mbps — -69 dBm 10% PER
802.11n HT20/MCS0 6.5 Mbps — -79 dBm 10% PER

Antenna Gain in dBi — 802.11n/802.11g 2.4GHz <= 1.8dBi
Buttons — Wi-Fi Protected Setup, Reset
LEDs — LAN 1-4, Wi-Fi Protected Setup, Wireless, Internet, Power
Media sharing — UPnP able; DLNA 1.5 compatible; no .Net support
Security — WEP, WPA, WPA2, RADIUS, SPI firewall; up to 128-bit encryption
Filesystem support — FAT16, FAT32, NTFS
Dimensions — 8.0 x 6.3 x 1.3 inches (202.8 x 159.2 x 33.1mm)
Weight — 10 oz (283 g)
Power — 12V / 1.5A (switching)
Operating Temperature — 32 to 104 deg. F (0 to 40 deg. C)
Operating system — embedded Linux; supports Linux, Mac, Windows (XP and Vista) desktops; Bundled Linksys EasyLink Advisor (LELA) app supports only Windows and Mac.
Stated Aaron Marinari, senior product manager, Cisco Consumer Business Group, "In the past we have had many successful Linux powered devices with the WRT54GL and NSLU2 being great examples. The WRT160NL is the logical next step combining Linux, 802.11n technology and USB storage functionality. We see the WRT160NL as a possible successor of our WRT54GL as the market transitions to 802.11n — but then with storage functionality on top of that."
Availability
The Linksys by Cisco Wireless-N Broadband Router with Storage Link is available now from authorized Linksys by Cisco retailers, resellers, and VAR partners, at a suggested retail price of $120, says Cisco. More information may be found here.
---

This article was originally published on LinuxDevices.com and has been donated to the open source community by QuinStreet Inc. Please visit LinuxToday.com for up-to-date news and articles about Linux and open source.