Feb 10, 2008 — by Eric Brown — from the LinuxDevices Archive — 1 views

Trolltech announced it was proceeding with integrating the Webkit rendering engine into its Qt application framework for Linux desktop and mobile application development. The Finnish firm also announced version 4.3 of Qtopia Phone Edition (QPE), adding faster start-up and touchscreen support.
(Click for larger view of Trolltech VP and KHTML creator Lars Knoll)
Trolltech, which is in the process of being acquired by Nokia, first announced its intention to integrate Webkit into Qt in October. At the time, Trolltech predicted a March or April release, but the company is now saying it will be released as a separate module of Qt 4.4 in "mid Q2".
The integration should result in fewer differences between the desktop and mobile versions of Qt-based applications like Google Earth and iTunes. It should make it simpler for developers to integrate live web content and services on both mobile and desktop applications, and enable developers to use web technologies to build user interfaces for either kind of application, Trolltech suggested.
Webkit is an open source HTML rendering engine best known for its use in Apple software, including the iPhone, the Safari browser, Dashboard, Mail, and other Mac OS X applications. Nokia, meanwhile, has used Webkit in its flagship Symbian S60 smartphones since 2005, and Adobe uses it as the basis for its AIR (Adobe Integrated Runtime) web development suite. The first complete open source browser based on Webkit, Pleyo's Origin, launched in August.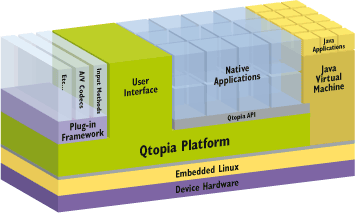 Qtopia architecture
Webkit derived from the KHTML rendering engine used in the KDE project's Konqueror browser, but today offers more advanced support for "Web 2.0" features, including asynchronous Javascript (AJAX). Webkit has a reputation for having a smaller footprint than Gecko, the rendering engine used in Firefox and many GNOME applications. The Mozilla Foundation recently released prototype user interfaces (UIs) for its upcoming
mobile version of Firefox
.
Stated Lars Knoll (pictured above), one of the main creators of Konqueror and KHTML, and currently Trolltech's VP of engineering, "The Qt WebKit Integration helps developers to combine live web content with mobile and desktop applications. This erodes the boundaries between the desktop, mobile phones and the Web. It also enables graphics and Web designers to join developers in making user interfaces more advanced than ever — no matter which device or desktop application you are using."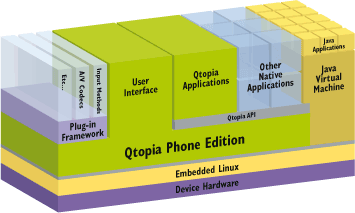 Qtopia Phone Edition architecture
What's new in QPE 4.3
The following describes the major new features in QPE 4.3, the mobile phone stack based on Qt:
Finger-touch user interface — Trolltech added touchscreen support, complete with a "unique" virtual keyboard and a software development kit (SDK) for the touchscreen OpenMoko Neo1973 phone.
Faster start-ups — Trolltech claims that in real-world testing on its Greenphone (pictured at right), Qtopia 4.3 applications started up an average of 50 percent faster than the previous version.



The Greenphone
(Click for details)

Outlook synchronization — A new Qtopia Sync Agent is said to enable data synchronization with Microsoft Outlook.
Multimedia support — Qtopia has added support for the GStreamer multimedia framework, as well as the Real Networks Helix DNA media frameworks for mobile audio and video. Trolltech has also upgraded the Qtopia media player's UI and features, and added an audio policy framework for managing complex audio channels across a range of inputs and outputs.
GCF improvements - QPE's telephony and SIM Toolkit has been improved for better GCF (Global Certification Forum) compliance, says the company, and so have the Qtopia telephony stack and user interface.
Availability
The Qt WebKit Integration will be available as a separate module in Qt 4.4, says Trolltech, due in the middle of the second quarter. Trolltech did not reveal information on the availability of QPE 4.3.
---

This article was originally published on LinuxDevices.com and has been donated to the open source community by QuinStreet Inc. Please visit LinuxToday.com for up-to-date news and articles about Linux and open source.