Apr 23, 2008 — by LinuxDevices Staff — from the LinuxDevices Archive — 58 views

Linux was used by 18 percent of embedded engineers responding to a survey, making it tops overall among both free and commercial OSes. Additionally, open source operating systems such as eCos, BSD, FreeRTOS, and TinyOS were reportedly used collectively by another five percent of respondents.
The figures are from VDC's annual 2008 Embedded Software Market Intelligence report. Administered via the web, the study aims to segment results according to geographical region and vertical market.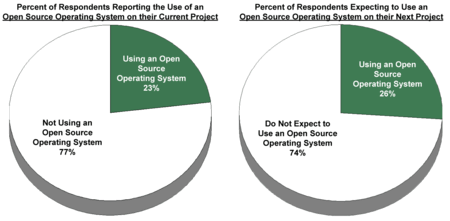 Current and expected use of open source embedded OSes
(Source: VDC. Click to enlarge)
Linux has been the most popular operating system choice reported by respondents to the annual survey since 2004, when about 15.5 percent reported using it. At that time, only "No formal OS" and "Other" ranked higher among respondents.
In a new whitepaper on Linux in the embedded market, VDC researchers cite the following reasons for Linux's popularity:
Licensing cost advantages
Flexibility of source code access
General familiarity
Maturing ecosystem of applications and tools
Growing developer experience with Linux as an embedded OS
Additionally, improvements in the kernel and in "other enabling technologies" are driving Linux into new markets, VDC says. Evolving standardization efforts are another positive factor. Challenges remain, though, where small footprints, and/or high levels of real-time determinism or security are required.
Linux's popularity does not necessarily equate to success for commercial Linux providers, however. In its paper, the VDC suggests that increasingly, commercial providers are challenged to differentiate their offerings beyond what is freely available in open source. According to the VDC paper, "Distributions from hardware vendors and those bundled in software stacks and development platforms are becoming increasingly sophisticated and, in many cases, adequate for certain embedded projects' requirements."
At first blush, VDC's assertion cuts against the grain of messaging from Linux providers such as Wind River and MontaVista. The latter, in particular, has long sought to educate the market about the need to thoroughly test and validate Linux before using it in a product. In a recent conversation with LinuxDevices.com, MontaVista's power management guru, Kevin Hilman, said, "No one puts kernel.org Linux in a finished product. Period." Meanwhile, MontaVista's CTO and Founder Jim Ready recently characterized kernel.org Linux as a "go-fast technology project, not a finished product."
Still, if VDC can be believed, some engineers are finding vendor-supplied kernels well-tested enough in some cases. This may not be surprising afterall, given that some vendor-supplied kernels may actually have been engineered by commercial Linux providers in the first place. Some Linux providers (Embedded Alley and Denx come to mind) actively seek partnerships with providers of silicon and board products, often giving away their Linux BSPs (board support packages) in hopes of winning tools or support deals. Other silicon vendors, such as Freescale with its former Metrowerks tools groups, employ their own engineering teams working to ensure good support for their products under Linux.
VDC's paper suggests that the top two vendors accounted for more than half of the commercial market for embedded Linux software. While VDC did not elaborate, the top two are likely MontaVista and Wind River. Wind River recently said it expects $50 million in Linux business for fiscal 2009. As a private company, MontaVista is not obliged to disclose its finances. However, it ranked fourth among mobile OS providers according to 2007 VDC figures, and also has a prominent place in the telecom, networking, and consumer electronics device markets.
VDC expects commercial embedded Linux revenues to grow fastest in the mobile phone and automotive markets, with the Asia-Pacific region leading the way. Further details may be found in the complete paper, which is available as a PDF download here.
Past VDC rdports based on its annual embedded developer survey include:
---

This article was originally published on LinuxDevices.com and has been donated to the open source community by QuinStreet Inc. Please visit LinuxToday.com for up-to-date news and articles about Linux and open source.