Mar 31, 2008 — by Eric Brown — from the LinuxDevices Archive — views

Linux represents 15 percent of the smartphone market, but that figure should grow considerably, says a market research report. The study, from Strategy Analytics, found that Motorola will continue to drive the growth for mobile Linux, along with Google.
More than 25 million Linux-based cellphones have shipped to date, says Strategy Analytics. That figure represents 15 percent of the smartphone market, compared to Symbian's 50 percent and Windows Mobile's 18 percent.
In its study, Strategy Analytics argues that mobile Linux offers an attractive mix of "customization, cost, developer community, time to market, security, and multi-chipset support." That mix increasingly appeals to both handset manufacturers and mobile operators, it said. For example, Vodafone and NTT DoCoMo have indicated that they see Linux as a way to create efficiencies by reducing the number of platforms they support, the firm reports.
The Linux numbers might have been higher if not for the problem of fragmentation: over 20 of the 30-odd OS platforms available today are Linux-based, says the study. However future signs pointing to increased consolidation, says the study. These signs include the emergence of Android, sponsored by Google and the Open Handset Alliance (OHA), and standardization efforts such as the Linux Phone Standards (LiPS) Forum and the LiMo Foundation, which formally introduced its mobile specification today.
Stated Stuart Robinson, Director of the Handset Component Technologies service at the research group, "Strategy Analytics believes recent initiatives by Google and Motorola could solve problems like consistency of APIs, slow adoption of mobile Linux in developed markets, and fragmentation. We also believe that interest in Linux is at an all-time high and that it will emerge as a worthy competitor to market leaders Symbian and Windows Mobile."
Mot split muddies the waters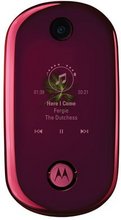 Motorola's LiMo-compatible U9 (also seen at top)
The study was released prior to last week's announcement that Motorola — by far the leader in mobile-Linux handset sales — has begun the process of creating two independent, publicly-traded companies. A "Mobile Devices" company will sell handsets and accessories, and a "Broadband & Mobility Solutions" company will sell everything from set-top-boxes to networking equipment. The latter includes the company's more profitable Enterprise Mobility, Government and Public Safety, and Home and Networks businesses.
Motorola did not announce formal names or branding for the two new companies, which are not expected to split off until 2009. In recent years, Motorola has sold or spun off other units, for example, carving off its semiconductor business as Freescale Semiconductor in 2004. Free from Motorola, Freescale went on to trade elbows with AMD on the Fortune 500 list of America's largest companies, before being acquired by a group of investors for $17.8 billion last year.
More recently, Motorola sold off its Embedded Communications Computing group to Emerson Network Power (ENP), a former 48-volt power supply company that had earlier purchased Artesyn, another specialist in telecom boards and systems much like Motorola's ECC.
Motorola's recent troubles in the handset market have coincided with its increasing emphasis on Linux over Symbian, but analysts seem to agree that pushing Linux is still the company's best hope. According to Kevin Burden, Research Director, Mobile Devices at ABI Research, which published a response to the announcement last week, Motorola's troubles are primarily due to poor execution, supply chain problems, and a lack of consistently innovative new handset designs. The split could well pay off in the long run due to increased product focus and a better cost structure, says ABI's Burden, but in the slow process of getting the new handset company established, Motorola's share may continue to erode in the short term.
Like Strategy Analytics, ABI is bullish on the future of mobile Linux. About 8.1 million mobile devices shipped with a commercial Linux OS in 2007, according to a recent ABI study on mobile Linux. By 2012, some 127 million units are expected to ship annually.

Sravan Kundojjala
Strategy Analytics appears more positive about the impending Motorola split. "Motorola's Linux based phone shipment track record has been phenomenal compared to other players," said the author of the Strategy Analytics study, Sravan Kundojjala (pictured at right), in an interview held after the announced split. "Other than Nokia, most of the Motorola competitors are not investing much in software platforms, which should put the company in more control. The spin-off may see Motorola focus more on 3G offerings where the company has lost the race in recent times. If so, that means we'll see more Linux-based devices from Motorola."
Kundojjala also sees a strategic advantage in Motorola's high-level participation in both Android and the LiMo project. Motorola has announced several LiMo-compatible phones, including the U9 (pictured above), and it is developing a software development kit (SDK) for the LiMo platform's implementation of the Webkit HTML rendering engine.
"The progress LiMo has been making is exceptional, and there are also a number of Android projects in the pipeline," he said, noting that for now the two platforms are competing fairly directly. "LiMo has the head-start, with Orange, Vodafone, and NTT DoCoMo as members, but the recent deal between Google and NTT DoCoMo means that Android may be adopted by NTT in 2010. If Google can convince operators about new revenue opportunities around its search and advertising platform, then Android will be seen as more operator friendly."
Other advantages for mobile Linux in general, says Kundojjala, include "the waning interest in Symbian's monopoly, Microsoft's desktop approach, and Linux benefits such as offering a royalty free platform with an exceptional developer community." He added that Nokia's pending acquisition of Trolltech could also be significant. "We believe that at one point market-leader Nokia will jump on the Linux bandwagon," he said. "With Trolltech's cross-platform technology, Nokia will be able to open up its 'OVI' portal service to non-Nokia devices. Trolltech's developer community is very strong. If Nokia sees cost reductions compared to Symbian Licensing, that should put pressure on Symbian."
Availability
The new Strategy Analytics study, called "Mobile Linux: Google and Motorola Hold the Short-Term Keys to Success," is available for download now as part of a paid subscription, here.
---

This article was originally published on LinuxDevices.com and has been donated to the open source community by QuinStreet Inc. Please visit LinuxToday.com for up-to-date news and articles about Linux and open source.