Apr 7, 2008 — by Eric Brown — from the LinuxDevices Archive — 15 views

[Updated Apr. 8] — The "Podzilla" open source application suite was ported to a relatively inexpensive line of flash-based mp3 players. Originally developed by the iPod Linux project, the software now runs on SanDisk's $100-$150 Sansa e200 devices, reports Sebastian Duell, chief SansaLinux project… developer.
(Click for larger view of SanDisk's Sansa e200 )
SansaLinux works only with the original Sansa e200, currently available in capacities from 2GB to 8GB. It cannot be ported to newer Sansa models, such as the Linux-based, WiFi-enabled Sansa Connect that shipped last year, Duell said.
The currently available download includes about two dozen of the hundreds of available Podzilla modules. Duell observes that nearly all upstream plugins can be used, noting, "I haven't distributed them all because of the memory consumption. The music-player plugin mpd needs a lot of memory."
Duell provided the following partial list of included plug-ins: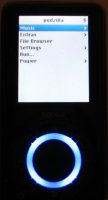 Podzilla2 interface [Source: SansaLinux.org]
(Click to enlarge)
about
calc
calendar
poddraw
podwrite
resistors
terminal
mpd
mpdc
invaders
ipobble
matrix
cube
mouse
truchet
clocks
lights
othello
Installing SansaLinux does not require repartitioning the Flash filesystem, and is thus non-destructive to the device's native firmware, it appears. The user attaches the device to a host PC via USB, and then copies the SansaLinux root filesystem to the player's FAT16-formatted music storage partition. After that, a "sansapatcher" utility is run on the host PC to install a new bootloader to the device. The utility is available for Linux, Windows, and Mac host PCs.
The sansapatcher bootloader is borrowed from the Rockbox project. So, when it boots, it first looks for Rockbox. Not finding it, it starts to launch the default firmware, at which point a press of the fast-forward button boots to SansaLinux instead, Duell said.
The current version of SansaLinux promises working audio, LCD, flash, and some keyboard buttons. Recording and backlighting functions are in progress, while planned features are said to include power status, Micro-SD, RTC, USB, and Linux 2.6 support. Currently, SansaLinux is based on a 2.4.24 uClinux kernel.
In addition to Podzilla2, other source files used in the port include BusyBox, the SDL (Simple DirectMedia Layer) cross-platform graphics library, the libhotdog compiler, and the TTK iPod GUI library. The port is based on the iPod Project's iPod Linux, which was first released in 2003.
Availability
SansaLinux is said to be available for free download, here. The site also includes a fledgling user forum and additional links. More information on the iPod Linux distribution can be found here.
---

This article was originally published on LinuxDevices.com and has been donated to the open source community by QuinStreet Inc. Please visit LinuxToday.com for up-to-date news and articles about Linux and open source.