May 13, 2009 — by Eric Brown — from the LinuxDevices Archive — 11 views

[Updated: May 14] — LaCie announced two Linux-based network-attached storage (NAS) devices for the home or small office, equipped with 400MHz Feroceon-architecture Marvell 5281 processors. The $190 d2 Network offers 500GB to 1.5TB capacity, while the $380 Big Disk Network provides 2TB to 4TB.
(Click for larger view of the d2 Network)
Both NAS devices are said to support workgroup environments of up to 50 users, with simultaneous access from 15 users. Each is equipped with a Marvell 5281 processor, clocked to 400MHz, which incorporates Marvell's Feroceon architecture. They also ship with 128MB of RAM. The company's similarly Linux-based 2big Network NAS device, released early last year, is equipped with the same processor and memory allotment.
Aside from storage capacity, the only difference between the two models appears to be the d2 Network's inclusion of an eSATA port for expansion, and the Big Disk Network's RAID 0 support, which enables it to combine two drives to act as one. Both offer gigabit Ethernet and USB 2.0 ports. No WiFi option is listed, but LaCie bills the devices as supporting both wired and wireless networks, presumably accessing the latter via a WiFi device connected to the USB port.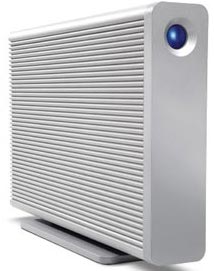 Big Disk Network
Like the 2big, the d2 and Big Disk products are equipped with a natural cooling heat sink metal design with a thermoregulated progressive smart fan, and can be rackmounted, placed horizontally, or stood vertically. The prominent glowing blue button on the front of the case is said to be a one-click data-sharing button. By inserting a USB key or USB hard drive into a free port and pressing the button, users can copy information to a shared folder on the device.
The devices share the embedded software based on the company's own LaCix Linux implementation, and support Linux, Windows, and Mac desktops. No NFS support is provided, but the products enable cross-platform file-sharing using the SMB and AFP protocols, and also provide Active Directory support, says LaCie.
Users can also connect remotely via the integrated FTP, HTTP, and HTTPS file servers, and a torrent server is provided, too, says the company. Media files can be played back on any UPnP AV-compatible device or via a Digital Media Adapter (DMA), such as a PS3 or Xbox, and the devices are said to be compatible with any DLNA multimedia device, as well as iTunes.


Rear views of d2 Network (left), which offers an eSATA port, and the Big Disk Network (right)
The bundled security software offers different levels for user profiles, groups, and public or guest access, and a computer disaster recovery program is also provided, says LaCie. Additional software is said to include setup, back up, and administration applications.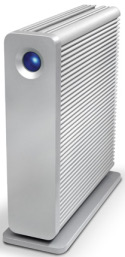 d2 Network
(Click to enlarge)
Specifications listed for the d2 Network and Big Disk Network include:
Processor — Marvell 5281 @ 400MHz
Memory — 128MB RAM
Storage — 500GB, expandable to 1TB or 1.5TB (d2); 2TB, expandable to 3TB (Big Disk), with 4TB option planned for future
Storage expansion:

1 x eSATA (d2 only)
1 x USB 2.0

Networking — 1 x gigabit Ethernet
Security — Security access levels for share, groups, user profiles, public, or guest access
Multimedia support — UPnP A/V and DLNA media adapter compatible; iTunes server compatible
Networking protocols supported — SMB (Windows/Mac/Linux); AFP (Mac); FTP; HTTP; HTTPS; Apple Bonjour; and BitTorrent
Backup/system software — one-click import from external devices via button, plus Genie Backup Manager Pro (Windows); Intego Backup Manager Pro; LaCie Network Assistant (Windows, Mac, Linux)
Other features:

Wake-on-LAN
Active Directory support
Email alerts for general notifications, wrong utilization, and drive failures
Download machine (download files automatically with built-in torrent client)
Apple "Time Machine" compatibility
Web-based network setup
Auto IP configuration (DHCP client compatible and APIPA)

D2 dimensions — 1.7 x 6.3 x 6.8 inches (44 x 160 x 173mm)
Big Disk dimensions — 1.7 x 6.7 x 10.6 inches (44 x 173 x 272mm)
Weight — d2 3.3 pounds (1.5kg); Big Disk 5.5 pounds (2.5kg)
Minimum desktop config. — 500MHz processor, 512MB of RAM
Operating system — embedded LaCix Linux; supports desktops with Linux 2.4 or higher; Windows 2000, Windows XP (SP1 and SP2), Windows Vista; Mac OS 10.2 or higher
Stated Edin Del Mar, LaCie product manager for office network solutions, "The Big Disk and d2 Network provide professional server functionality and large storage capacities that satisfy the needs of any workgroup environment."
Availability
The d2 Network and Big Disk Network devices are available now, at prices starting at $190 (d2) and $380 (Big Disk), says LaCie. More information may be found here.
---

This article was originally published on LinuxDevices.com and has been donated to the open source community by QuinStreet Inc. Please visit LinuxToday.com for up-to-date news and articles about Linux and open source.