Jan 12, 2009 — by Eric Brown — from the LinuxDevices Archive — 26 views

[Updated: Jan. 13, 2009] — Cisco's Linksys division announced a media-savvy NAS (network-attached storage) device that offers DLNA network discovery and streaming support, and runs Linux. The Media Hub supports up to 2TB storage, and offers memory-card expansion and gigabit Ethernet and USB connectivity, says Cisco.
The Media Hub can store, organize, and stream digital video, music, and photos over a home network, and is accessible via a web browser for remote access, says Cisco. It offers both a media server and iTunes server, with multi-stream capability for simultaneous delivery of up to three simultaneous HD streams, says the company. The device is said to support the DLNA and UPnP standards, and can automatically search the network for other media devices and media.
Like the Linksys NAS200, a circa-2007 successor to the much-hacked NSLU2 (aka "SLUG") consumer NAS appliance, the Media Hub runs embedded Linux. Cisco, however, is being sued by the Free Software Foundation for violating GPL licensing by not posting source code for the NAS200 and about a dozen other routers and devices.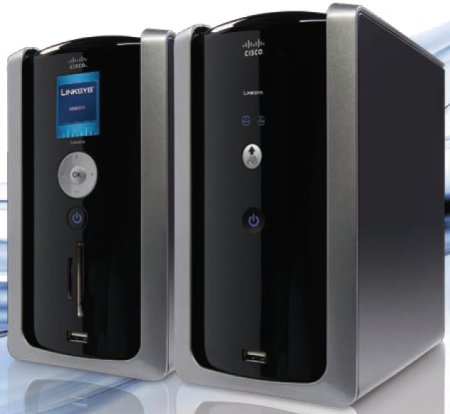 Media Hub NMH410 (left) and NMH305 (right)
(Click to enlarge)
Cisco offers three versions of the 7.8 x 4.4 x 6.6-inch Media Hub. The NMH410 model (pictured above, left) is equipped with a 1TB Western Digital SATA hard disk drive (HDD) and supplies an additional bay to add another HDD for up to 2TB total storage. It also offers a gigabit Ethernet port, two USB 2.0 ports, a full-color LCD display, and a memory card reader that supports CompactFlash, SD, and Memory Stick expansion. The NMH405 model offers a similar configuration, but with a 500GB Western Digital drive, and the NMH305 model (pictured above right, below, and at top) is similar to the 500GB NMH405 except that it lacks the LCD and the memory-card reader, and is designed to be controlled only from an attached Windows or Mac OS PC or via a web browser.


Cisco's entry-level Media Hub NMH305
(Click to enlarge)
The LCD display shows information such as available space, drive usage by type of media, and network status. Users can also directly access firmware upgrades and instant backups using the LCD and accompanying buttons, says Cisco.
The browser-based interface offers extensive search and organization features, including consolidation of music albums, along with album art, regardless of music-file location within the network. The software presents photos and videos via thumbnail displays that can be organized by date or name. The Media Hub can also be set up for automated backup, and the remote access feature does not require special installations or network configuration, says Cisco.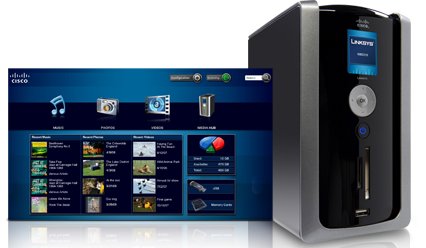 Media Hub NMH450 with PC software screen display
Cisco did not disclose the processor or internal memory, but did provide the following specifications for the Media Hub:
Storage — 2 x bays with SATA interface; one bay pre-installed with 1TB Western Digital (Media Hub 410) or 500GB (405 and 305) drive
RAID — supports RAID1/JBOD configurations
Memory storage — 6-in-1 memory card reader supporting CF/MD/MS/SD/XD/MMC
Networking — 10/100/1000 Ethernet
USB — 2 x USB 2.0 ports
Buttons — backup, reset, power
LEDs — 1 x power; 2 x disk
Servers — supports iTunes server and streams content to Xbox 360 or UPnP DMA devices
Media browser — supports JPEG pictures, MP3 and WMA music playback, and system configuration
Standards support — DLNA 1.5; UPnP; IEEE 802.3; IEEE 802.3u; IEEE 802.3ab; SMB/CIF protocol
Audio formats — M4A, M4B, MP4, 3GP, WAV, OGG, FLAC, AAC, MP2, AC3, MPA, MP1, AIF, ASF
Video formats — MP1, MPG, SPTS, MP4, AVI, VOB, DivX, 3GP, VDR, MPE, DVR-MS, Xvid, M1V, M4V, MOV, MPV
Photo formats — PNG, TIF, TIFF, BMP, GIF
Playlists — M3U, M3U8, PLS, WPL
Other features — password security; remote access; automated backup
Dimensions — 7.8 x 4.4 x 6.6 inches (198 x 111 x 168 mm)
Weight — 4.5 lb (2.04 kg)
Power — external 12V/5A
Operating temperature — 32 to 95 deg. F (0 to 35 deg. C)
Operating system — embedded Linux; requires Windows XP, Vista, or Mac, with 32-Bit browser
Availability
In the US, the Media Hub is available now, with availability in Canada, UK, Germany, Denmark and the Netherlands expected later in the first quarter. Pricing is as follows: NMH410 ($430), NMH405 ($350), and NMH405 ($300). More information may be found Cisco sued for Linksys GPL violation