Jun 10, 2011 — by Eric Brown — from the LinuxDevices Archive — 3 views
Performance Technologies (PT) announced an 8U MicroTCA system with updated NexusWare Linux based middleware for next-generation networks. The Monterey MicroTCA system supports the latest MicroTCA.4 standard, offers processors up to a quad-core Core i7, and adds increased backplane performance and power: 40GbE connectivity and 160 Watts of power for each of up to 12 AMC modules, says PT.
The Monterey platform is designed for next-generation networking applications in industrial control, smart grids, military and aerospace data acquisition, analysis, and control systems, says PT. As a MicroTCA system, it can be used as a complementary solution to larger AdvancedTCA (ATCA)-based systems, especially for aggregation layer applications on mobile networks, gateways, IMS services, the company adds. The system is said to meet stringent NEBS Level 3 and ETSI requirements.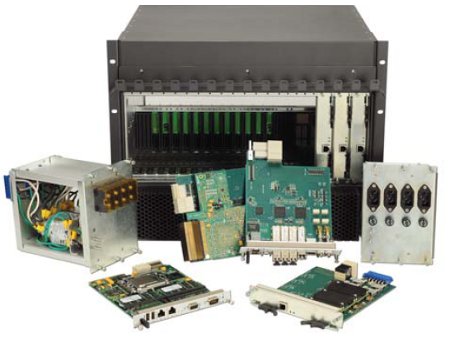 Monterey system with its accessories
(Click to enlarge)
The Monterey system offer pre-integrated hardware, middleware, and software, along with a wide variety of processing and I/O options, says Rochester, New York-based network equipment provider (NEP) PT. In addition to supporting single-width Advanced Mezzanine Card (AMC) modules, the device supports the new MicroTCA.4 double-wide AMC form factor, says PT (see farther below for more details).
Previous PT MicroTCA systems have included the 1U AMP5071, introduced in 2009. As shown in the links at the end of the article, PT has sold a variety of Linux-ready systems that adhere to the ATCA COTS networking standards issued by the PICMG industry consortium. These include AMC boards, which fit into ATCA and the smaller MicroTCA-standard systems.
The new MicroTCA.4 spec — also known as Enhanced MicroTCA — is designed to handle the greater volume of data traffic for 4G mobile, gateway, sensor/data acquisition, and military applications, says PT. The spec more tightly integrates MicroTCA with ATCA systems, and offers improved support for AMC boards, Rear Transition Modules (RTMs), and IPMI-based management, says the company.
Redundant, hot-swappable power and cooling
The Monterey system is built around an 8U (14-inch) MicroTCA.4 enclosure with AC or DC power supplies and a front-to-back push/pull cooling system, says PT. Both the power and cooling systems are said to be hot swappable and offer redundant backup. The system can tolerate temperatures of 41 to 104 deg. F (5 to 40 deg. C), as well as up to 131 deg. F temperatures for stretches of up to 96 hours, says the company.

Monterey systems showing different power supply options
The system can fit up to twelve AMC modules, offering a total of 160 Watts of available 12 V payload power and 3.3 V management power to each AMC site, says PT. This is said to include both the standard 80 Watts per AMC, as well as an additional 80 Watts for newer double-wide AMCs.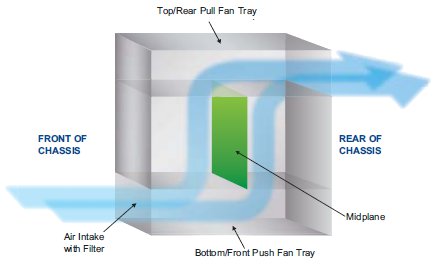 Monterey cooling system
The heart of the system is an AMC124 processor module that incorporates a variety of Intel multicore processors, all the way up to a quad-core Core i7. The module is pre-integrated with Nexusware Linux and offers RTMs for adding various options.
The Monterey system also features one or more AMC671 redundant MicroTCA Carrier Hub (MCH) modules for high-speed 10GbE fabrics and platform management. Equipped with their own RTMs, the MCH modules use a dual-start topology to offer redundant gigabit Ethernet base fabric links to each AMC slot, as well as delivery of 10Gbps Layer2/Layer3 Ethernet to each slot. With multiple MCH modules, up to 40GbE of aggregated external uplink connectivity is available per slot, says PT.

Monterey AMC interconnect diagram
(Click to enlarge)
Storage options include RTM storage, onboard processor AMC storage, as well as RAID-ready AMC storage modules. PT also sells a wide variety of AMC modules for I/O including WAN communications and video boards. The system should support any third-party AMC module, however.
The Monterey supports IPMI-based platform management, as well as NexusWare Core, SIP, C7, and WAN software. Also supplied are XpressT SIP Services for SIP service creation and deployment, says the company.
PT has sold IP-centric network elements and applications for years, anchored by its IPnexus technology and Carrier Grade Linux (CGL) based NexusWare distribution. Although NexusWare was one of the few Linux distributions to achieve the Linux Foundation's CGL 4.0 registration, the CGL page now places an asterisk next to the registration, with a note stating that it no longer implements all mandatory requirements.
Stated John Slusser, President and CEO of PT, "With Monterey we successfully bridge gaps — between AdvancedTCA and MicroTCA, between legacy and IP networks. It is a modular, cost-effective platform for telecommunication equipment manufacturers developing high performance, long lifecycle solutions for service providers."
Availability
PT projects Monterey to be commercially available in September. More information, including links to a detailed, although preliminary, data sheet, may be found at PT's Monterey web-page.
---
This article was originally published on LinuxDevices.com and has been donated to the open source community by QuinStreet Inc. Please visit LinuxToday.com for up-to-date news and articles about Linux and open source.