Jul 13, 2010 — by Eric Brown — from the LinuxDevices Archive — 8 views
Team Tiny Core announced the first release candidate for version 3.0 of its small-footprint, in-memory Linux desktop distribution. Tiny Core 3.0 RC1 moves up to Linux 2.6.33.3, is available with an optional 64-bit kernel, includes the Ext4 file-system, and offers improvements to virtualization and the "compressed swap in RAM" feature, says the project.
Tiny Core Linux is designed to reside in RAM, and can fit into 10MB, according to the project. The following components are said to reside entirely in memory: Linux (2.6.33.3), BusyBox (version 1.17.0), Tiny X (based on X.Org 7.5), the FLTK graphical user interface, and the flwm window manager.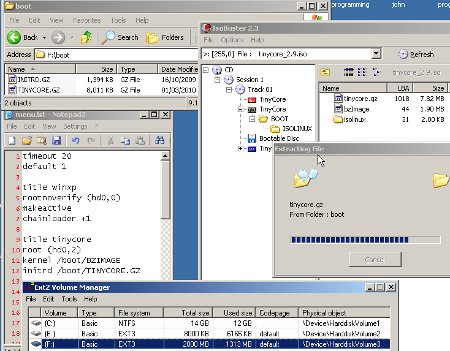 Tiny Core Linux 2.9


(Click to enlarge)
Configured to boot from a CD-ROM, pen drive, or "frugally from a hard drive," Tiny Core Linux boots extremely fast, claims the project. The distribution offers minimal desktop features, less than exhaustive hardware support, and "represents only the core needed to boot into a very minimal X Window desktop, typically with wired Internet access," says Team Tiny Core.
The desktop is said to be extensible by installing applications from online repositories. App extensions can reside in RAM, or be mounted from, or installed into, a persistent storage device, says Team Tiny Core.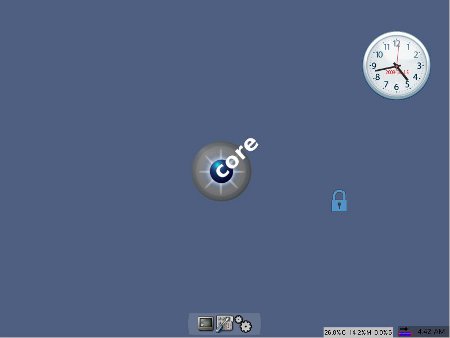 Tiny Core Linux 2.4.1 Yep, it's minimalist.


(Click to enlarge)
The key improvements to version 3.0 address in-memory performance. The enhanced compressed swap in RAM feature is said to "run more and longer" and result in fewer crashes due to insufficient RAM. Other improvements include "new tmpfs root always," which means that it is no longer possible to exhaust RAM in an "embed" boot via files, says Team Tiny Core.
Additional updates in this first release candidate for version 3.0 are said to include glibc 2.11.1, recompiled against 2.6.33 kernel headers. In addition, the release moves up to GCC 4.4.3, e2fsprogs 1.41.11, and zlib 1.2.5, says the project.
Other major enhancements are said to include:
Improved virtualization support
Ext4 file-system now supported
New delta extension updates as the default using zsync
New kernel for support of PCI-hotplug modules
New modules supporting the Eee PC netbook and "SSB," which probably refers to the Linux kernel ssb instruction
Kernel-agnostic "dep" files supported by core functions
Available 64-bit kernel version
The latest stable version of Tiny Core Linux, which debuted with version 1.0 in 2008, is version 2.11.6. The release aligned itself with Freedesktop.org standards, and offered improved support of modern desktop environments, while still supporting legacy window managers, says Team Tiny Core.
Availability
The changelog for Tiny Core Linux 3.0 should be here. General info on Tiny Core Linux may be found on the homepage, here.
---
This article was originally published on LinuxDevices.com and has been donated to the open source community by QuinStreet Inc. Please visit LinuxToday.com for up-to-date news and articles about Linux and open source.