Apr 23, 2010 — by LinuxDevices Staff — from the LinuxDevices Archive — 2 views
Opera Software has released a version of its flagship mobile web browser that runs on Linux, Windows, and Macintosh desktop computers. Useful for testing mobile websites, Opera Mobile 10 runs in a variety of resolutions and in both touch and keypad-only modes, the company says.
As Opera notes, testing the features of a mobile web browser or previewing how web sites will look on a phone has traditionally required one of two things: either a physical phone, or a virtual machine emulating the whole operating system. (Windows users have access to a Windows Mobile 6.5 emulator and Windows Mobile 7 emulator, but setup is complicated and operation sluggish. Meanwhile, a desktop version of the Mozilla Foundation's Firefox Mobile ["Fennec"] is currently available in a 1.0 Beta 5 version.)
Opera's new Opera Mobile 10 for Linux, Windows and Macintosh desktops runs exactly the same code as the previously released mobile versions, the company says. Therefore, users can test the same settings and features, including Opera Turbo, a "transparent compression proxy," and Opera Link, which synchronizes bookmarks, settings, and "speed dials" between different Opera browsers.
While it allows sampling a mobile browser without having a phone, the primary purpose of Opera Mobile 10 for Linux, Windows, and Macintosh desktops is allowing web developers to see how their sites will render on a mobile device. Therefore, the software allows simulating various screen sizes, plus the presence or absence of a touchscreen, says Opera.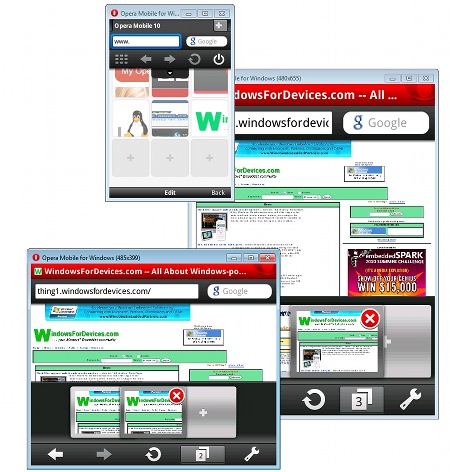 Opera Mobile 10 allows testing at various resolutions
(Click to enlarge)
According to Opera, the desktop version of Opera Mobile 10 defaults to touchscreen mode at a resolution of 800 x 480 pixels. However, the screen size and input mode may be modified by launching the program with various shortcuts (Windows) or command-line options (Linux, Macintosh), the company adds.
For example, height and width may each be specified, and touchscreen mode may be turned on or off. In keypad mode, a computer's F1 and F2 keys are mapped to the left and right soft keys, which activate functions at the bottom of the sceen, while the cursor keys move the virtual mouse pointer on screen, says Opera. CTRL-R can simulate a device rotation, switching between portrait and landscape mode, adds the company.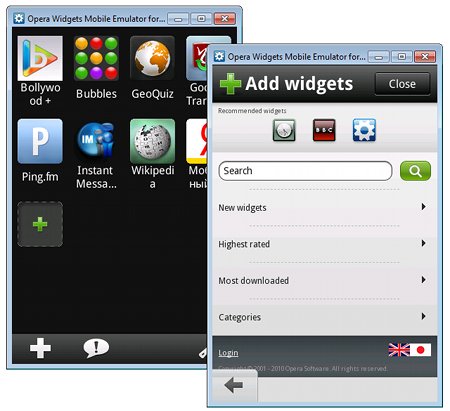 The Opera Widgets Module Emulator
(Click to enlarge)
According to Opera, the desktop version of Opera Mobile 10 also includes an Opera Widgets Mobile Emulator (above), which can run minimized applications in the background and send their output to a dedicated notification area. Widgets may be installed from widgets.opera.com or directly from a developer's machine, the company says.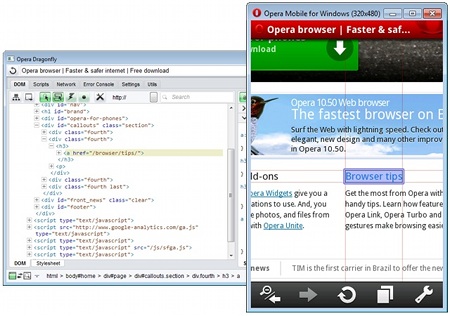 Opera Dragonfly
(Click to enlarge)
Also touted by Opera is the browser's ability to work with a separate debugging tool known as Opera Dragonfly. It's said Dragonfly "allows you to develop more quickly and easily by providing tools to debug your JavaScript and to inspect the DOM, CSS, network traffic and data stores." Because Opera Mobile 10 for desktop, the Opera Widgets Mobile Emulator, and Dragonfly are all running on the same machine, there's no longer any need to mess around with IP addresses and port numbers, the company adds.
Background
Opera Mobile 10 for Linux, Windows, and Macintosh desktops employs the same code as Opera Mobile 10, a browser that has been available for Windows Mobile and Symbian S60 phones. The final version released last month follows a Beta 3 released in February, a Beta 2 that came out last December, and the Beta 1 that made its debut in November. The browser supports both Windows Mobile Professional (touchscreen) and Windows Mobile Standard (keypad only) devices, and includes support for Adobe's Flash Lite 3.1, according to the company.
Opera Mobile 10 has also been promised for Android, but has not yet been publicly released in that form, as far as we're aware. However, Opera Software did recently release an Android version of its Opera Mini 5, previously available only in a Java Virtual Machine (JVM).
Now running natively, Opera Mini 5 has a user interface and features (with the apparent exception of Flash) that are similar to Opera Mobile 10. However, it is designed to load pages through proxy servers that translate web pages into OBML (Opera Binary Markup Language) before sending them to a phone. This is said to reduce the amount of data transferred and lessen the strain on a phone's CPU.
Further information
Opera's Mobile 10 for Windows, Macintosh or Linux desktops is downloadable now for free from the company's website, here.
The beta version of Opera Mini 5 for Android is available for download at Opera Software or from the Android Market. For a direct download from an Android phone, visit m.opera.com/next with the Android browser, or search for Opera Mini 5 in the Android Market.
---
This article was originally published on LinuxDevices.com and has been donated to the open source community by QuinStreet Inc. Please visit LinuxToday.com for up-to-date news and articles about Linux and open source.