Feb 1, 2010 — by Eric Brown — from the LinuxDevices Archive — 2 views
Mozilla announced that the final Firefox for Mobile ("Fennec") 1.0 release is now available for Nokia's Maemo Linux-based N810 tablet and N900 phone — but with a "YouTube Enabler" in place of Flash. Meanwhile, the Android pre-alpha of version of Fennec may arrive as early as next month, says a report.
This initial Maemo version of Firefox for Mobile is optimized for Nokia's first Linux-based phone, the N900, but it also supports other devices that run the open source, Debian Linux-based Maemo stack. Like Firefox 3.6, Firefox for Maemo is based on the Gecko 1.9.2 rendering and layout platform, but is optimized for smaller screens. Firefox for Maemo is also designed to support multi-touch UI techniques and other mobile technology.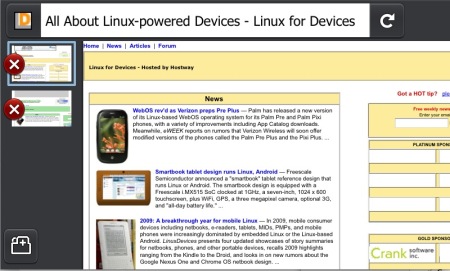 Firefox for Maemo release candidate (desktop version) showing tabbed thumbnail interface


(Click to enlarge)

The new release is the first mobile Web browser to support add-ons, according to Mozilla. The Maemo version offers over 40 ("and counting") add-ons, including AdBlock Plus, URL Fixer, and TwitterBar, as well as various language translators and geo guides, says the organization.
One major add-on, which was released in final form in conjunction with Firefox for Mobile 1.0 is "Weave Sync," which is said to synchronize Firefox tabs, passwords, history, and bookmarks between desktop and mobile versions of Firefox. Other new features that were previously touted for the final release candidate include an "Awesome Bar" search function that minimizes keystrokes, as well as new UI features including multi-touch support, double-tap for zoom, and tabbed thumbnail browsing.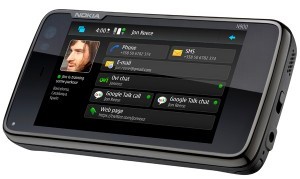 Nokia N900
Firefox for Mobile also offers improved search engine access, location-aware browsing, as well as enhanced privacy and security features, says Mozilla. (For more details on Fennec for Maemo features, please see our previous coverage,
here
.)
Flash dance
It had been expected that Adobe Flash might be available on the browser, but instead Mozilla offers a "YouTube enabler" that is designed to play YouTube videos. According to a recent CNET report by Jessica Dolcourt, last week Mozilla decided "to pull wholesale support for Adobe's Flash plug-in from the build, citing unhappiness with the overall standard of quality."
For the Maemo verison, at least, the YouTube Enabler will act as a stand-in, possibly to be replaced by Flash or another third-party solution in future versions, says the story. It appears, however, that users will be able to choose to download Flash on their own, although it will not be supported by Mozilla.
Adobe Flash has long been a controversial software component in the Linux community due to its proprietary nature. At the same time, however, its ubiquity makes it much in demand. Open source alternatives on the desktop include Gnash and MPlayer, as well as, to a certain extent the Mono project's Silverlight clone, Moonlight.
Now the controversy appears to be turning more to Flash's quality issues, at least on mobile platforms. In addition to Mozilla's skepticism about Flash, in a closed session with Apple employees following last week's iPad announcement, Steve Jobs was said to have complained about the quality of Flash, according to various reports, including Clint Boulton's eWEEK Google-Watch blog.
Leaked reports emerging from the Apple town hall meeting quoted Jobs as laying the blame for the iPad's much-criticized lack of Flash support directly on Adobe, calling the company "lazy." Jobs was also said to have accused Google for trying to "kill the iPhone," but then proclaimed, "We won't let them." In the most provocative of the alleged quotes from the event, Jobs was said to have commented on Google's famous corporate pledge, saying, "This 'don't be evil' mantra: It's bullshit."
Report: Firefox for Mobile Android arriving soon
Mozilla announced its fifth beta for the Linux version of "Fennec" mobile web browser in April, followed by an alpha 3 version for the Windows Mobile version in September. In early January of this year, the open source group released the final release candidate for the now-finalized Maemo Linux version.
According to Mozilla's future plans page, the Windows for Mobile version of Fennec is in its third alpha, and a version for Android is in "early development and testing." No plans have been stated as of yet for other mobile platforms.
Now, Camp.firefox.de is reporting that a pre-alpha version of Firefox for Mobile should appear next month. After some sites misinterpreted the report as stating that a beta version was arriving, the German-language posted an update, clarifying that the pre-alpha version will offer only rudimentary web browsing support, and that the first truly usable alpha release could take several months to arrive.
Availability
Firefox for Mobile 1.0 for Maemo is now available for free download in 15 different languages. More details, as well as information on downloads may be found in the blog announcement here. Unbranded Fennec desktop builds are also available for Linux, Windows, and Mac desktops.
The CNET story on Fennec may be found here, and the Google-Watch story on Steve Jobs' town hall rant should be here. An English translated version of the Camp.firefox.de report should be here.
---
This article was originally published on LinuxDevices.com and has been donated to the open source community by QuinStreet Inc. Please visit LinuxToday.com for up-to-date news and articles about Linux and open source.