Oct 30, 2009 — by Eric Brown — from the LinuxDevices Archive — 1 views
The mobile phone market suffered a six percent drop in shipments year to year, but saw a 5.6 percent improvement over the previous quarter, says IDC. Meanwhile, Motorola, which showed a 6.4 percent yearly drop, according to IDC, posted 3Q earnings that beat analyst predictions.
The IDC report on its 3Q edition of the Worldwide Mobile Phone Tracker study did not break down the market by operating system or segment, but it did track shipments by vendor and region.
According to most recent estimates, the smartphone market is significantly outperforming the market for feature phones, which has dropped considerably due to the worldwide recession. Among smartphones, Android-based models appear to be showing the fastest growth this year, according to several reports, and strong sales of the Palm Pre are likely to boost the overall market share for other Linux-based smartphones. A profusion of Android phones are appearing this fall, as well as new non-Android Linux models from Vodafone (Samsung), Nokia, and GarminAsus, among others.
The IDC study did not register the leading Android phone vendor, HTC, among its top phone vendors, nor did Palm make the cut, but the latest, and perhaps the most fervent, convert to the Android cause, Motorola, showed up, although it dropped to fifth place. The third quarter will be its last before Mot's Cliq (T-Mobile) and more advanced Droid (Verizon Wireless) Android phones hit the market (see farther below for Mot's earnings report).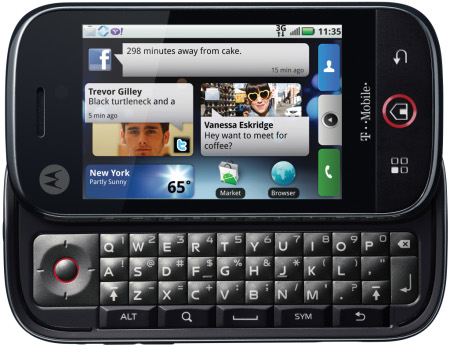 Motorola Cliq with MotoBlur interface
Motorola dropped from an 8.3 percent share in the third quarter of 2008 to a 4.7 percent share a year later, and demonstrated a total year-to-year decline of 6.4 percent, the second sharpest drop after the 8.0 percent decline by Nokia, which dominates the struggling feature phone market with its Symbian-based phones.
Despite yet another quarter of decline, Nokia still leads the worldwide cellphone market in unit sales by a considerable margin at 37.8 percent, says the IDC study. Korean vendors Samsung and LG took the next two slots, and also led the way in growth.
LG, which pre-announced its first Android phone in September, jumped out to an 11 percent share, showing a 37.4 percent year-to-year growth, and Samsung moved up to a 21 percent share, representing a 15.9 percent increase, says the study. Sony Ericsson, meanwhile, dropped 5.2 percent year to year and came in fourth at just under 4.9 percent share, followed closely by Motorola at 4.7 percent.
As a sign of just how small the smartphone market still is compared to the mobile market in general, smartphone leaders like Apple, Research in Motion (RIM), and HTC are all hidden somewhere in the 20.6 percent of "others."
Still, smartphones are leading mobile phone growth, says IDC. Samsung's record growth for the quarter, was tied to touchscreen-enabled and QWERTY messaging devices, and IDC noted Samsung's fourth quarter strategic move to Android. Samsung's Android phones include T-Mobile's Samsung Behold II (pictured)and the Samsung Moment (Sprint), and Samsung also built the LiMo-compatible 360 H1 phone for Vodafone.
According to IDC, year-on-year growth remained negative for the overall mobile market, but improved from the first half of 2009. Mobile phone shipments totaled 287.1 million units in the quarter, down 6.0 percent from a year earlier, but up 5.6 percent from the second quarter.
"The mobile phone market is showing the first signs of improvement since the onset of the economic crisis," stated Ramon Llamas, senior research analyst with IDC's Mobile Devices Technology and Trends team. "During the third quarter, we saw a number of channels promoting older devices at significantly lower prices. For many, this was enough to spur demand and push volumes higher."
Europe leads way out of mobile phone slump
Western Europe showed the strongest signs of a mobile recovery, according to IDC. For the first time this year, shipments of both traditional mobile phones and "converged mobile devices" (another name for smartphones) were said to have increased year over year, as well as sequentially, in the region. Asian/Pacific shipments were weaker than anticipated, with total shipments down slightly from a year ago, but demand for converged mobile devices was strong, posting double-digit increases year over year, says IDC.
The North American market showed mixed results, says IDC. Although U.S. results were more positive, with converged mobile devices and prepaid handsets driving growth, the Canadian market declined for the third straight quarter despite double-digit converged mobile device growth.
The Latin American market, meanwhile, was weaker than expected, due to "longer replacement cycles, anemic user demand, and decreased handset subsidies." Going forward, Mexico will experience a "perfect storm" of tax increases for telco services, personal taxes, and value-added taxes, that will further reduce handset sales, says IDC.
Mot beats predictions, anticipates stronger, Eclair-flavored 4Q
According to Motorola's financial report, the company's phone business continued to decline, but not as precipitously as it has done in the past, according to a story in Bloomberg. In fact, the site reported that Mot's stock jumped 10 percent after it beat 3Q projections. The report follows a 2Q earnings release that showed some signs of progress after a disastrous year of dropping revenues in Mot's mobile phone division.
Still, the pre-Android 3Q numbers are hardly a breakthrough, According to the Motorola release, its mobile segment sales dropped to $1.7 billion, down 46 percent compared to the previous year's third quarter. On the other hand, the mobile group's GAAP operating loss was $183 million, compared to an operating loss of $840 million in the year-ago quarter, and the mobile segment reduced its operating loss by 28 percent sequentially from $253 million in the second quarter of 2009, says Motorola. The costs savings are due largely to Motorola's elimination of least 8,000 jobs since December, says Bloomberg.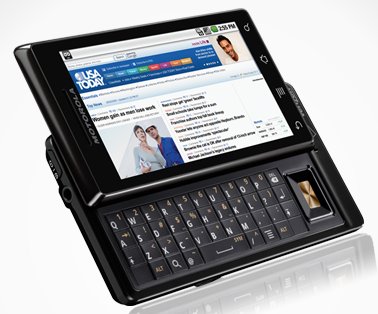 Mot's Verizon-destined Droid phone
Meanwhile, the company predicted fourth- quarter profits that appear to exceed analysts' estimates. Excluding some costs, Motorola is predicting profits of 7-9 cents a share, which is said to be higher than Wall Street's projections of about 6 cents.
Mot's more favorable 4Q projections appear to be linked directly to pent-up demand for its new Android phones, such as the new Droid phone, which runs Android 2.0 (Eclair). Bloomberg quotes a report by Tero Kuittinen, an analyst at MKM Partners LP in Greenwich, Connecticut, which issued a "sell" rating for the stock, as stating, "The Droid really is the best device Motorola has come up with since 2005."
In other Motorola news, the company formally named Edward Fitzpatrick as chief financial officer. Fitzpatrick had been Motorola's acting CFO since February, reported Bloomberg.
Stated Sanjay Jha (pictured), co-CEO of Motorola and CEO of Mobile Devices, "We delivered on our commitment to improve the financial performance of Mobile Devices and to commercially launch two smartphones in time for the fourth- quarter holiday season. The introductions of our new products powered by Android are important milestones as we begin to address the mobilization of the Internet and the growing demand for modern smartphones."
Availability
IDC's mobile phone study is available now, at an undisclosed price, from IDC, here.
Motorola's earnings release may be found here, and the Bloomberg story on the report and the stock market reaction may be found here.
---
This article was originally published on LinuxDevices.com and has been donated to the open source community by QuinStreet Inc. Please visit LinuxToday.com for up-to-date news and articles about Linux and open source.