Sep 24, 2009 — by Eric Brown — from the LinuxDevices Archive — 13 views
Vodafone announced a Samsung-built, "360 H1" smartphone that offers a 3.5-inch WVGA AMOLED display and complies with the LiMo Foundation's LiMo Release 2 spec. The LiMo Foundation also announced that all of its operator-members intend to field LiMo R2 devices in 2009 and 2010.
The first LiMo (Linux Mobile) phone from either Vodafone or Samsung, the Vodafone 360 H1 is also the first phone to be based on the LiMo Release 2 (R2) middleware spec, which builds upon the earlier R1 release with advanced smartphone features (for more background on LiMo and R2, see farther below). The device matches the general description of the "Samsung i8320" phone tipped earlier this month by various sources.
The Vodafone 360 H1 and a related "360 service" will be available by Christmas, according to LiMo executive director Morgan Gillis in a conference call today, with a scaled down M1 version following "soon after." The H1 will launch this year in Germany, Greece, Ireland, Italy, Netherlands, Portugal, Spain and the U.K., and next year in France (via SFR), Russia (via MTS), and Australia (Vodafone Hutchison), says Vodafone. This will be followed by 2010 launches in countries including India, Turkey, South Africa, New Zealand, and Romania, the company adds.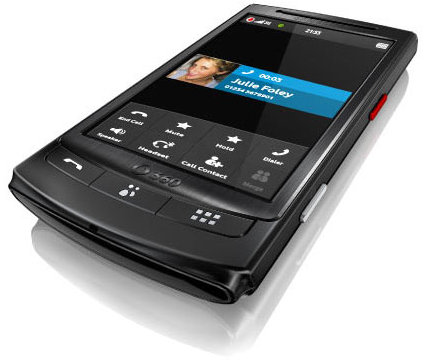 Vodafone 360 H1

In February, LiMo announced that it had received
carrier commitments
from Orange, SK Telecom, Telefonica, Verizon Wireless, and Vodafone to release LiMo phones in 2009. Now, LiMo says those commitments remain in place, but in most cases, they have apparently been postponed into 2010. LiMo now says that all these vendors — plus the only current LiMo operator, NTT DoCoMo — will offer phones running R2 or the next-generation R3 release of LiMo sometime in 2009 or 2010.
Inside the H1 and M1
The Vodafone 360 H1 by Samsung is the first LiMo phone that appears to be able to stand side by side with other top smartphone contenders, including Samsung's own Android-based I7550, which is being offered by Telefonica's O2 network in Germany. The 360 H1 offers more built-in memory and a larger touchscreen than the I7550, and otherwise offers very similar features, including an AMOLED display based on OLED (organic light-emitting diode) technology. OLED is generally considered to be easier on the eyes while offering more vivid colors than standard LCD displays.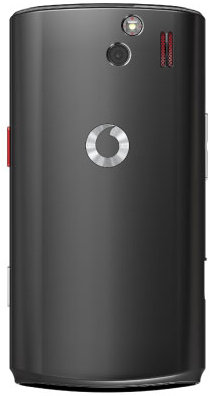 Vodafone 360 H1 (back and side views)
The 2.3 x 4.6 x 0.5-inch Vodafone 360 H1 is equipped, like
Nokia's N900
, with Texas Instruments' ARM Cortex-A8 based OMAP3430 system-on-chip (SoC). The phone offers 16GB of flash memory (with 8GB free), plus a MicroSD slot for adding up to 32GB of additional memory. The 360 H1 provides a 3.5-inch WVGA AMOLED touchscreen with multi-touch, and supports both HSDPA networks for up to 7.2Mbps downloads, as well as EDGE/GPRS connectivity, says Vodafone.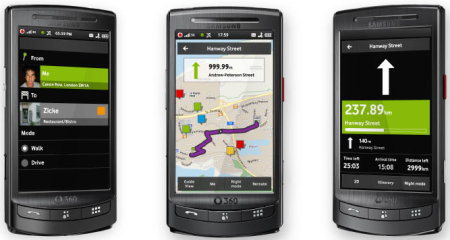 Mapping apps on the 360 H1


(Click to enlarge)
The 360 H1's five megapixel camera can be used as a camcorder for 720P HD video record capability, says the company. Video record and playback are said to be available using MPEG4, H.263, H.264, and other formats, and the phone includes an audio player as well. WiFi, Bluetooth 2.0, GPS, USB 2.0, and various sensors round out the full feature list.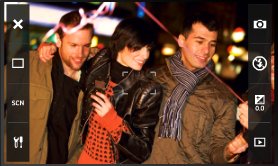 360 H1 camera interface
Specifications listed for the Vodafone 360 H1 by Samsung include:
Processor — TI OMAP3430 600MHz (ARM Cortex-A8); QCT 6290 baseband processor
Memory — 16GB, including 8GB user available
Memory expansion — MicroSD slot for up to 32GB
Display — 3.5-inch, WVGA (800 x 480, 16M colors) AMOLED touchscreen
Cellular network — HSDPA 900/2100 (7.2Mbps); EDGE/GPRS 850/900/1800/1900
Other wireless:

WiFi
Bluetooth 2.0
Assisted GPS
FM radio

USB — 1 x USB 2.0 port, supporting battery charging
Audio I/O — 3.5mm headset connector
Sensors — Motion, proximity, light
Camera — 5-megapixel autofocus camera with 8x digital zoom, LED flash
Messaging — Email, MMS, SMS, IM
Other software:

VodaFone 360 3D UI stack
Opera 9.6 web browser
WebKit 3.2 Widget Engine
IBM J9 Java with multitasking
Adobe Flash player
PC-based sync, music, and connectivity dashboard

Battery — 1500mAh Li-Ion with 424 minutes talk time, 460 hours standby
Dimensions — 2.3 x 4.6 x 0.5 inches (58 x 115.8 x 13.2mm)
Weight — 4.7 oz (134 g)
Operating system — LiMo R2 (Linux)with developer SDK available
Vodafone 360 M1
A lower cost "360 M1" version of the H1 will also be made available by Vodafone, offering a smaller 3.2-inch standard, touchscreen (apparently without AMOLED) and no WiFi. The M1 (pictured below) supplies only 1GB of internal memory, but that allotment is said to be expandable via a MicroSD slot, says Vodafone.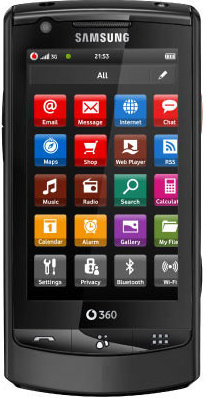 Vodafone 360 M1
The M1 also provides HSDPA 3G service, as well as Bluetooth, but it is unclear from the limited information now available whether GPS is available. A three megapixel camera with 8x digital zoom is also part of the picture. Slightly smaller than the H1, at 2.2 x 4.4 x 05 inches (55 x 111 x 13.3mm), the M1 weighs in at 3.9 ounces (111 g), says the company.
360 service targets multiple platforms
The 360 H1 phone also debuts a new Vodafone UI "360" stack, which is tightly integrated with a Vodafone "cloud" web service of the same name. The 360 stack/service offers social networking and messaging integration, as well as backup and synchronization interactivity with PCs and Macs, says Vodafone. Vodafone 360 also provides a universal contact list that integrates information from address books within various services, and a 3D zoom feature that enables users to "browse through their latest interaction in chronological order," says Vodafone.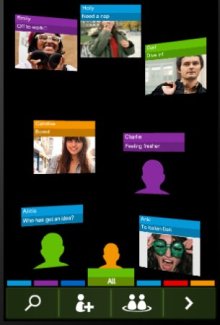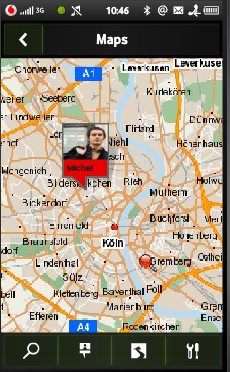 360 H1 social networking display (left) and geotagging features (right)

With 360, all of a customer's contacts, status updates and messaging services are integrated in one place, along with music, photos, and navigation services, says Vodafone. The service lets users create different contact groups across social media networks, geotag maps with photos and text, and offers a catalog of more than 1,000 applications for different handsets.
According to Vodafone, its 360 service is also being pre-installed on four Nokia smartphones offered by Vodafone, and all or part of the software will be available for download for use on about 100 Nokia and Sony Ericsson phones. In fact, says Vodafone, a phone does not even need to use a Vodafone network to download the 360 service.
The 360 UI layer is cross-platform and does not derive from LiMo and Linux, but sits atop it as a UI layer, with most of the heavy lifting apparently occurring in the 360 cloud service. In this way, it is similar to the MotoBlur UI stack and service announced by Motorola for its new Android-based, T-Mobile destined Cliq phone.
Like MotoBlur, as well as HTC's Sense UI used in its Sprint-destined HTC Hero, and Palm WebOS's Synergy feature, available with the Palm Pre, Vodafone's 360 aims to clarify and integrate the confusing clutter of social networking input and various messaging technologies that can overwhelm the smartphone experience. This week, Intel and the Moblin project showed off a somewhat similar "Myzone" interface for its upcoming, telephony enabled Moblin 2.1 for Handhelds mobile Linux stack.
For more on the 360 service, see a story in our sister publication, eWEEK, here.
LiMo background
The LiMo (Linux Mobile) spec offers common Linux middleware and related specifications for feature phones and smartphones. For developers, this eases the process of writing applications that support multiple phones from different carriers, says LiMo Foundation. Carriers, meanwhile, enjoy more freedom compared to Android and other platforms in branding application stacks and UI elements atop the common spec, according to LiMo.
The Vodafone 360 H1 is the first phone to offer LiMo's second-generation R2 specification, announced in June. In August, LiMo announced the release of nine new LiMo phones, but all were R1 phones from NEC and Panasonic, aimed at NTT DoCoMo's 3G network in Japan. The H1 will bring the total number of LiMo phones to 43, most of which are DoCoMo phones, such as the NEC's Docomo Smart series N-04A (pictured at right).
The R2 spec brings LiMo into the smartphone big leagues, offering new location-based services (LBS), multimedia, personal information management (PIM), and security features. R2 also includes support for the BONDI web-app interoperability spec developed by the Open Mobile Terminal Project (OMTP), an industry standards group backed by mobile operators.
Aimed at providing common web authoring tools to create rich-media apps and widgets that that can run on any LiMo R2 handset that support web runtimes, BONDI includes APIs that widgets can use to perform actions such as interface with peripherals, launch applications, and invoke messaging calls. It was unclear whether BONDI has played a role in the development of the 360 H1 or the interaction between the LiMo spec and Vodafone's 360 stack.
Stated Morgan Gillis, Executive Director of the LiMo Foundation, "The collaboration between Vodafone and Samsung that resulted in the 360 H1 device is a ringing endorsement of LiMo's uniquely independent and collaborative approach to realising key technology for the benefit of the whole industry and signals the first of a wave of R2 LiMo handsets due in the coming months."
Availability
The Vodafone 360 H1 should be available in eight European countries by Christmas, and the 360 M1 will be introduced shortly thereafter, according to Vodafone. More information may be found here. A list of LiMo-compliant devices may be found here.
---
This article was originally published on LinuxDevices.com and has been donated to the open source community by QuinStreet Inc. Please visit LinuxToday.com for up-to-date news and articles about Linux and open source.