Feb 22, 2010 — by LinuxDevices Staff — from the LinuxDevices Archive — 4 views
Spb Software announced a new version of its alternative user interface for Windows Mobile, adding support for Android and Symbian operating systems. Spb Mobile Shell 5.0 includes a new 3D engine, support for accelerometers and multi-touch, and the ability to provide haptic responses, says the St. Peterburg, Russia-based company.
Spb Mobile Shell, which replaces Windows Mobile's standard "Today" screen, among other functionality, first went on sale in February 2007, intended as a do-it-yourself add-on for smartphone enthusiasts. In both 2007 and 2008, the program became the world's best-selling third-party application for touchscreen Windows Mobile devices, the company claimed at the time.
More recently, Spb has marketed its product primarily to carriers and hardware manufacturers seeking to differentiate their products, as we review later in this story. No doubt taking OEM sales into account, Spb now touts Mobile Shell as "the world's single number-one bestselling mobile application."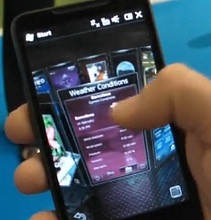 The company used last week's Mobile World Congress (MWC) in Spain to show off SPB Mobile Shell 5.0 (right), numerically skipping over a non-existent version 4.0. This "major upgrade" will be released for the Android and Symbian operating systems as well as Windows Mobile, allowing user interfaces to be ported from one platform to another, says Spb. The company did not offer Android screenshots, but presumably it will appear fairly similar, no matter what platform.
Apart from portability, version 5.0 — pictured via video shot at MWC by the WMExperts website — includes a new 3D engine with "support for new types of eye candy effects," the company says. The upgrade is also said to include improved integration with Facebook, Twitter, and LinkedIn.
Spb Software says version 5.0 of its Mobile Shell will also include a new natural interaction engine, with support for multi-touch screens and accelerometers. User interfaces built using the software will "provide realistic visual and haptic responses," the company adds.
Previous versions
Version 3.0 of the Spb Mobile shell was sneak-previewed for carriers and device manufacturers at the 2009 Mobile World Congress, then released publicly last March with the following touted features:
Widgets
A "flexible" engine for 3D animation
A "finger-friendly" program launcher
Integration of picture contacts with Facebook
Separate "professional" and "lifestyle" home screens
"Account-sensitive" email indicators
Kinetic scrolling
Widgets
A 3D animation engine
Multiple levels of customization
Last September, Spb upgraded Mobile Shell to version 3.5, which was said to add support for gravity sensors and 3D hardware accelerators. Additional widgets provided an increased degree of Facebook and Twitter support, according to the company.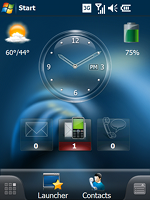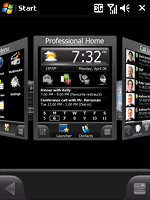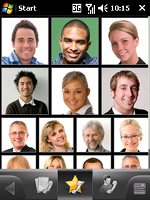 Spb Mobile Shell 3.5 offers widgets (left), a "finger friendly" program launcher (middle), and multiple ways of displaying contacts (right)
(Click any to enlarge)
According to Spb, Mobile Shell 3.5 also added integrated tools that, for example, allow toggling WiFi and Bluetooth, turning a phone off, or entering "flight mode" quickly. The application is also said to provide customizable weather forecasts and other utilities.
OEM licensing
In addition to selling Mobile Shell direct to end users, Spb Software licenses the product directly to OEMs, who increasingly consider Windows Mobile to be incomplete without some sort of alternative user interface. (HTC, for example, introduced its popular TouchFLO user interface for Windows Mobile, via the release of the HTC Touch in June 2007. Subsequently, the desire to compete with HTC led a variety of OEMs to ship Spb Mobile Shell on their phones.)
Spb's Mobile Shell has been used on a multitude of phones including E-ten's Glofiish DX900, Pharos's Traveler 137, and Toshiba's Portege G810. Versions of Spb Mobile Shell are found on many other devices. Without providing specifics, Spb has previously cited relationships with Asus, E-ten, Gigabyte, HTC, O2, Palm, Pharos, Samsung, SingTel, Sky Link, Sony Ericsson, Swisscom Mobile, Toshiba, T-Mobile, and VimpelCom.
New licensees announced last September by Spb included three Chinese smartphone manufacturers: Huawei, K-Touch, and ZTE. In addition, the company cited "a significant agreement" with the fabless semiconductor MediaTek. Huawei and ZTE are both introducing Android phones.
It remains to be seen whether the popular Mobile Shell will be a good fit in the Android realm except for companies that want to offer a consistent interface (a la Samsung's TouchWiz) across multiple OS platforms. Most other UI add-ons for Android have been vendor- or carrier-specific. These include HTC's newly revised Sense UI and Motorola's MotoBlur. Meanwhile, third-party UI development stacks include the new Android-ready FancyPants 3.0 from Fluffy Spider Technologies.

Spb's Mobile Shell 5.0 on Windows Mobile
Source: WMExperts
(click to play)

Availability
Spb Software provided no information on when Spb Mobile Shell 5.0 will be available.
Further information may be found on the Spb website, here. A review of Spb Mobile Shell 3.5 may be found on the WMExperts website, here.
---
This article was originally published on LinuxDevices.com and has been donated to the open source community by QuinStreet Inc. Please visit LinuxToday.com for up-to-date news and articles about Linux and open source.