Jan 22, 2010 — by Eric Brown — from the LinuxDevices Archive — 1 views
T-Mobile launched an Eric Clapton-backed Fender Limited Edition of its Android-based MyTouch 3G phone. Meanwhile, China-based Hisense announced an HS-E90 Android phone, Motorola is launching an Android app store in China, and Taiwan's Gigabyte is rumored to be releasing an Android handset in Russia, say reports.
Yes, that was real-life guitar hero Eric Clapton on TV last night hawking smartphones. He might be forgiven for such crass commercialism, however, considering that the Android-based phone is preloaded with Clapton songs like "Layla," "Rock 'n' Roll Heart," and "Wonderful Tonight." The T-Mobile myTouch 3G Fender Limited Edition smartphone, manufactured by HTC, went on sale Wednesday for $180, with a new two-year service contract.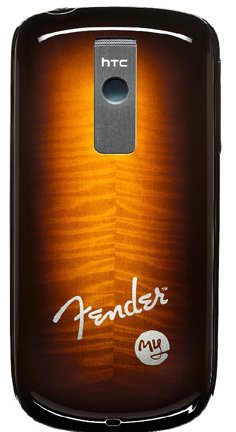 T-Mobile MyTouch 3G Fender Limited Edition smartphone
Announced back
in October
, this tricked-out version of T-Mobile's HTC-made
MyTouch 3G
sports a "Fender guitar sunburst-finish inspired design," according to T-Mobile. In addition to the preloaded Clapton songs, the handset ships with singles from Wyclef Jean, Avril Lavigne, and Brad Paisley.
The MyTouch 3G Fender also ships with a 16GB microSD card and a 3.5mm headset jack. Enhancements to the user interface, meanwhile, include the ability to change songs or albums by touching the album art, according to T-Mobile.
The phone offers two commercial apps for free: "Guitar: Solo and Musical Light," and a new app from DoubleTwist that manages and syncs music, videos, and images between the handset and a PC or Mac. The DoubleTwist software will also be available to other T-Mobile phones such as Google's Nexus One, T-Mobile adds.
Google negotiates with China as Mot preps Chinese app store for Android
According to the Wall Street Journal yesterday, Google CEO Eric Schmidt stated that his company remains "quite committed" to remaining in China, and is continuing talks with the Chinese government. Last week Google announced that Google China would no longer censor search results, as it has for the last four years according to Chinese government wishes.
The turnabout reportedly occurred after several hacking attacks against Gmail users and Chinese dissidents, resulting in a formal complaint from U.S. Secretary of State Hillary Clinton yesterday. The censorship dispute led Google earlier this week to indefinitely postpone a planned launch of two Android phones from Motorola and Samsung.
While it remai

ns to be seen whether the stand-off will keep Google sponsored Android phones from competing in China, other vendors are pushing ahead with Android-based phones for China that are not preloaded with Google apps. For example, Dell's Mini 3i is being introduced by China Mobile, Chinese vendor Lenovo has announced its LePhone (pictured at left) for the Chinese market, and according to Mobile-88, Chinese vendor ZTE is expected to launch an Android smartphone in the first quarter.
Hisense's HS-E90, meanwhile, is scheduled to go on sale in China next month (see farther below). A number of Chinese vendors, meanwhile, offer a Chinese-focused version of Android called oPhone.
Motorola, which has a long and successful history of selling Linux-based phones in China, most notably with the Ming, does not appear to be letting the delay of its first Android launch in China get in the way of its plans there. According to a story in eWEEK today, Motorola will bring an Android-based application store to China called SHOP4APPS, or Zhi-Jian-Yuan, which translates roughly to "place for apps wisdom," according to Motorola.
Debuting next month in conjunction with the Chinese New Year, the store will be open to other manufacturers or partners in China that support the Android ecosystem, and will offer a direct way for developers to market their Android apps, says the story by Michelle Maisto. The store is said to offer a tool for finding apps based on preferences, region, and carrier.
Another feature called My Locker acts as an online storage area for users' apps that can be used when switching phones, or to restore apps that have been erased, according to eWEEK. Developers can now begin submitting Android apps to SHOP4APPS via a link at the end of this article.
Motorola also announced that it would let Chinese Android customers choose their search provider, enabling users to select the government-filtered Chinese search engine Baidu, among other options. This capitulation may be one reason why Motorola might have dared to push forward in China in the midst of the Google/China dispute, despite its plans to launch a Google-branded Android phone. According to eWEEK, Motorola is preparing a handset for China Telecom called the Motorola XT800 Zhishang.
Hisense readies HS-E90
One major contender for the China market may be Chinese consumer electronics giant Hisense, which recently unveiled its HS-E90 Android phone (pictured below), due to ship later this month. Based on Qualcomm's QSC6085 processor, the CDMA 2000 1X/EVDO Rev.A (800MHz) phone is equipped with a 3.5-inch HVGA touchscreen, but no keyboard, says Hisense. The HS-E90 offers WiFi, Bluetooth, GPS, and FM radio, says the company.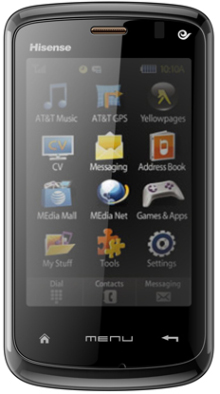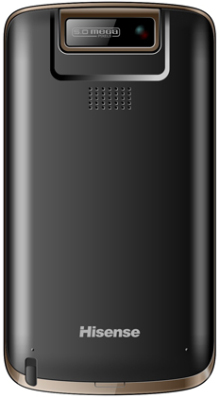 Hisense HS-E90
Memory is not detailed, but the phone supplies a microSD slot. Other features are said to include a five-megapixel autofocus camera, headphone jack, mini-USB port, and support for MP3 and MP4 media formats. Measuring 4.5 x 2.5 x 0.5 inches (115 x 63.1 x 13.95mm), and weighing 3.7 ounces (105 g), the phone is equipped with a 1500mAh battery claimed to offer 240 minutes of talk time and 180 hours of standby.
Unwired View noted that some of the photos of the HS-E90 sport a China Mobile logo, suggesting the phone's initial destination. According to Hisense, however, the English ready phone will be offered worldwide. Unwired View also suggested that the phone's atypical (for Android) UI looks like Samsung's TouchWiz, suggesting the company may have licensed a version of the UI layer.
Zhou Houjian, Chairman of Hisense Group, delivered a keynote speech at CES earlier this month. According to the company, this represented the first time the first time a Chinese entrepreneur had been invited for the honor in the show's 43 year history.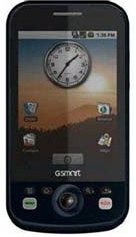 Gigabyte aims an Android-based GSmart at Russia
According to another story by Unwired View, based on coverage by well-known Russian phone site Mobile-Review, Taiwanese vendor Gigabyte is readying a low-end Android version of its GSmart line of phones (typically Windows Mobile). The unnamed phone (pictured at right in a Mobile-Review shot), is said to be readying a February launch in the Russian market for 9,000 Rubles (about $300).
Based on a Qualcomm ESM7225 processor clocked to 528MHz, the phone offers 256MB RAM, 512MB fllash, and a microSD slot, says Unwired View. Featuring a puny, 2.8-inch QVGA touchscreen, the phone supports GSM/GPRS/EDGE connectivity, plus WiFi, Bluetooth 2.0, GPS, and a lowly two-megapixel camera. Other features are said to include an accelerometer, trackball, audio jack, and a 1500 mAh battery.
Availability
The Wall Street Journal story on Google's reassurance it will stay in China should be here.
The Mobile88 item on ZTE's upcoming Android phone should be here.
Motorola's SHOP4APPS page may be found here, and the eWEEK story on the app store should be here.
The Hisense page on its HS-E90 phone should be here, and the Unwired View story on the phone should be here.
The Unwired View story on the Gigabyte GSmart phone for Russia should be here.
---
This article was originally published on LinuxDevices.com and has been donated to the open source community by QuinStreet Inc. Please visit LinuxToday.com for up-to-date news and articles about Linux and open source.