Jul 18, 2011 — by Eric Brown — from the LinuxDevices Archive — 12 views
Techsol released two Linux-ready, computer modules incorporating ARM9-based, 454MHz Freescale i.MX233 and i.MX283 system on chips (SoCs). The TSCM-233 is based on the i.MX233 SoC and offers 64MB of DDR RAM, while the similar, Ethernet-enabled TSCM-283 is based on the i.MX283 and includes 128-256MB DDR2 memory, and both are available with optional I/O boards and display subsystems.
Delta, British Columbia-based Techsol (Technical Solutions Inc.) offers embedded board and development services, as well as Linux development tools for its Medallion touch panels. The company has been around for 16 years now, and has offered customizable, production-ready embedded modules, boards, and devices based on its ARM9-based Medallion module for the last 12.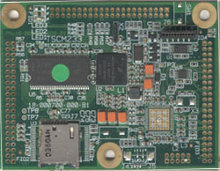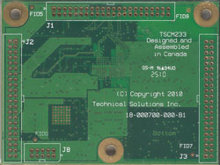 TSCM-233, front and back
In recent years, Techsol has been focusing on modular touch-panel devices including the
TPC-43C
and the earlier
TPC-35B
. The devices run on Techsol's
Medallion SA2410-650 CPU Module
, which incorporates Samsung's ARM-920T-powered
S3C2410
SoC, clocked at up to 200MHz.
Techsol has now launched a new module line called the TSCM, which like the Medallion, is available separately or as part of a modular touchscreen system. The TSCM line is still based on ARM9 processors, but they're much faster.
The Freescale Semiconductor i.MX233 announced in 2009 and the similar (though Ethernet- and DDR2-enabled) iMX283 announced in 2010 both move up to a 454MHz clock rate. Both SoCs are touted for offering 500 MIPS performance, as well as mixed-signal technology such as analog audio, integrated power management, and a monaural audio amplifier.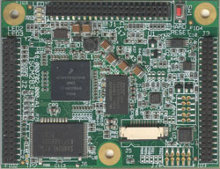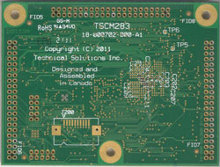 TSCM-283, front and back
The TSCM-233 module is based on the i.MX233 SoC and offers 64MB DDR memory, while the TSCM-283 incorporates the i.MX283 and includes 128MB to 256MB of DDR2 memory. Like the Medallion modules, the TSCM modules are supported with long availability "for planned non-obsolesence," says Techsol.
The 3.4 x 2.4-inch TSCM modules are available with optional I/O boards and a choice of display subsystems. These stack together with the module and the display itself to create a touch-panel computer for as little as $144, says Techsol.
The boards are said to connect to the modules via "simple, low-cost 2 mm dual-row headers." All that's needed is the enclosure and the application software, says the company (see farther below for more on these options).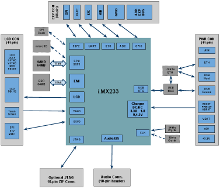 TSCM-233 and TSCM-283 block diagrams


(Click on either to enlarge)
In addition to the different RAM offerings listed above, the TSCM-233 and TSCM-283 are equipped with 128MB of NAND flash, expandable to up to 1GB. This is said to be available on either as internal NAND flash or on a microSD card. NOR flash is said to be an option.
Both modules support 18-bit direct-wire for TFT LCDs, as well as four-wire resistive touch input, says Techsol. I/O is said to include interfaces for USB host and device ports, as well as two UARTs, SPI, GPIO, and I2C. The TSCM-283 adds a 10/100 Ethernet MAC with optional PHY, says the company.
Features and specifications listed for the TSCM-233 and TSCM-283 include:
Processor — Freescale i.MX233 (TSCM-233) or i.MX283 (TSCM-283), both at 454MHz (ARM9)
Memory/expansion:

64MB DDR (TSCM-233) or 128MB-256MB DDR2 (TSCM-283) SDRAM
128 NAND flash, expandable to up to 1GB flash, from internal NAND or via microSD card
optional serial NOR flash on dedicated SPI
boot from NAND or microSD card; optional NOR boot

Display — 18 bit direct-wire for TFT LCDs; 4 wire resistive touchscreen controller
Networking (TSCM-283 only) — 10/100BaseT Ethernet interface MAC with optional PHY
Other I/O:

USB 2.0 host port
USB 2.0 device port (shared internally with host port via MUX)
2 x UARTs with RX/TX (1 x with IrDA)
2 x I2C (for hardware configuration)
SPI
8 x GPIO

Audio — mic input; stereo headphone amplifiers; optional IIS interface
Other features:

reset controller
analog inputs for battery monitoring
software-controlled beeper with frequency/tone control
3 x mounting holes for #4 bolts for securing board stack
optional pass through headers to stack between display and I/O boards

Power — 3.3 V DC in or single Li Ion battery with onboard charger
Dimensions — 3.4 x 2.4 inches (80 x 60mm)
The TSCM modules ship with the latest 2.6.3x version of Techsol's mature Medallion Linux distribution, with drivers pre-installed. These are said to include drivers for Linux framebuffer, Nano-X, GTK+, Qt Embedded, and X11, as well as all I/O board peripherals.
The I/O drivers are said to include various drivers for USB input devices, including USB-based Wi-Fi adapters. The Medallion distribution also offers various GUI options, as well as HTTP servers and security features, says the company.
I/O and display options
A "stock" I/O board for the TSCM modules is available to extend many of the modules' I/O connections with real-world ports. Features and specifications are said to include:
microSD connector for memory cards
10/100 Ethernet connector with integrated LEDs
RS 232 port on DE9 connector (PC compatible)
RS 485 port on RJ 12 connector
2 × USB host ports on Type A connectors
USB device port on Type B connector
power connector for AC or DC power on terminal strip
buzzer and LEDs (power, error, debug)
In addition, the modules are offered with various optional touchscreen displays. The initial line-up of display options is said to include 3.5-inch, 4.3-inch, five-inch WVGA, seven-inch WVGA, seven-inch Hi Brite, and 10.4-inch SVGA LVDS resistive touchscreens.
Availability
The TSCM-233 module is available for $49 in 1K quantities, and the TSCM-283, featuring Ethernet and twice the memory, starts at $59, says Techsol. The optional I/O board in loaded configuration sells for $49 at 1K quantities. The LCDs with adapter/mounting boards start at $36 for 3.5-inch or 4.3-inch models, with higher prices for five-, seven-, and 10.4-inch models.
A three-piece modular set with a TSCM-283 with 128MB RAM, 128MB NAND flash, a loaded I/O board, and a 4.3-inch LCD with LED backlight and touch-panel costs $144, says the company. Moving up to a seven-inch WVGA display would bring the full-kit cost to $162.
More information on the TSCM-233 may be found on Techsol's TSCM-233 page, and more on the TSCM-283 may be found on its TSCM-283 page.
---
This article was originally published on LinuxDevices.com and has been donated to the open source community by QuinStreet Inc. Please visit LinuxToday.com for up-to-date news and articles about Linux and open source.