Nov 8, 2007 — by Jonathan Angel — from the LinuxDevices Archive — 44 views

WinSystems has introduced a PC/104-format module that supports the ZigBee (IEEE 802.15.4) standard for wireless communications. The PCM-ZigBee is designed for typical ZigBee applications, such as HVAC, lighting controls, telemetry, security, and sensor networks, according to the company.
(Click here for a larger view of the PCM-ZigBee module)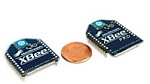 Measuring 3.8 x 3.5 inches (PC/104 form-factor), the PCM-ZigBee comes with Digi's XBee or XBee-Pro transceivers (shown at right), wired to an RF connector on the edge of the board. The difference between these two modules, according to WinSystems and Digi, is the amount of power consumed and signal range.

For the XBee-Pro configuration, the indoor and urban range is up to 300 feet (100m) and outdoor line-of-sight is up to 1 mile (1500m), while power consumption is 60 mW. For the XBee the urban range is 100 feet (30m) and outdoor range is 300 feet (100m), while power consumption is just 1 mW.
As WinSystems warns, antenna type and placement have a major impact on the range. Dipole, omni-directional, and yagi antennas may all be employed.
ZigBee provides significantly lower data rates than other wireless standards such as WiFi, Bluetooth, or even GPRS/GSM. But, according to the ZigBee Alliance, a trade association formed to promote the standard, it also uses much less power.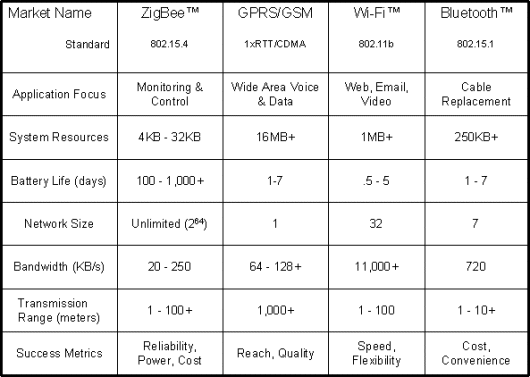 Comparison of ZigBee with other wireless standards
(Source: ZigBee Alliance)
According to the organization, some key differentiators from Bluetooth include:
Very low duty cycle, very long primary battery life
Static and dynamic star and mesh networks, 65,000+ nodes, with low latency available
Ability to remain quiescent for long periods without communications
Direct Sequence Spread Spectrum allows devices to sleep without the requirement for close synchronization
ZigBee applications have included home automation, wireless sensors, interactive toys, smart badges and remote controls.
WinSystems says the XBee transceivers are configured by default to employ non-beacon communications. Non-beacon systems operate with a peer-to-peer topology and are not dependent upon master/slave relationships, and the modules can also support unicast or broadcast communications.
Features such as energy detection, clear channel assessment, and channel selection help the device avoid other wireless networks such as WiFi, according to the company. Furthermore, message acknowledgment helps to ensure that the data was delivered to its destination, and there are also multiple levels of security.
In addition, the board can support an optional Trimble Lassen IQ GPS receiver. An on-board 3.3 volt regulator supplies power to the XBee or XBee-Pro transceiver, so that the PCM-ZigBee module only requires +5 volts to operate, according to WinSystems.
The PCM-ZigBee module also contains a dual-chanel, PC-style UART (a 16C552-compatible). One of these two serial ports connects between the PC/104 bus and the XBee ZigBee transceiver, while the other provides the required serial interface to the optional on-board Trimble GPS receiver module.
Due to the standard nature of the serial interface to the XBee ZigBee transceiver, the PCM-ZigBee module is operating system independent, the company says. Therefore, the module should be usable with Linux, Windows XP Embedded, Windows CE, or any other popular embedded OS.
Availability
Available now, the PCM-ZigBee is priced around $150 with the XBee transceiver and $180 in the XBee-Pro configuration.
---

This article was originally published on LinuxDevices.com and has been donated to the open source community by QuinStreet Inc. Please visit LinuxToday.com for up-to-date news and articles about Linux and open source.