Sep 26, 2011 — by Eric Brown — from the LinuxDevices Archive — views
Motorola Mobility is prepping two successors to its Xoom tablet, including an e-reader-focused 8.2-inch model, according to several reports. In other Android tablet news, the original Xoom did surprisingly well in recent Consumer Reports rankings, Amazon is expected to unveil an Android tablet/ereader on Sept. 28, and Barnes & Noble is readying three replacements to the Nook Color.
Eight months after the underwhelming release of the first Android 3.x ("Honeycomb") tablet, the Motorola Xoom, Motorola Mobility is readying two Xoom successors, according to industry reports. DroidLife started the ball rolling Sept. 23 with images of an alleged Motorola Xoom 2 (pictured below). The publication noted the tablet's 10.1-inch size, angled corners, back-mounted buttons, a SIM card slot, and a front and back facing camera.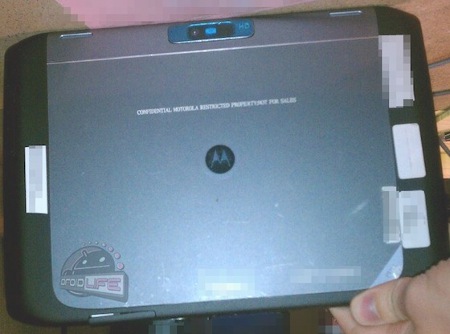 10.1-inch Xoom 2 seen in the wild
Source: DroidLife
The next day,
ThisIsMyNext followed up
with more details on the tablet, including its 9mm (0.35 inches) profile. This is just a bit fatter than the industry leading, 8.6mm
Samsung Galaxy Tab 10.1
, but considerably slimmer than the half-inch thick Xoom.
Like the Xoom, the Xoom 2 is 10.1 inches thick and runs a Honeycomb release on a dual-core 1.2GHz processor, although it's not clear if this is a faster version of the original's 1GHz Nvidia Tegra 2 or another processor. ThisIsMyNext speculates it may be a Texas Instruments OMAP4, based in part of the fact that it streams Netflix in HD, according to the publication's unnamed "mole."
The Xoom 2 comes with "faster" RAM, can record 1080p video, and has a slightly longer-duration 11-hour battery, says the story. The new tablet will be the first tablet to run Adobe Flash Player 11, and offers some new wireless sync features. It may also include home automation software supported by a built-in IR receiver, says ThisIsMyNext. The Xoom 2 is said to ship with optional keyboard and stylus accessories.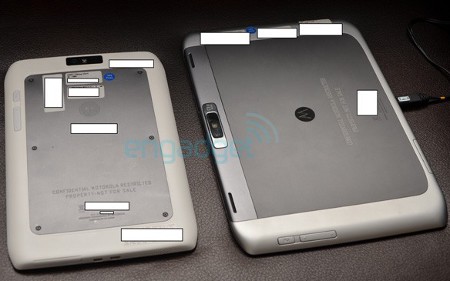 Alleged 8.2-inch and 10.1-inch successors to the Motorola Xoom
Source: Engadget
On Sept. 25,
Engadget chimed in
with a photos of the Xoom 2 lying alongside a smaller version of the Xoom that had been previously rumored. Sent in from an anonymous tipster, the photos — like the
DroidLife
shot — have several key details blocked out.
Both tablets share a "Fleming" codename, run Android 3.2, and offer HD-ready, five-megapixel rear-facing cameras, according to the story. They also ship with LTE-ready SIM card slots, suggesting a continuing release on Verizon Wireless.
The smaller model is said to have an 8.2-inch HD IPS display, weigh 0.95 pounds, and offer an onboard IR remote and subwoofer. The unusually-sized device will be billed as an "e-reader replacement," according to the story.
Xoom third behind iPad, Galaxy Tab 10.1 in Consumer Reports rankings
Engadget's unnamed source said the Xoom 2 prototypes were "buggy as all hell, with frequent reboots and crashes." This would suggest either that the devices are still several weeks or months away from shipment or that they will follow in the unfortunate footsteps of the buggy Xoom.

The Verizon-offered Xoom (pictured) actually went on to earn some decent sales, especially as the worst of its flaws were fixed with updates to Android. Still, for the crimes of shipping with buggy Android 3.0 code, and without a 4G LTE update that was later provided over the air, it will likely forever be remembered as the Bill Buckner of Android devices.
The Xoom's greatest crime as the world's first Honeycomb tablet was its failure to make a dent in the sales of the iPad, which appeared around the same time in a superior iPad 2 version.
The iPad 2 is still the best of all nine- to 12-inch media tablets according to a Consumer Reports review published last week. Yet, two Xoom models fall into the top five, according to the its rankings.
Apple's best-selling tablet was followed by the Galaxy Tab 10.1, the Xoom with 4G LTE, the Asus EeePad Transformer, Xoom WiFi, and the LG G-Slate. Among seven- to eight-inch models, the Samsung Galaxy Tab and Samsung Galaxy Tab with WiFi were ranked first and second by Consumer Reports, respectively. These were followed by Research In Motion's PlayBook, the HTC Flyer Tablet, and the ViewSonic ViewPad 7.
Amazon tablet to be unveiled Sept 28
Amazon.com appears set to introduce its long-rumored, Android-based Kindle Tablet Sept. 28 at a media event in New York City, according to our sister publication eWEEK, which promises to cover the event.
The latest rumors on Amazon's Android tablet have pegged it as sporting the familiar Kindle name, and being more of an e-reader than a full-fledged Android tablet. As such, it may not be intended so much as an iPad killer as it is a competitor for the Barnes & Noble Nook Color.
Earlier this month, TechCrunch claimed to have spent an hour with the seven-inch, $250 device. This "Kindle Tablet" provides 6GB of flash storage, and at least on the prototype, lacked any external memory slots, although it did have a micro-USB port, according to the story. The tablet was said to be Wi-Fi only and to lack a camera.
Amazon has significantly customized an Android 2.x build to reflect the UI traits of the Linux-based Kindle ereader, according to that earlier TechCrunch report. Most of the apps are said to be from Amazon, including the Kindle app, Amazon's Cloud Player for music, Amazon's Instant Video player for movies, and Amazon's Android Appstore.
If all this is true, the key remaining question is how low Amazon will be able to price the tablet. As with the Kindle, the etailer will likely subsidize the tablet in order to drive sales of its ebooks. However, a more fully featured color Android tablet would enable it to offer even more content and services.
B&N readies Nook Color update plus full-fledged Android tablet, says report
Barnes & Noble is preparing for an October announcement of three replacements to the Nook Color (pictured) in October, according to The Digital Reader. B&N will keep an updated, monochrome Nook Touch at $139, and will offer two Nook Color variations — the Encore and Acclaim — at $249 and $349 respectively, says the story, based largely on a marketing slide that The Digital Reader agreed not to reproduce.
Whereas the Encore appears to be a straight-forward hardware upgrade, maintaining the seven-inch format of the Nook Color, the Acclaim looks to be something new, says The Digital Reader.
The story then speculates, based on some admittedly thin evidence, that the Acclaim will be a full-fledged Android tablet rather than the more customized, ereader-focused Nook Color, and will be co-developed with Disney. In fact, the story goes out on a limb to suggest that this might even be the rumored GameStop-branded Android gaming tablet expected this fall.
---
This article was originally published on LinuxDevices.com and has been donated to the open source community by QuinStreet Inc. Please visit LinuxToday.com for up-to-date news and articles about Linux and open source.