Apr 27, 2011 — by Eric Brown — from the LinuxDevices Archive — 4 views
Verizon says it is happy with Motorola Xoom tablet sales, despite a Global Equities estimate that only 25,000 to 120,000 units — a small fraction of the 500,000 to 800,000 units said to have been manufactured — have actually sold. Meanwhile, increasing frustration with Android fragmentation, as well as a rough-edged Android 3.0 ("Honeycomb") release, has tipped mobile developer interest back toward the Apple iPad, claims an Appcelerator/IDC survey.

While Apple's iPad sold 4.7 million units in the first quarter of 2011, the Android tablet that was expected to give it a run for its money is scuffling, according to a story in our sister publication eWEEK. Motorola Mobility's much touted Xoom tablet (pictured) is still not finding traction in the market, according to Global Equities analyst Trip Chowdry.
His estimates indicate that the first Android 3.0 "Honeycomb" tablet sold somewhere from five percent to 15 percent of the 500,000 to 800,000 units manufactured, says eWEEK. Chowdry, who surveyed six Costco stores, five Verizon stores, five Best Buy stores, and three Staples stores, puts Xoom sales somewhere between 25,000 and 120,000 units.
That might be considered a victory for many tablet vendors, but the Motorola's tablet was expected by many to zoom to the top based on the clout of Verizon, Motorola, and Google, which anointed the Xoom as the flagship Android 3.0 tablet.
Motorola Mobility is in its quiet period until it announces first-quarter earnings April 28, and declined to comment to eWEEK on the Chowdry estimates, but Verizon Wireless did release a statement. Declining to confirm or the estimates, Verizon spokesperson Brenda Raney told eWEEK April 26: "We are very pleased with the sales of Xoom. It continues to be a popular item."
Chowdry also declared Android 3.0 "dead on arrival," and said his survey of 150 developers indicated that Honeycomb sports an incomplete features set, incomplete developer tools, poor user interface, unstable software, and poor design.
While many reviewers found the Xoom's Honeycomb rough edges to be acceptable, others such as ZDNet's Jason Perlow, who recently returned his Xoom, agree with Chowdry, calling Honeycomb "half baked".
After extolling the Xoom's excellent hardware and build quality, Perlow writes, "There's only one problem. The software on the device as shipped is complete and utter beta-level crap." After citing numerous problems, including frequent crashes and non-intuitive menu selections, Perlow goes on to question whether Google might need to go back to the drawing board.
Chowdry had declared similar findings back in March, calling the Android 3.0 UI complicated and confusing. At the same time, Jefferies and Co. analyst Peter Misek also estimated that Xoom sales had been weak.
Later, Google's Android chief Andy Rubin seemed to admit the Honeycomb flaws when he told Bloomberg Businessweek late last month that Google would be indefinitely delaying the open source release of Android 3.0 code. Speaking of the Xoom, Rubin was quoted as saying, "To make our schedule to ship the tablet, we made some design tradeoffs."
More bad news followed in early April. In an April 5 research note, for example, Pacific Crest analyst James Faucette reported that channel checks found sales of the Xoom tablet "disappointing." In early April, Xoom sales were estimated by Deutsche Bank to have reached just 100,000 units.
Appcelerator: mobile developers wary of sticking fingers in Honeycomb
Whether reading these reports or trying out Honeycomb tablets on their own, mobile developers appear to be getting as shy about the platform as technology analysts.
An earlier January survey of mobile developers from Appcelerator and IDC showed that Android came in second among tablet platforms developers were interested in pursuing, with 74 percent, up 12 points since September. By comparison, interest in the iPad rose only three percent in that period, to 87 percent.
Yet, the latest Appcelerator/IDC survey indicates that "developer momentum is shifting back toward Apple as fragmentation and tepid interest in current Android tablets chip away at Google's recent gains."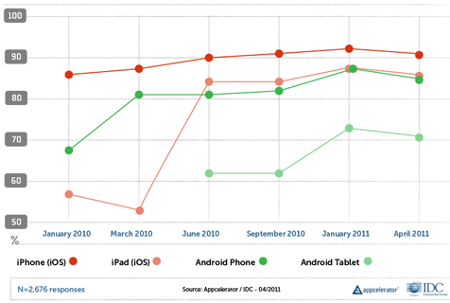 Tablet platforms in which mobile developers are "very interested"


Source: Appcelerator/IDC
(April 2011)
The Appcelerator-IDC Q2 2011 Mobile Developer Report, taken April 11-13 among some 2,700 mobile developers worldwide, found that 86 percent are very interested in developing for the iPad. Android tablets, however, fell three points to 71 percent.
Meanwhile, some 91 percent of developers were very interested in iPhone development compared to 85 percent for Android, down two percentage points, says Appcelerator. Microsoft fell seven points since the previous survey, with only 29 percent of developers saying they are very interested in Windows Phone 7, while BlackBerry phones dropped eleven points to 27 percent. Despite its slide, Windows Phone 7 is said to have moved ahead of BlackBerry to claim the third spot in developer interest.

Although 71 percent of developers are keen on Android tablets, they have yet to find the device of their dreams. The Android 2.2-based Samsung Galaxy Tab (pictured) led the way with 52 percent, followed by 44 percent for the Xoom, and 31 percent for the upcoming Android 2.3-based HTC Flyer.
Some 63 percent of respondents told Appcelerator that device fragmentation poses the biggest risk to Android in general. This was followed by weak initial traction in tablets (30 percent) and multiple Android app stores (28 percent).
According to Appcelerator, Android platform fragmentation is only one form of fragmentation making life difficult for mobile developers. In fact, it ranks third behind the fragmentation of skills (such as Objective-C vs. Java), and the fragmentation of mobile development in general into different operating systems.
While questions over fragmentation and Honeycomb would seem to "open the door a crack for new entrants," as Appcelerator puts, it, nearly two-thirds of respondents believe that it is not possible for Microsoft, RIM, HP, and Nokia to reverse momentum relative to Apple and Google, says the study.
Also featured in the Appcelerator report is an analysis of the six layers of fragmentation that are frustrating developers. In addition, the report is said to include an analysis of mobile apps vs. mobile web, and a look at how the ubiquity of the "mobile cloud" is addressing fragmentation.
---
This article was originally published on LinuxDevices.com and has been donated to the open source community by QuinStreet Inc. Please visit LinuxToday.com for up-to-date news and articles about Linux and open source.